These air fryer potato chips are so crispy crunchy, you'll fool yourself into thinking you just cracked open a fresh bag from the store. With a fraction of the fat and all the flavor, you won't feel guilty about enjoying a bowl (or two).
Love cooking potatoes of all kinds in the air fryer? Try our easy air fryer baked potatoes.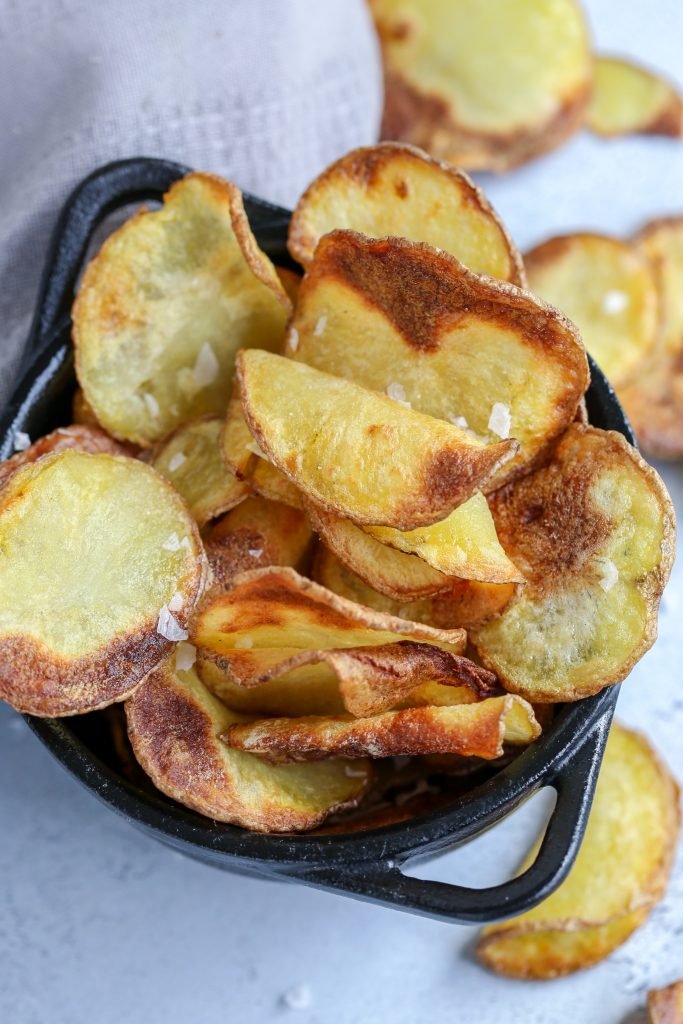 Air fryer potato chips are one of my go-to recipes as a busy mom. Trust me when I say I understand the hardship of feeding picky eaters who actively resist anything remotely healthy. My boys (husband included) sing their praises over these chips, and I never feel bad about serving them. That's a win-win.
Whether you're seasoned with the air fryer or just beginning to tap into its powers, this recipe is going to find its way into your weekly rotation. Instead of buying fatty, preservative-heavy potato chips from the grocery store, you can whip up a batch of homemade whenever a craving hits.
The best part? You'll have so much fun customizing the seasoning. Let's get started!
Shopping around for a new air fryer? There are undoubtedly so many air fryers on the market, with new models popping up each day. If you're looking for a good recommendation, the COSORI Air Fryer XL is my latest obsession. It has 13 different presets and a tray big enough to feed a family of four.
How to Make Air Fryer Potato Chips
Making air fryer potato chips only requires a handful of wholesome ingredients and a few simple steps. Below, find a high-level overview of the recipe before you dive in.
Thinly Slice the Potatoes: Using a sharp knife or mandolin slicer (recommended!), cut your potatoes into thin slices.
Soak the Potatoes: Place the potato slices in cold water to remove excess starch. Soak the potatoes for around 20 minutes.
Drain and Season the Potatoes: Drain the water from the potato slices with a colander. Using paper towels, pat the potatoes dry of any excess moisture. Season them generously with sea salt and a tiny bit of olive oil.
Air Fry the Potatoes: Place potato slices into the air fryer basket in one or two layers. Air fry them at 200°F for 20 minutes. Toss the potato chips and turn up the heat to 400°F. Air fry for an additional 5 minutes.
Serve and Enjoy: Remove the potato chips from the air fryer and place them into a large bowl. Allow the chips to cool to room temperature. Enjoy!
Should I air fryer my chips in a single layer? Typically, it's recommended that you never stack food in an air fryer. However, since the potato chips are so thin, you can get away with air frying two layers at once. Just make sure to give them a good toss during the cooking process!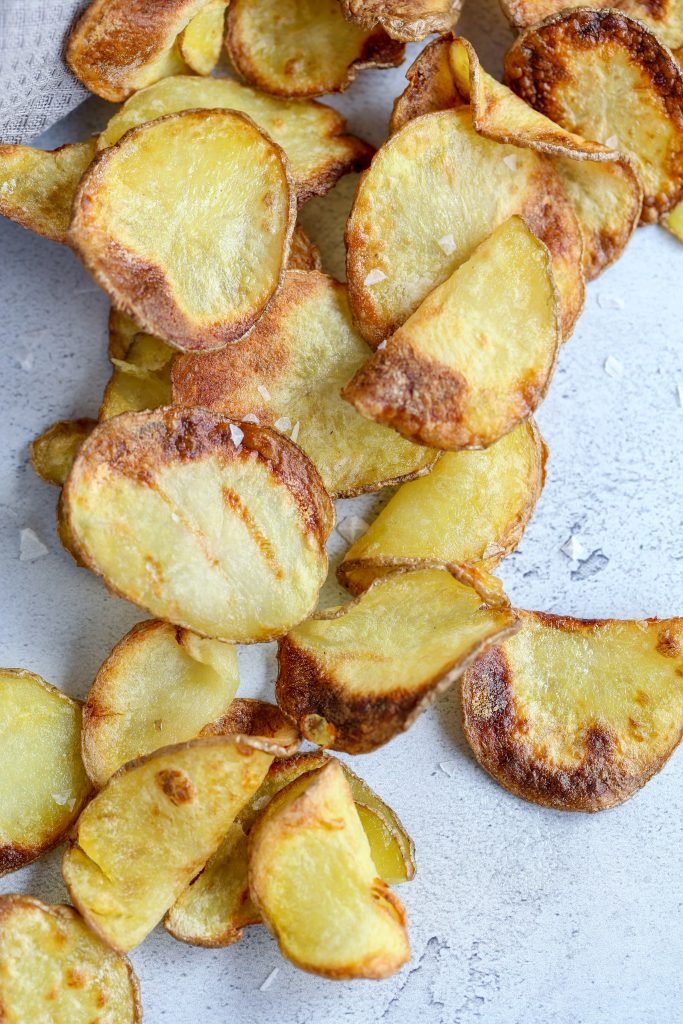 Tips for Making the Best Air Fryer Potato Chips
Below, find a collection of tips and tricks to help you make the best air-fried potato chips.
Use Yukon Gold potatoes. Yukon Gold potatoes are the best option for chips. They have slightly waxy skin and an ultra-creamy flavor.
Use a mandolin to cut slices as thin as possible. A mandolin slicer is a surefire way to ensure the potato chips are uniform and thin enough to get crispy.
Adjust the cooking time depending on the thickness. The overall cooking time for your chips may vary in either direction depending on their thickness. The first time you make this recipe, keep a close eye on the chips to ensure they don't burn.
Be sure to soak sliced potatoes in cold water before air frying. Always soak potato chips in cold water before air frying to remove excess starch. This will help them crisp up nicely.
Remove the chips once they turn slightly brown. Don't try to air fry your chips until they appear golden brown – they will just taste burnt. Once they turn the slightest bit of brown, remove them from the air fryer immediately.
Have fun and experiment with different seasonings. While chips taste great with a sprinkle of salt, they can be up-leveled with any seasoning of your choice. From BBQ to sea salt and vinegar, the possibilities are endless!
Serving Air Fryer Potato Chips
Serve air fryer potato chips as a snack all on their own for your next movie night. You can also pack them in school lunches. If you're planning to serve them for dinner, pair them with some cheeseburger sliders or a Philly cheesesteak. If you're looking for something to dip them into, whip up a batch of light ranch or avocado hummus.
Storing Air Fryer Potato Chips
Room Temperature: Store leftover potato chips in an airtight container or plastic storage bag. You can pop them in your pantry or leave them on the counter. They should stay fresh for up to two weeks.
Freezer: If you have leftover chips you want to freeze, place them on a baking sheet lined with parchment paper. Pop the entire baking sheet in the freezer. Once the chips are completely frozen, transfer them to a freezer-safe plastic storage bag. To reheat them, pop them in the air fryer for a couple of minutes until crispy. Cool to room temperature and enjoy!
FAQ
Why do you soak potato chips in cold water before air frying?
Soaking potato chips in cold water removes excess potato starch and makes the chips more crispy.
Why are my air fryer chips soggy?
Your air fryer chips might be soggy if you didn't blot the potatoes after soaking and draining them. Air fry them for longer to dry them out and crisp them up.
Do I need to preheat the air fryer first?
You do not need to preheat the air fryer first. Simply set the temperature and pop the tray in.
Can I substitute russets for sweet potatoes?
You can substitute russets for sweet potatoes, but you'll likely have to increase the cooking time to compensate.
How many servings does this recipe make?
This recipe makes four total servings.
Other Air Fryer Recipes to Try:
Recipe
These air fryer potato chips are so crispy crunchy, you'll fool yourself into thinking you just cracked open a fresh bag from the store.
Nutrition Facts
Air Fryer Potato Chips Recipe
Amount Per Serving
Calories 154
Calories from Fat 27
% Daily Value*
Fat 3g5%
Sodium 21mg1%
Potassium 879mg25%
Carbohydrates 26g9%
Protein 5g10%
Vitamin C 24.3mg29%
Calcium 64mg6%
Iron 6.9mg38%
* Percent Daily Values are based on a 2000 calorie diet.