I know you all loved the Vlog videos and we loved making them too. We hope in future to get back to it, but at this point they are pretty much timely not possible to make and edit. I am planning to do these type of posts at the end of each month. Adding a few highlights of each month and sharing a bit form our personal life.
Working in Seattle
As many of you know, I've started working in Seattle. Tim also began working in Seattle office at the beginning of this year, so we go eat lunch together, shopping or walk around at Pikes Place. When I got a job offer, I was nervous because our boys are still little; but the same day of getting a job, we were able to sort through the arrangements, so I went for it.

I am so happy about working outside of home. I feel alive, excited and like a human, with value. I am not trying to take away form stay at home moms. I respect all of you so much, because staying home with little kids is so hard. But for me, this opportunity is so exciting and every morning when I get up at 4:30am, I am so excited to go to work.
Mother's Day
For Mothers Day we didn't do anything too special. We are one of those couples that don't really fancy out the holidays. We did go out to the beach with boys, looking for crabs under rock. We saw thousands of them that day. Kids loved exploring the crabs and Tim and I loved it too. My favorite part of that whole day was the way Tim and boys played together. It put a smile on my face seeing how Tim handles boy, I bet many of you can relate.

Meeting Papa John
Kinda big and a crazy thing happened this month. We were invited to meet Papa John, the founder of Papa John's. If you're not familiar with them, they're one of the largest pizza chains in the world. At first I wasn't sure if we should do it, because it was a long flight from Seattle, but I am so glad we did. They never asked me to write about this, but we had so much fun, that's why I'm sharing. Papa John spent the entire day with us, talking and joking about his past and how it all started, including this mixer, that was almost heavier than his pickup truck that he used to bring it to the restaurant. Well, it wasn't really a restaurant, but more like a janitor's closet space. We watched how they make their dough and learned all about their ingredients.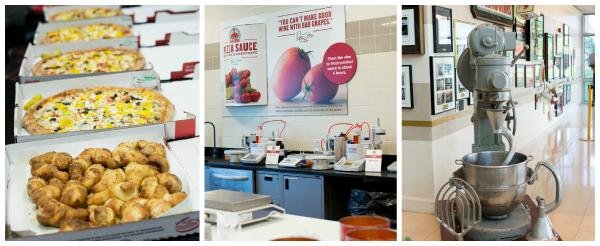 Gotta say that his corporate office is not too shabby. It looked something like a fancy Las Vegas Hotel, to a real clinic, gym, salad bar, Starbucks, pizzeria and a lab where they test quality of the ingredients (see photo). We got to play around with the dough and make our own pizza.

Boys' Play House
The day we told my dad that he can get creative and build boys a play house, he was excited. He draw a plan on paper and went straight to work. We let him to decide how he wants it look and that was music to his ears. I secretly think he is building himself a retirement home, and just not telling us about it, lol. As you can tell from photos, boys are loving it already. I'm beyond grateful for his very hard work.

This is it!! Way too long, sorry. I just miss talking to you all.
Now, I have a request 🙂 Share a few highlights from your month of May with me. I love getting to know you.