At the beginning of the month I was asked by a Facebook group of moms to share my story with them. I loved their questions because they summarized the entire story, so I decided to share this interview with you.
My About Me page is really outdated and missing a lot of information, so this is a bit of an update to the blog. We do plan to update the About Me page sometime soon.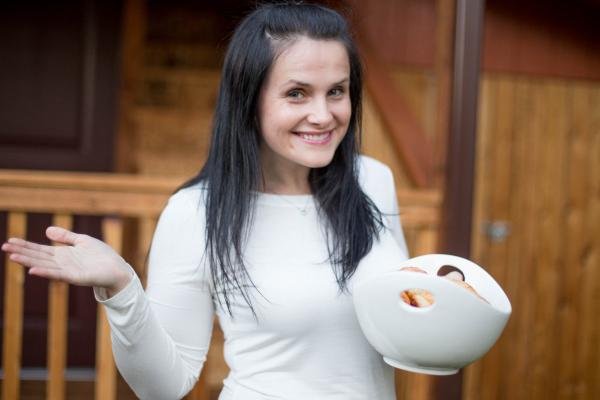 Where does your passion for cooking come from?
As most Ukrainians, my mom cooked each day. Soups and simple quick meals were huge in our family. I grew up holding love for cooking, even took a cooking class in High School. But, being the youngest out of five kids, my "chore" at home was to clean. So it wasn't until I got married that I began exploring the kitchen, ohh my poor husband 🙂
Ingredients you can't stand? Which one can't you live without?
I absolutely hate cilantro, makes me sick. I love my parsley garlic salt, there are a few more you can see on my Youtube Vlog videos (search for "Mom's Dish Vlogs")
Are there any cooking techniques, dishes or styles that particularly intimidate you and you have yet to try?
For the longest time I was so scared to work with yeast dough, but when I mastered it, I truly felt like a real cook:) Now, I don't have a huge fear of certain foods, but I can't stand pretty platting.
Share your worst cooking nightmare.
Any epic recipe failures?
So my worst one would be, cooking for in-laws for the first time and serving them raw potatoes in the end. Oh my, I made it up to them later 😉
Another horrifying story, is cooking canned condensed milk. It blew up in our kitchen, damaging the ceiling, and made a mess to a point of us having to remodel a kitchen. My husband woke up thinking we had an intruder in the house.
What's the most adventurous dish you've ever eaten?
Main thing that comes to mind would be frog legs. I know I am boring, I love my simple meals.
Majority of us are Mom's and some with a very tight schedule, what do you suggest for Mom's who cannot make/prep a dinner every night? Slow cooker recipes? Prepped frozen meals?
I work full time with a total of three hour commute. Also, I have kids and a blog so you can only imagine. We try to eat homemade meals most of the time. I would say to make a menu ahead of time, it makes a world of difference. You can buy things ahead of time and have all the prep work done for you. Also, make dishes like soups, which you can eat for a few days or grilling a bunch of chicken and reusing it in several different recipes. I have some slow cooker recipes and a ton of frozen meals on the blog.
Any suggestion you can give from a food blogger point of view?
If you make a recipe from any blog, like it or don't, please leave comments. Or even if you don't make it, just share your feedback. I get a bunch of traffic on my blog, private messages, hi's on social media, but not as much comments on the blog posts. I love hearing feedback form from each reader. Bloggers often feel like they are talking to themselves, even though we get thousands in traffic every day.
Now let's step away from cooking and talk about being a Parent
How many kids do you have and their ages?
I have two boys, Jacob 7 and Ethan 5. They are complete opposite, the older they grow the more I love being a mom. If you are a mom with babies, it gets easier, I promise 😉
How do you balance it all?
Honestly, I am realizing that you can't do it all and trying to learn to be ok with it. Dust and messy home can wait but kids will keep growing. After work, I try to concentrate on them and while they do their homework, I make a quick dinner. Laundry gets done in between it all 🙂 My husband is huge, huge help with kids. He is wonderful, makes them breakfast and takes them to school. We have a rule at home that weekends are for family, so we always try to take a short trip or go out on weekends.
Are your kids picking up on your passion?
Not yet, and I am not pushing it on them at all. I want them to show me interests. During the holidays we baked a lot of cookies together.
Any suggestions you can give from a Mom's point of view?
Kids grow very quickly, don't try to achieve that perfect, clean house. Spend time with them. But one of the most important things, have the best relationship with your spouse. Kids are much happier if they grow up in a happy home. Go out on dates, be best friends and just love, love, love 😉
If you have any questions, you may ask in the comment section. I would love to hear from you.