This oatmeal plum cake recipe is the perfect balance of hearty and fruity flavors. Serve it for breakfast or dessert with a cup of milk or a hot latte!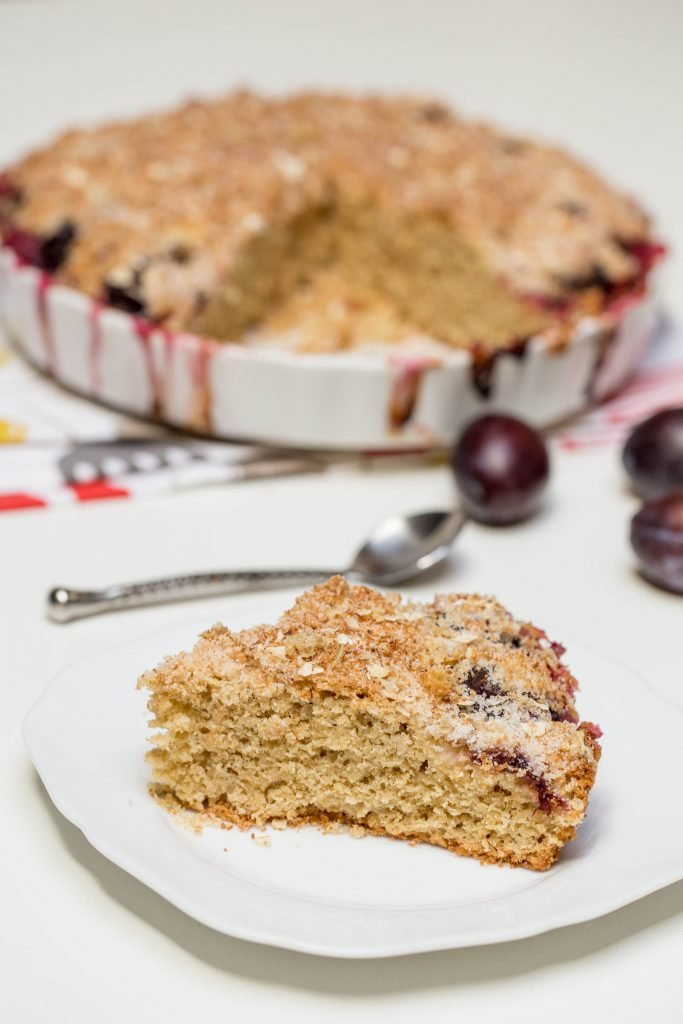 Obsessed with coffee cakes and crumble cakes? This recipe is for you! Made with fresh plums and oatmeal, it's just the right amount of sweet and so moist. Get ready to fall in love with the sugary coconut crumble on top – it's unreal! It's also super low maintenance in terms of prep. What's even better? The smell that will fill your kitchen is otherworldly.
How to Make this Oatmeal Plum Cake Recipe from Scratch
Making this simple cake only requires a bit of mixing and assembling. Great for you folks out there who aren't avid bakers!
Mix the Wet Ingredients: Using an electric mixer, whisk the butter and sugar together with the vanilla extract in a large bowl. Next, add in one egg at a time until the batter is fluffy and well-combined.
Prepare the Dry Ingredients: In a large bowl, stir the instant oatmeal, flour, and baking powder together.
Prepare the Batter: Next, add the dry oat mixture into the wet butter mixture.
Assemble the Cake: Pour the batter into the cake pan and spread it around evenly. Slice the plums in half and remove the pits. Next, place the plum slices alongside the edges of the cake and sprinkle oatmeal, coconut flakes, and sugar on top.
Bake the Cake: Bake the cake at 350°F in the oven for 40 minutes. Slice and enjoy warm or at room temperature!
Pan Recommendation: I love baking this oatmeal cake in my 9-inch Staub pie pan so it's already presentation-ready when it comes out of the oven.
Tips to Nail this Oatmeal Plum Cake Recipe
A couple of key tips will help you bake this cake like a pro.
Allow the butter to soften at room temperature. Creaming the butter with the sugar will be so much easier if you allow the butter to soften at room temperature before beating it. Take it out 30 minutes before you get to baking and you'll be golden!
Use fresh plums, not frozen ones. Fresh plums will bring such a delicious texture to the cake. Avoid using frozen and thawed plums, as they have a higher water content and will affect the texture of the cake.
Sift the flour if it's lumpy. If your flour has been sitting in the cupboard for awhile, it's likely developed some lumps. For the best texture, send the flour through a fine mesh sieve or flour sifter to remove any clumps.
Best Practices for Storing & Freezing this Cake
One of the best parts of this cake is that it stores and freezes so well! Find all our tips and tricks below.
Room Temperature: To keep the oatmeal cake on hand for up to 3 days, cover the baking pan with aluminum foil or plastic wrap and leave it on the counter.
Refrigerator: If you'd like to keep the cake on hand for a week, store it in an airtight container in the fridge. Serve it chilled or let it sit out at room temperature.
Freezer: After the cake cools completely, cover the baking dish with plastic wrap or aluminum foil and freeze it for up to 2 months. To thaw it, place the cake in the fridge overnight or let it sit on the counter for a couple of hours.
Variations to this Cake
Depending on what's in season and what flavor profile you're looking for, find a couple of variations to play around with below.
Fruit: If you're not into plums or just want to switch things up, feel free to swap in apples, blueberries, peaches, nectarines, or apricots instead.
Nuts: If you'd like an extra crunch, top the cake with roughly chopped walnuts or almonds.
Spices: Add a tablespoon of cinnamon or nutmeg into the cake batter for an extra pop of flavor.
Sugar: Swap out the white sugar for equal parts brown sugar for a more fall-forward flavor profile.
A Couple of Ways to Serve this Cake
You can have this cake for either breakfast or dessert. If serving it in the morning hours, top it with a dollop of yogurt and a drizzle of maple syrup and pair it with a caramel and chocolate latte. If you're eating it for dessert, serve it warm with a scoop of vanilla ice cream on top.
FAQ
Are prunes and plums the same thing?
Yes, prunes and plums are the same fruit, but prunes refer to dried plums not fresh ones.
Should you use steel cut oats or rolled oats?
You can use either steel cut oats or rolled oats, just make sure that the variety you are using are instant.
Can you use prunes instead of plums?
You can, but the texture won't be the same. The natural juices from the fresh plums brings such a nice moistness to the cake.
What kind of flour should you use?
Regular all-purpose flour is the best variety for this cake.
Other Tasty Desserts to Try
Recipe
This oatmeal plum cake recipe is perfect for either breakfast or dessert. Packed with hearty oats and fresh prunes and topped with a sugary crumble!
Ingredients
Topping
2

tbsp

instant oatmeal

3

tbsp

coconut flakes

3

tbsp

sugar
Nutrition Facts
Oatmeal Plum Cake Recipe
Amount Per Serving
Calories 289
Calories from Fat 144
% Daily Value*
Fat 16g25%
Cholesterol 77mg26%
Sodium 136mg6%
Potassium 121mg3%
Carbohydrates 32g11%
Protein 5g10%
Vitamin A 476IU10%
Vitamin C 1mg1%
Calcium 34mg3%
Iron 1mg6%
* Percent Daily Values are based on a 2000 calorie diet.