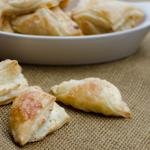 Print
Puff Pastry Cheese Turnovers
Puff Pastry Cheese Turnovers are light and flaky, quick treat to prepare.
Filling
Forming Cookies
Roll out the pastry dough into a thin layer. Cut the dough into 3 inch squares. Into the middle of each square, place cheese fillings. Fold over the dough to form triangles.

Place cookies one by one in a lined baking sheet. Whisk the left over egg whites a bit, using a fork.