These pumpkin chocolate chips muffins are moist, earthy, and mildly sweet. Easy to customize with your favorite ingredients!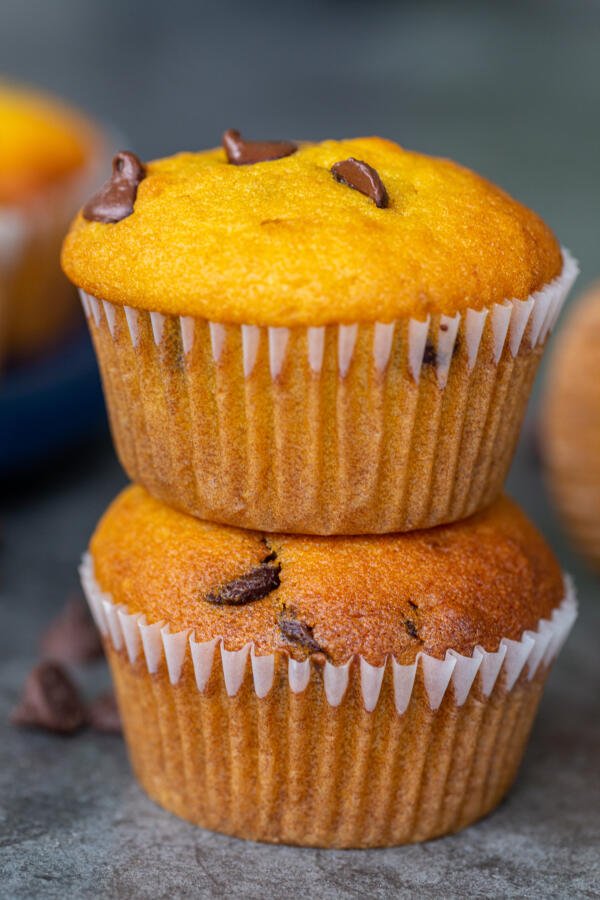 Pumpkin muffins have to be one of the most versatile baked goods. You can have them plain, mix in chocolate chips, add in dried fruits, or even a handful of nuts or seeds. No matter what mix-ins you use, they're always absolutely delicious!
In this recipe, you'll learn the perfect base for chocolate chip pumpkin muffins. Feel free to leave them as-is, or experiment with a handful of different variations and additions as you please. Whatever you do, prepare to have your whole house smell like heaven on earth…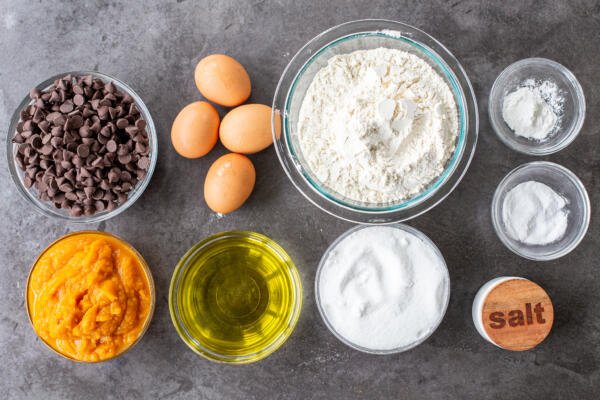 How to Make Pumpkin Muffins
Making pumpkin muffins only requires a few, simple ingredients and a handful of easy steps. Below, find a quick overview of the recipe.
Make the Wet Ingredients: Preheat over to 400°F. In a large bowl, beat the eggs with sugar using a whisk or hand mixer. Next, stir in the oil and pumpkin puree until well-combined.
Make the Dry Ingredients: In a medium mixing bowl, sift or stir the flour, baking soda, baking powder, and salt until well-combined.
Combine the Wet and Dry Ingredients: In small portions, combine the dry ingredients with the wet ingredients.
Fold in the Chocolate Chips: Using a spatula, fold the chocolate chips into the batter.
Bake the Muffins: Line your muffin tin with paper muffin cups. Using a measuring spoon, fill each mold 3/4s of the way with batter. Bake for 15 minutes and set aside to cool for a couple of minutes. Enjoy!
Tips for the Best Pumpkin Muffins
Below, find a couple of pro tips to help you make the best pumpkin muffins on the planet.
Be careful not to overbake the muffins. Once the muffin tops are firm to the touch, remove them immediately. If you bake them too long, they will dry out on the inside.
Top the muffins off with some chocolate chips. For a bakery-worthy presentation, top each muffin with a couple of chocolate chips before you pop them in the oven. They will look so pretty!
Fill the muffins 3/4 of the way full. Refrain from overfilling the muffin tins with batter. You want to give them enough space to rise and form that signature dome-like top.
Adjust the chocolate chips. Add more or less chocolate chips depending on the level of sweetness you like.
Pumpkin Muffin Variations
Below, find a couple of ingredients you can swap in and out to make these muffins your own. This recipe is very forgiving, so feel free to get creative!
Nuts – Walnuts and pecans work great
Chocolate – Feel free to use semi-sweet, milk, or dark chocolate chips
Spices – Pumpkin spice, nutmeg, and cinnamon are fabulous options
Sugar Crust – Add a sprinkle of coarse sugar on top of the muffins before baking for a nice, crispy crust
Seeds – Pumpkin, sunflower, or flaxseed will add a nice crunch and extra nutrition
Dried Fruit – Figs, prunes, cherries, raisins, or craisins will add a nice tartness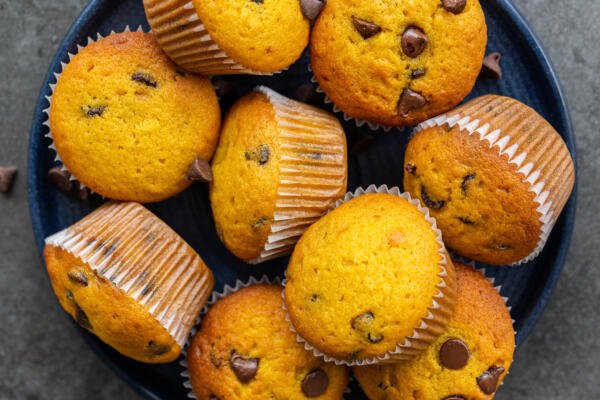 Storing Pumpkin Muffins
Room Temperature: Store leftover pumpkin muffins in an airtight container. They should keep for up to 5 days.
Freezing: To freeze pumpkin muffins, allow them to first cool completely. Next, wrap each one tightly in plastic wrap and store in the freezer for up to 3 months.
Reheating Tip: To warm your muffins, microwave them for 30-45 seconds.
FAQ
Is canned pumpkin the same as pumpkin puree?
Canned pumpkin and pumpkin puree are the same thing.
Why are my pumpkin muffins gummy?
Your pumpkin muffins likely turned out gummy if you used too much leavening, such as baking soda or baking powder.
Do pumpkin muffins need to be refrigerated?
You should not refrigerate your pumpkin muffins. The cold air will dry them out. As a general rule of thumb, always store muffins at room temperature in an airtight container.
Can I substitute pumpkin for any other vegetable?
You can substitute pumpkin puree for pureed sweet potatoes, acorn squash, or butternut squash.
More Pumpkin Treats to Try
Recipe
These pumpkin chocolate chips muffins are moist, earthy, and mildly sweet. Easy to customize with your favorite ingredients!
Nutrition Facts
Pumpkin Chocolate Chip Muffins
Amount Per Serving
Calories 337
Calories from Fat 162
% Daily Value*
Fat 18g28%
Cholesterol 30mg10%
Sodium 162mg7%
Potassium 81mg2%
Carbohydrates 40g13%
Protein 3g6%
Vitamin A 2831IU57%
Vitamin C 1mg1%
Calcium 36mg4%
Iron 1mg6%
* Percent Daily Values are based on a 2000 calorie diet.