This recipe for tasty pumpkin pudding is slightly sweet and packed with fiber. Made with either homemade or canned pumpkin puree and great for meal prep!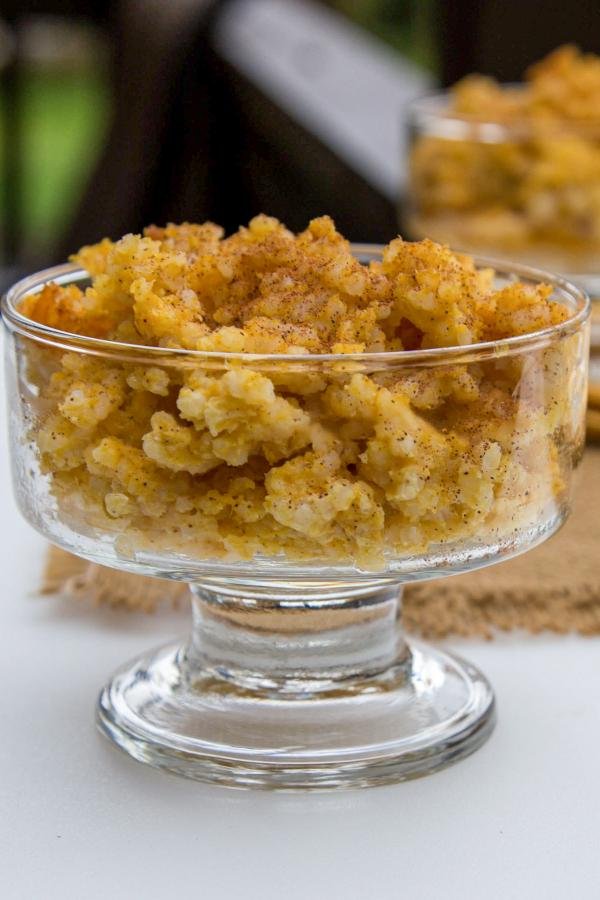 Ukrainian "kasha" is somewhere in between a rice pudding and an oatmeal. For me, pumpkin pudding goes way back to the good old days when my grandma made it in her wood burning oven. Made with rice and millet, it's sweet, creamy, and crusty on the outside and great as a healthy breakfast with minimal calories and cholesterol. Or, if you're craving something decadent, serve it as a pumpkin dessert with a scoop of vanilla ice cream!
Heads-Up: This is a grain-based pudding, not a traditional American-style pudding made with instant pudding mix or eggs.
Making Your Own Pumpkin Puree from Scratch
While you can always buy canned pumpkin puree, it's super easy to make it at home from scratch using small baking pumpkins (not the ones you carve for Halloween).
Preheat the Oven: Bring the oven to 400°F.
Prepare the Pumpkin: While the oven is heating up, cut the pumpkin from stem to end. To break the tough steam a part, pull both sides of the sliced pumpkin away from one another. Scoop out the seeds and stringy parts. Optionally season the pumpkin with a bit of salt and brown sugar and place flesh side down on a lined baking sheet.
Bake the Pumpkin: Next, bake the pumpkin for up to an hour, or until the flesh is fork tender. Allow the pumpkin to cool down slightly.
Puree the Pumpkin: Lastly, scoop the flesh into a food processor or blender and blend until super smooth and it's free of lumps. Bam – you have pumpkin puree!
What is millet? Millet is a gluten-free, whole grain that's packed with fiber. If you've don't have any on hand, this variety from Bob's Red Mill is awesome.
How to Prepare Pumpkin Pudding (Kasha)
Now that you have beautiful puree on hand, let's make the pumpkin pudding with just 7 simple ingredients and under 30 minutes of prep time.
Cook the Rice & Millet: Bring the milk to boil in a medium saucepan over medium-high heat. Add in the rice and millet and bring to a low simmer until fully-cooked.
Prepare the Oven & Baking Dish: Once the grains are cooked, preheat the oven and place pats of butter on the bottom of a baking dish.
Season the Pudding: Next, add in the vanilla extract, cinnamon, and sugar. Stir in the pumpkin puree.
Bake the Pudding: Spread the pumpkin mixture into the baking dish and bake for an hour, or until the top forms a nice crust. Enjoy!
Grandma's Top Tips for the Best Pumpkin Pudding
Below, find a couple of handy tips to make this pumpkin pudding just like my grandma did.
Opt for whole milk. Whole, full-fat milk will yield the creamiest, richest texture. if you're dairy-free or would just prefer a vegan pumpkin pudding, use oat milk or coconut milk instead.
Be careful not to burn the milk. When you're bringing the milk to a boil, stir it occasionally to prevent it from sticking to the bottom of the pan.
Tweak the seasoning to your taste buds. This recipe is super forgiving, so feel free to add in cloves, ground ginger, nutmeg, pumpkin pie spice, honey, or maple syrup if you wish.
Ways to Serve Pumpkin Pudding
Serve pumpkin pudding for either breakfast or dessert. If you're noshing on it in the morning, top it with a bit of yogurt, sliced apples, and chopped walnuts. If you're having it for dessert, serve it with a scoop of vanilla ice cream, whipped cream, or a drizzle of Instant Pot dulce de leche.
Storing, Freezing, & Reheating Best Practices
This pumpkin pudding is awesome for making ahead and meal prep. Below, find all you need to know about how to deal with your leftovers.
Storing: To keep your pudding on hand for up to a week, store it in an airtight container in the fridge to keep the grains from drying out.
Freezing: If you'd like to have pudding on hand for up to 3 months, store the pudding in individual serving freezer bags. To thaw, place as many bags as you need in the fridge overnight or on the counter for a couple of hours.
Reheating: The best way to reheat the pudding is in the microwave with a splash of milk to rehydrate the rice and millet.
FAQ
Is pumpkin pie filling the same as pumpkin puree?
No, the two are not the same. Pumpkin pie filling is often spiced and sweetened, while pumpkin puree is simple blended cooked pumpkin.
How long does it take for a baking pumpkin to go bad?
Baking pumpkins have such a long shelf life! When kept whole at room temperature, they will keep for anywhere between 2-3 months.
How long does pumpkin puree last in the fridge?
Pumpkin puree will last 2-3 days when stored in the fridge.
Does pumpkin puree freeze well?
Yes! To increase the shelf life, freeze your pumpkin puree in a freezer-safe bag for up to 3 months.
More Tasty Pumpkin Recipes
Recipe
This pumpkin pudding comes straight from my grandma's cookbook. It's creamy, comforting, and can be served for either breakfast or dessert.
Nutrition Facts
Old Fashioned Pumpkin Pudding (aka Kasha)
Amount Per Serving
Calories 152
Calories from Fat 27
% Daily Value*
Fat 3g5%
Cholesterol 8mg3%
Sodium 38mg2%
Potassium 224mg6%
Carbohydrates 26g9%
Protein 5g10%
Vitamin A 6487IU130%
Vitamin C 2mg2%
Calcium 109mg11%
Iron 1mg6%
* Percent Daily Values are based on a 2000 calorie diet.