This easy recipe for classic Korean japchae is full of tender beef, veggies, & slightly sweet sweet potato glass noodles. Your new favorite dish to curl up to!
You can also make Spicy Korean Noodles if you like a little kick in your dish!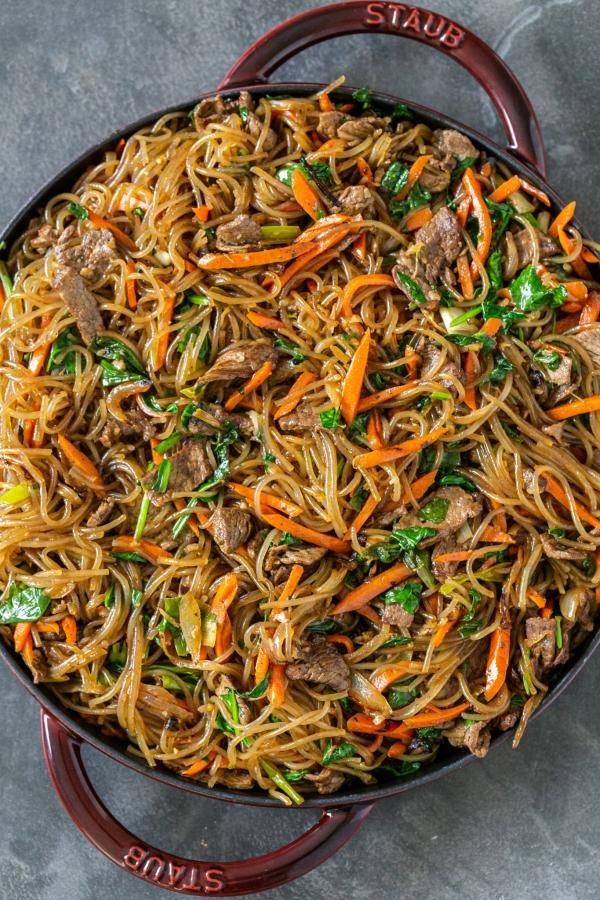 This recipe serves 20 people easily and can be scaled up to serve even more. If you are having a potluck at work or attending a family party, this dish is easy to transport and reheat. Plus, you will be sure to impress your friends and family by opening them up to a dish they probably haven't tried, but will soon grow to love.
If you are feeling nervous about cooking Korean cuisine, don't be! I was pleasantly surprised at how quickly I became comfortable cooking Japchae. This dish is a great starting point for cooking outside your comfort zone.
What is Japchae?
Simply put, Japchae is the Korean version of Chinese Chow-Mein (which you probably already love). The main difference is that Japchae uses sweet potato glass noodles. This noodle dish offers a sweet and savory flavor experience that will make your tastebuds sing!
Ingredients You Need to Prepare Japchae
Traditional Japchae requires thin-sliced pieces of beef. At most Korean supermarkets, you can find this style of beef pre-cut in the butcher section. If you can't find it, grab some sirloin from the store and slice it yourself. Japchae also incorporates a heft serving of veggies. I like to use carrots, onions, spinach and green onions, but feel free to add in some mushrooms if you like. If you don't already have sesame oil and soy sauce on hand, you will need that to create the delicious sauce that brings the dish together.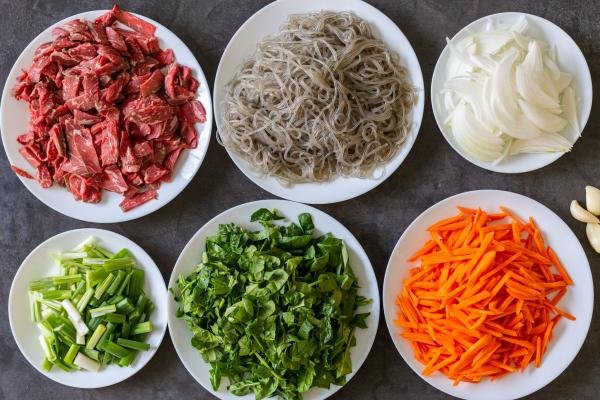 What are Korean Noodles?
Korean sweet potato glass noodles have an excellent texture and offer a hint of sweetness. They are made using only sweet potato starch and water. When cooked, they turn a beautiful glass noodles.
How do You Cook Korean Glass Noodles?
Despite their delicate nature, these glass noodles are quite easy to cook. Bring a pot of water to boil, add some olive oil to the water and cook the noodles for 5-6 minutes. The oil will prevent the noodles from sticking together.
Where to Buy Korean Glass Noodles
Korean style sweet potato noodles are also referred to as starch noodles or Korean vermicelli. Venture into an Asian store to find them readily available and cheap. Or, order them on Amazon. Try this brand or this brand.
Calories in a Serving of Japchae
One serving of Japchae clocks in at under 250 calories, which makes it a great side dish. Double-up the serving to make it a low-calorie meal.
Bonus: Sweet potato glass noodles are low-carb and gluten free! If you have a gluten allergy, substitute your soy sauce for a gluten free variety.
Japchae Video
Hacks for Cooking Japchae
Are your noodles still sticking together after cooking? Run some cool water over the noodles in a colander to loosen them up.
Try swapping the beef for chicken or shrimp.
Like it spicy? Serve the noodles with a side of Gochujang, a Korean style fermented hot sauce that has a sweet and spicy flavor. Look for it in the Asian supermarket or order it on Amazon.
Try serving Japchae with kimchi, a fermented cabbage side dish that Koreans love and serve with almost every meal. You can also find kimchi in the asian supermarket. However, most American supermarkets have caught on to the trend of kimchi and sell it in the produce aisle.
Other Asian Recipes to Try
Recipe
The first time I tried the Korean Stir-Fried Glass Noodles a.k.a Japchae was when my manager brought the dish in for a potluck a few years ago. It was literally one of The Best things I've tried, made me go back for refills.
Nutrition Facts
Korean Stir-Fried Sweet Potato Noodles Recipe
Amount Per Serving
Calories 489
Calories from Fat 225
% Daily Value*
Fat 25g38%
Cholesterol 64mg21%
Sodium 696mg29%
Potassium 481mg14%
Carbohydrates 47g16%
Protein 18g36%
Vitamin A 5185IU104%
Vitamin C 9mg11%
Calcium 65mg7%
Iron 3mg17%
* Percent Daily Values are based on a 2000 calorie diet.