These easy Korean spicy noodles are a little sweet, a little salty, and full of spice. Despite their depth of flavor, they come together in a quick 30 minutes and make for the perfect weeknight meal.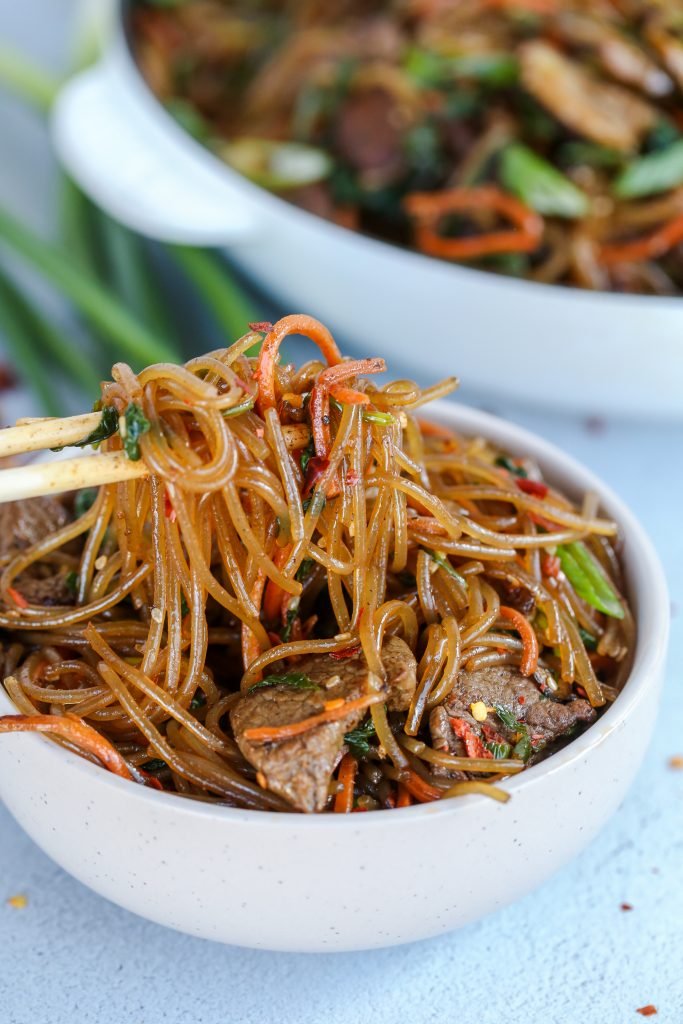 These easy Korean-style noodles are rich with flavor and have a nice kick of spice. If you're looking at a Korean menu, they are referred to as "japchae". What's unique about this dish is that it's made with a Korean-style sweet potato noodle. It's hard to explain, but the texture is unlike any other noodle. They're soft and silky, with a slightly sweet taste.
Whether you're looking to add another noodle dish to your rotation or just trying to skim down on order takeouts, this dish is for you. With minimal prep and clean-up, it's perfect for a quick weeknight dinner or those days when you're not in the mood to do dishes (aka every day).
Did you know? Korean-style sweet potato noodles are naturally gluten-free.
What are Spicy Korean Noodles?
Spicy Korean noodles, or "japchae", are made with sweet potato noodles, veggies, and a savory sauce. This slightly savory, slightly sweet noodle dish is extremely popular in Korean cuisine and used to be considered a "royal dish". Today, it's served at every occasion from potlucks to birthdays to weddings. Due to its easy preparation, it's also found served as street food. Below, find a rundown of the flavor, texture, and cooking time.
Flavor: Spicy Korean noodles are the perfect balance of savory, sweet, and salty.
Texture: Smooth, chewy noodles are contrasted with crunchy veggies and tender bites of sliced beef.
Time: From prep to table, this dish takes only 30 minutes to make.
How to Make Spicy Korean Noodles
Spicy Korean noodles only require some light preparation and a few wholesome ingredients to make. Below, find a quick overview of the recipe before you dive in.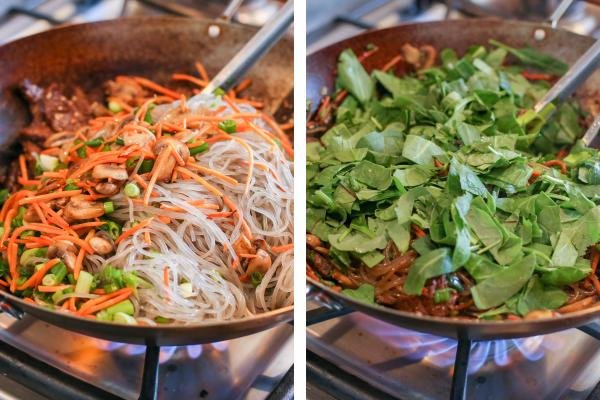 Tips for Making the Best Spicy Korean Noodles
Below, find a collection of tips and tricks to help you make the best spicy Korean noodles.
Slice the beef against the grain. To prevent your beef from turning tough, always slice it against the grain. If you're unsure what "against the grain" means, it refers to the direction that the muscle fibers run through a cut of beef. You always want to slice against the muscle fibers versus alongside them. This breaks up the fibers and makes beef easier to bite and chew.
Saute the veggies in batches. To prevent your veggies from overcooking, prepare them in batches.
Use a wok. A wok is perfect for making stir-fried noodles. The high edges prevent spillage and also allow you to push up the more cooked bits away from direct heat.
Adjust the spice level to your liking. Depending on your preferred level of spice, add more or less sriracha and crushed red pepper flakes. When you make the sauce, taste it as you go to adjust the level to your liking.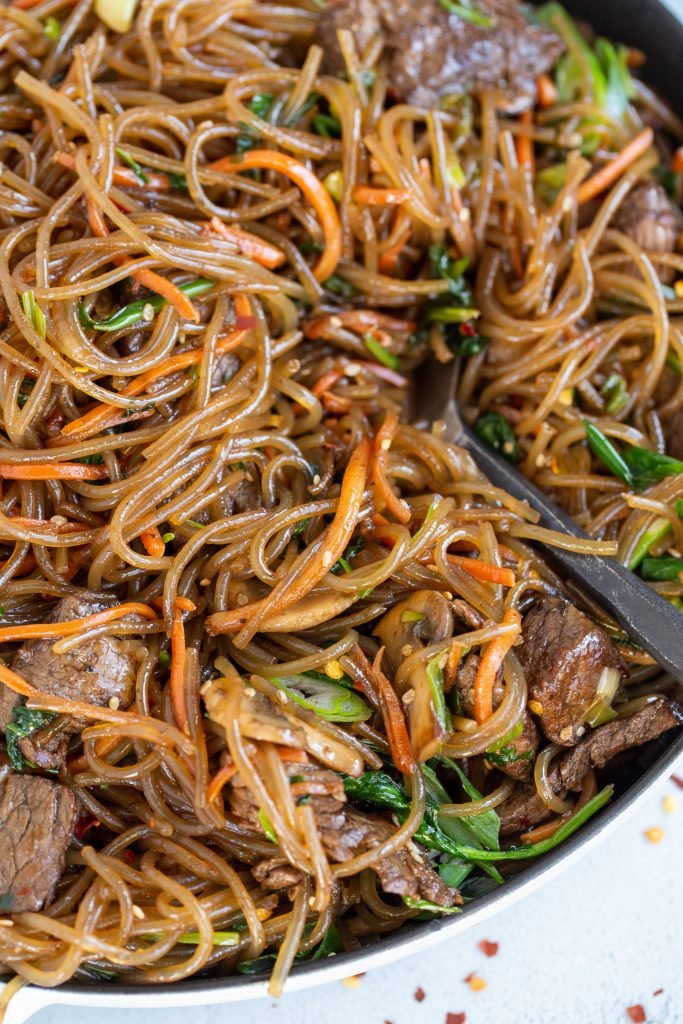 Serving Spicy Korean Noodles
Serve these spicy Korean noodles for a quick weeknight dinner or bring them to your next potluck. They're feeling enough on their own, but if you want to make a full-on spread, whip up some Korean-style chicken thighs or pork ribs in the air fryer. Also, don't forget to pick up a bottle of kimchi. This fermented, spicy cabbage is hugely popular in Korean food and is often served as a side dish or topping. If you love sauerkraut, you'll adore kimchi!
Storing Spicy Korean Noodles
Looking for ways to store spicy Korean noodles for later? We've done the testing for you. Here's what we found.
Refrigerator: Store leftover spicy Korean noodles in an airtight container in the refrigerator. They should keep for up to 5 days.
Freezer: Not recommended. Korean sweet potato noodles are too starchy to freeze. Once they thaw out, they will turn mushy and break apart.
Reheating Tip: Reheat your Korean noodles in the microwave for a minute or two.
FAQ
Where can I purchase Korean-style sweet potato noodles?
You can purchase Korean-style noodles on Amazon or at most specialty Asian stores. If you're having trouble finding them, they are also commonly referred to as "glass noodles" or "sweet potato noodles".
What are Korean-style sweet potato noodles made of?
Korean-style sweet potato noodles are made of sweet potato starch and water. They have a very mild sweetness to them, but mostly taste just like glass rice noodles.
Are sweet potato noodles good for you?
Sweet potato noodles are fat-free and low-calorie. They are also naturally gluten-free.
Other Noodle Recipes
Recipe
These Korean spicy noodles are a little sweet, a little salty and full of spice. Despite their depth of flavor, they only take 30 min to make!
Ingredients
1

lb

Korean noodles

(also referred to as "glass noodles" or "sweet potato noodles")

1

lb

beef

1

lb

mushrooms

1/2

lb

carrots

1

bunch

green onions

1

lb

spinach
Nutrition Facts
Easy Korean Spicy Noodles (with Beef)
Amount Per Serving
Calories 472
Calories from Fat 180
% Daily Value*
Fat 20g31%
Cholesterol 40mg13%
Sodium 969mg40%
Potassium 816mg23%
Carbohydrates 60g20%
Protein 15g30%
Vitamin A 10385IU208%
Vitamin C 22mg27%
Calcium 113mg11%
Iron 5mg28%
* Percent Daily Values are based on a 2000 calorie diet.