One-Pan Beef & Broccoli is a healthier rendition of your favorite Chinese takeout dish. Fill up your bowl, curl up on the couch and spend a fraction of what you would at a restaurant…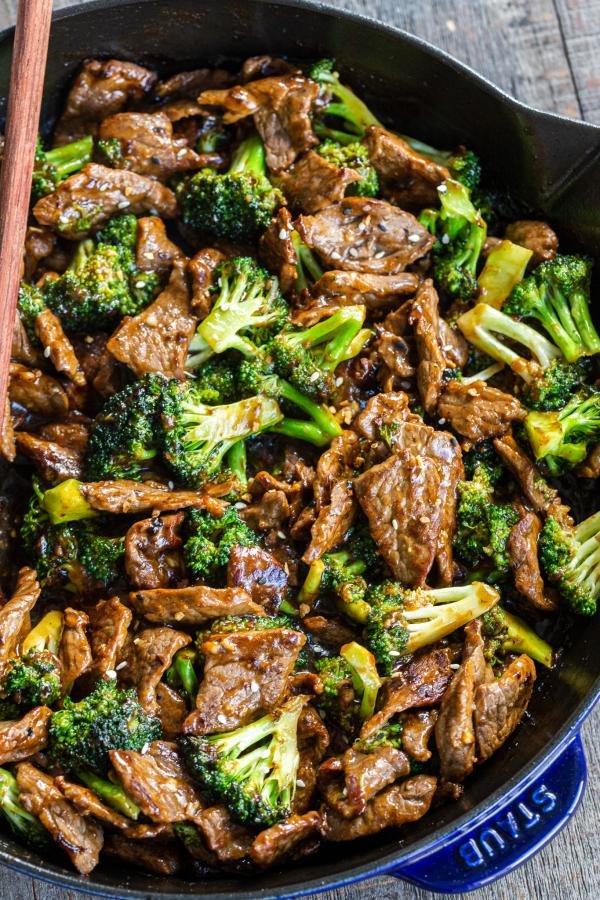 One-Pan Beef & Broccoli only takes 30 minutes from prep to serve. Simple steps make it a no-brainer during a hectic weeknight. This dish is basically a beef stir fry, which means it's easy to make and even easier to clean-up.
How To Make Beef & Broccoli Recipe
My family loves ordering takeout, but we like making our favorite dishes at home even more! From Lo Mein to Japchae, there is something so much more rewarding about trying to cook a new cuisine.
It probably doesn't come as much of a surprise, but broccoli beef isn't a traditional Chinese dish. While it was initially inspired by a dish of fried beef and Chinese broccoli, this American rendition uses broccoli florets and a different set of spices.
Tips for the Best One-Pan Beef and Broccoli
To promote even cooking, cut your beef and broccoli into equal-sized pieces.
Make sure to preheat your pan with vegetable oil before you add the beef. Adding the beef into the pan before it heats up will prevent it from forming a nice crust.
When cooking your beef, make sure to not overcrowd your pan. If you have to, cook the beef in batches. You want to let each piece develop that signature browning that takes the texture of the dish to the next level!
If you are using a tougher cut of beef, try popping it in the freezer for 15 minutes before cutting it.
Serve your beef and broccoli with quinoa, white rice or brown rice.
Did your sauce come out thick and dry? Add a bit of water to bring it back to life!
Make sure to not oversalt your beef before seasoning the dish with soy sauce.
Mix your sauce in a separate bowl before adding it to the pan. This will create more even seasoning, as well as prevent any stubborn cornstarch lumps.
Note: The sauce is so easy in this recipe. Just whisk it all together and you are set to go!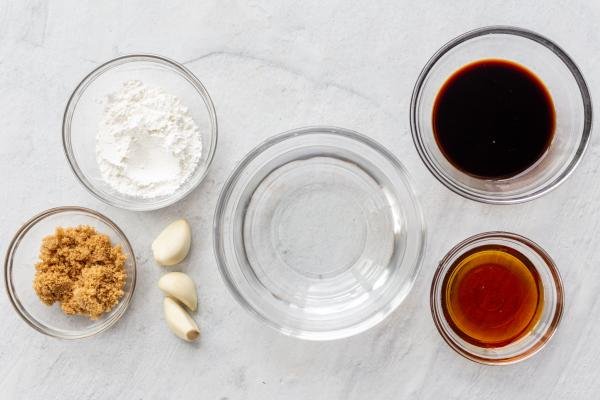 Best Cut of Beef for the Beef and Broccoli
You don't have to buy the most expensive cut of beef to get the best tasting beef and broccoli. In fact, you shouldn't! The key here is to cut the beef into thin, equal pieces that will cook fast enough to not get tough. Save yourself some money and purchase any of the following budget cuts (ranked from cheapest to most expensive):
Flank: This cut is taken from the abdomen. It's lean, easy to cut and perfect for grilling or sauteing.
Top Round Steak: Lean and flavorful, this thick come from the rump and hind legs. It's also great for slow cooking and takes well to be tenderized.
Tri-Tip Steak: This hunk of meat is a favorite at West Coast BBQs. It's lean and perfect for roasting and grilling.
New York Strip: Honestly, this steak might be too high-quality for this dish. But, if you want to be fancy, go for it! This cut tends to be well-marbled, pricier and is typically eaten in steak form.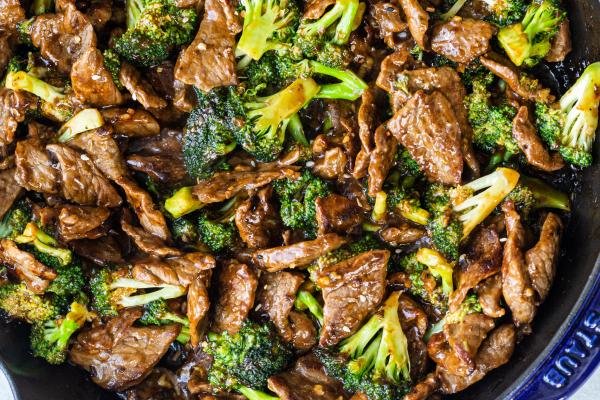 Make Beef and Broccoli Ahead of Time
The most amazing part is that this dish can stay fresh for up to 3-5 days. Which makes it a great fit for meal planning. You can purchase these containers that stack so nicely in the fridge and you have fresh lunches for days.
More Make Your Own Takeout
Recipe
One-Pan Beef & Broccoli is a healthier rendition of your favorite Chinese takeout dish. Fill up your bowl, curl up on the couch and spend a fraction of what you would at a restaurant…
Ingredients
2

lb

beef

sliced very thin

4

cup

broccoli

cut into bite size pieces

2

tbsp

olive oil
Nutrition Facts
One-Pan Beef & Broccoli Recipe
Amount Per Serving
Calories 397
Calories from Fat 288
% Daily Value*
Fat 32g49%
Cholesterol 81mg27%
Sodium 419mg17%
Potassium 374mg11%
Carbohydrates 7g2%
Protein 21g42%
Vitamin A 524IU10%
Vitamin C 4mg5%
Calcium 49mg5%
Iron 3mg17%
* Percent Daily Values are based on a 2000 calorie diet.