Looking for a quick and easy dinner recipe that the whole family will love? Mouth-watering and tender, cast iron ribeye is the king of weeknight dinners.
If you ever have any leftovers, you can always make our famous Philly Cheesesteak or the Steak Sandwich.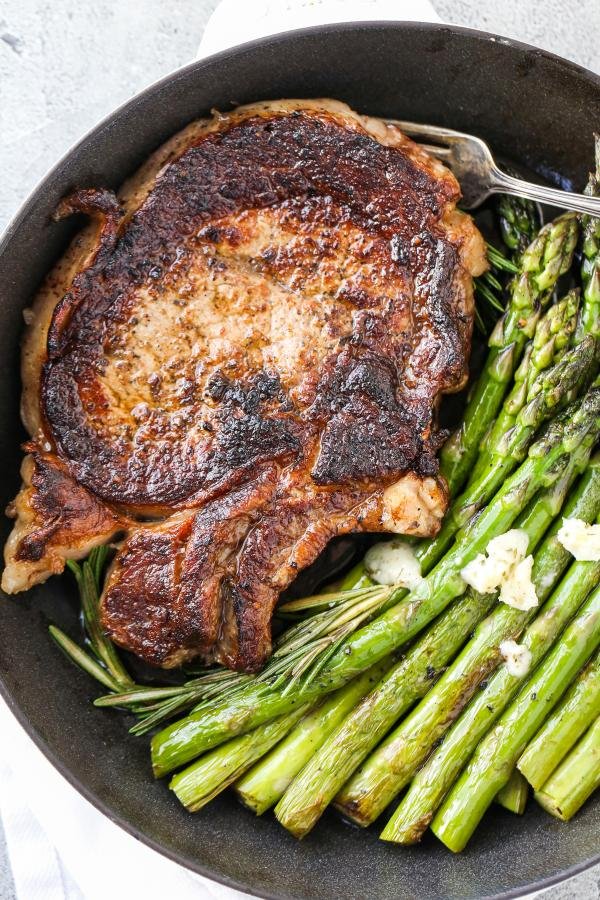 As a busy working mom of two boys, I am all too familiar with the chaos that comes with making a homemade dinner on a school night. This recipe is a true crowd-pleaser that requires little prep or cleanup. What's better than that?
One of the best things about this super simple recipe is that so much of the ribeye's flavor comes from the meat itself. The ribeye, sometimes referred to as cowboy steak, is a fattier cut of beef that is best enjoyed bone-in. If you prefer boneless ribeye, don't worry! Ribeyes have great fat marbling, with or without the bone in.
Serve Ribeye With:
Cooking a Ribeye Steak in a Cast Iron Pan
Pan-fried ribeye is one of the simplest ways to get a perfectly crusted steak with a tender and juicy inside. For this method, I recommend using oil on high heat to create the initial sear on your ribeye as opposed to something like butter which can burn quite easily.
Oils like avocado, vegetable and canola have a high smoking point, making them great options for developing a nice crust. Butter, on the other hand, is excellent for basting (melting and pouring over your steak) near the end of its cooking process. Basting helps the steak retain moisture and adds a deep, rich flavor.
How Do You Like Your Steak Cooked?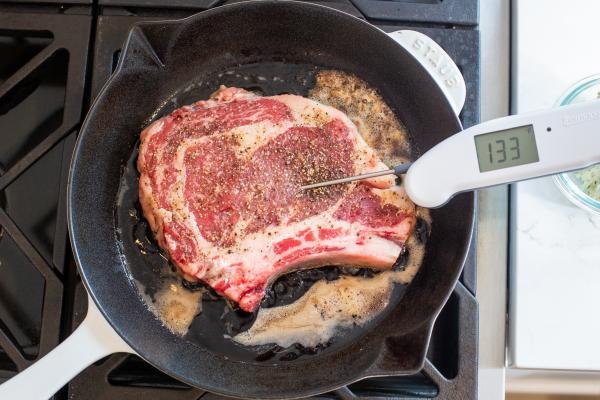 Hot tip: Do yourself a favor and take the guesswork out of making sure your steak is safe to eat and invest in a meat thermometer! No matter what cooking method you choose, use this quick temperature guide below to make sure your steak is cooked just right:
Rare: 130 to 135 °F
Medium-Rare: 140 °F
Medium: 155 °F
Well-Done: 165°F
Other Cooking Methods
One of the best things about this recipe is that it's incredibly versatile when it comes to the cooking method. You can also use the grill or oven to make a yummy ribeye: (instructions for medium-rare).
Grilling Ribeye
When using the grilling method, start off by ensuring that your grill is clean (this helps prevent flare-ups) and coated generously with cooking spray. Before placing your ribeye on the grill, make sure that it is properly heated to a medium to high-heat. You want your grill to be somewhere close to 500°F, as this ensures that your ribeye will develop a perfectly crisp crust. Once you place your steak on the grill, it's time to shut the lid and lower the grill to medium. Grill three minutes on each side.
Oven Baked Ribeye
For this no-fuss method, begin by preheating your oven to 415° F. Before placing your steak in the oven, you want to first sear your steak on the stove in a cast iron skillet over high heat for about 30 seconds to a minute on each side. Finish the steak in the oven for 10 minutes.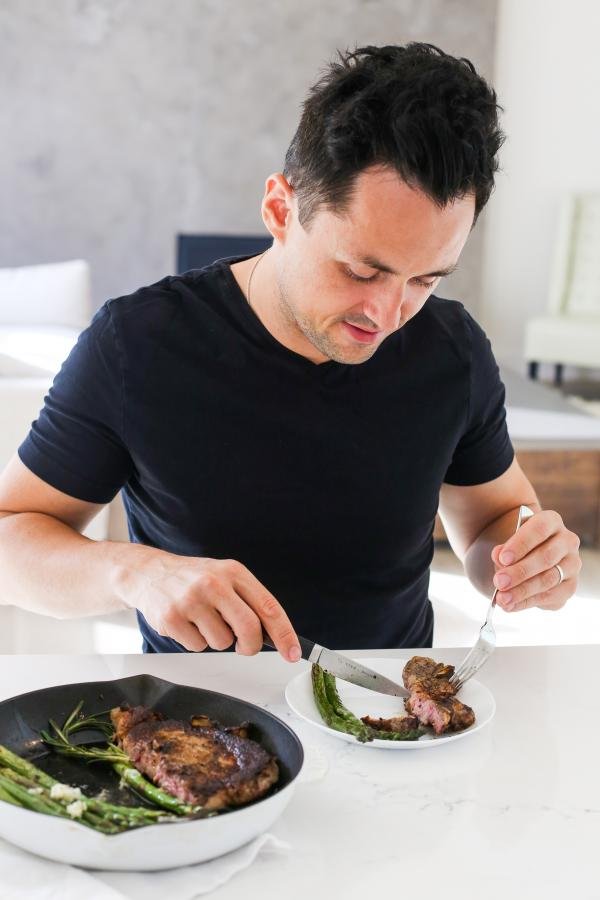 Ribeye Questions Guide
How long does it take to cook a medium-rare steak in a cast iron pan?
Preheat your pan for 5-10 minutes on medium-high heat. It is important that the pan is hot and ready before you place the steak on it. Depending on the size and thickness of your ribeye, cook for about 3 minutes on each side for medium-rare. Remove the steak and allow it to rest for at least 5 minutes before slicing.
Should I Marinate Ribeye?
Always marinate your steak if you can. Simply rub it with salt and pepper and let it marinate for at least an hour prior to cooking. Salt helps tenderize the tougher fat membranes in the meat, which means a melt-in-your-mouth steak!
How Do You Make a Ribeye Tender?
No matter which method you choose it's crucial that you let your steak rest for around 5-15 minutes before slicing. This helps keep your steak moist and locks in the flavor.
Recipe
Looking for a quick and easy dinner recipe that the whole family will love? Mouth-watering and tender, cast iron ribeye is the king of weeknight dinners.
Ingredients
2

lb

ribeye steak

2

tbsp

kosher or sea salt

(to taste)

2

tbsp

ground pepper

(to taste)

1

tbsp

oil

avocado, canola
Instructions
Season ribeye very generously with salt, as professional chefs say, make salt snow over ribeye. Season to taste with pepper. Let the ribeye rest for at least an hour.

Preheat cast iron skillet to the point where it's almost smoking. Drizzle skillet with a little bit of oil. Place seasoned ribeye onto the preheated skillet, let it cook for about 30 second and move to prevent sticking. Now let the ribeye cook for a few minutes on each side. Look for temperature guide above.
Nutrition Facts
Perfect Cast Iron Ribeye
Amount Per Serving
Calories 510
Calories from Fat 324
% Daily Value*
Fat 36g55%
Cholesterol 138mg46%
Sodium 3607mg150%
Potassium 648mg19%
Carbohydrates 2g1%
Protein 46g92%
Vitamin A 50IU1%
Calcium 29mg3%
Iron 4.2mg23%
* Percent Daily Values are based on a 2000 calorie diet.