Philly Cheese Steak Stuffed Peppers are a great alternative to their bread-y, traditional counterpart. Whip up a batch when the craving hits and you need to watch your carbs!
Still looking for a classic recipe? Check out my Easy Philly Cheesesteak! I mean…sometimes you just have to have bread, right?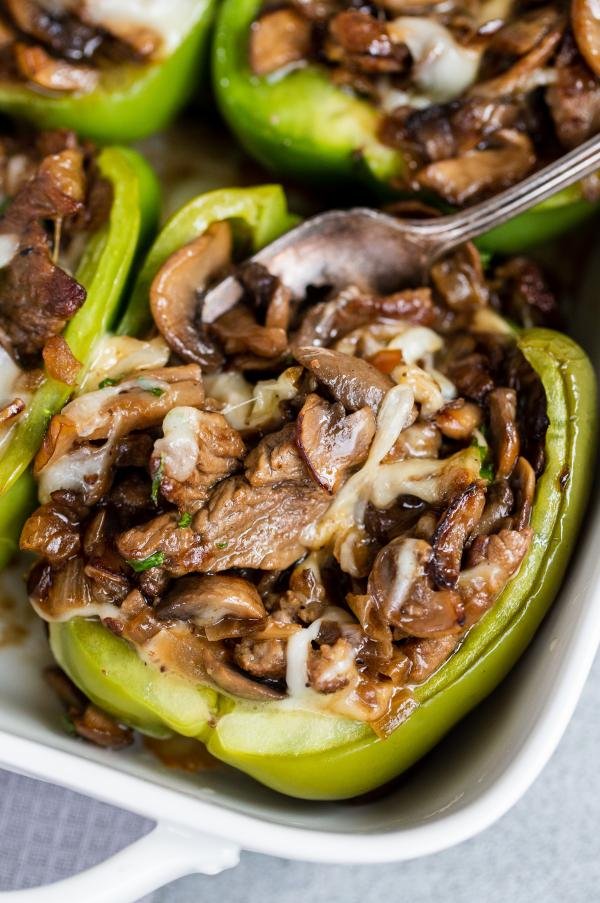 These Philly Cheesesteak Stuffed Peppers are so perfect for you Keto-dieters out there. They are also a fun meal to make if you are gluten-free. What's even better? They are great for meal-prepping. You can make all the ingredients ahead of time and quickly pop one in the oven on a busy weeknight.
So what inspired this dish? There's a food truck here in Seattle that has the most killer Philly Cheesesteak Sliders. I would get them for lunch on days I really wanted to treat myself.
However, at the end of the day it's the filling that really kept me coming back for more. As a result, I decided to experiment with a low-carb version and found that green peppers really elevated the richness of the beef. This recipe is truly a win-win for your taste buds and waistline!
We are huge fans of stuffed bell peppers and very often try to swap them in where we can and replace tortillas or bread. One of our most popular recipes last year was the Mexican Stuffed Bell Peppers. If you haven't tried these bad boys, you must check them out.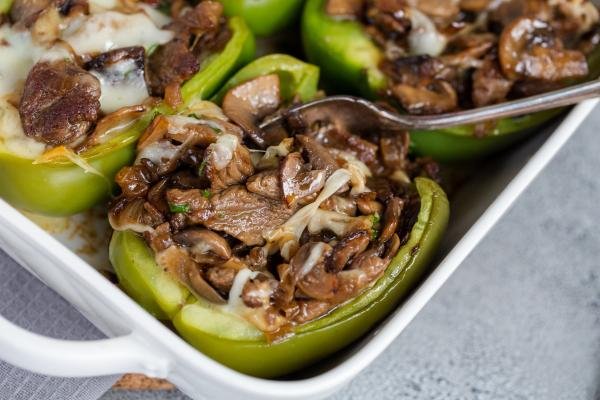 How to Make Philly Cheesesteak Stuffed Peppers
Gather your ingredients.
Sautee mushrooms. Add diced onions and cook through. Remove and set aside.
In the same skillet, cook sliced beef. Return the mushrooms and onions. Season to taste.
Slice and clean peppers. Line the pepper with a slice of cheese. Top with filling and cover with another slice of cheese.
Bake at 400℉ for 25 minutes.
Best Cut of Beef to Use for Philly Cheesesteak Stuffed Peppers
Ribeye is always amazing. It's perfectly marbled and packs a ton of beef-y flavor. Amongst Philly cheesesteak enthusiasts, ribeye is considered the most authentic cut to use for this beloved street food. However, it is quite expensive a cut. If you are trying to be a bit more thrifty, opt for skirt steak. It's easier on the wallet and perfect for pan-frying. You could also use top sirloin.
How to Cut Beef for Philly Cheesesteak Stuffed Peppers
Slice beef against the grain with a gentle sawing motion. The "grain" refers to the direction the muscle fibers are growing. You are going to want to cut across the grain, versus parallel to it. This helps maintain uniformity and prevents you from compromising the shape of the strips.
You also want to slice your beef as thinly as possible. This will set the stage for even cooking! Plus, thinner steak strips make for better pepper stuffing. The goal is to have a nice, even bite!
FAQ
Should peppers be cooked before stuffing?
This is totally a preference. I don't pre-boil my peppers because I like a bit of bite, but if you like yours on the softer size place them in boiling water for 3-5 minutes.
What temperature do you cook stuffed peppers?
I find that 400°F is the perfect temperature for cooking stuffed peppers. If you reduce the temperature too much, they will take forever to soften.
Can I use ground beef instead?
Of course! Just make sure you do no less than 85 percent lean beef and drain the pan well after browning and before stuffing. You don't want your peppers to fill up with a ton of grease.
Other Low-Carb Recipes to Try
Recipe
Philly Cheese Steak Stuffed Peppers are a great alternative to their bread-y, traditional counterpart. Whip up a batch when the craving hits and you need to watch your carbs!
Ingredients
3

green bell peppers

1

lb

mushrooms

1

onion

1

lb

beef

sliced into thin strips

12

slices

Provolone cheese

oil

for cooking

salt & pepper

to taste
Nutrition Facts
Philly Cheesesteak Stuffed Peppers (Low-Carb)
Amount Per Serving
Calories 424
Calories from Fat 270
% Daily Value*
Fat 30g46%
Cholesterol 92mg31%
Sodium 547mg23%
Potassium 652mg19%
Carbohydrates 8g3%
Protein 30g60%
Vitamin A 715IU14%
Vitamin C 50.8mg62%
Calcium 449mg45%
Iron 2.4mg13%
* Percent Daily Values are based on a 2000 calorie diet.