Oven roasted asparagus never gets old. Only five minutes of quick prep required before popping this healthy dish into the oven. What's not to love?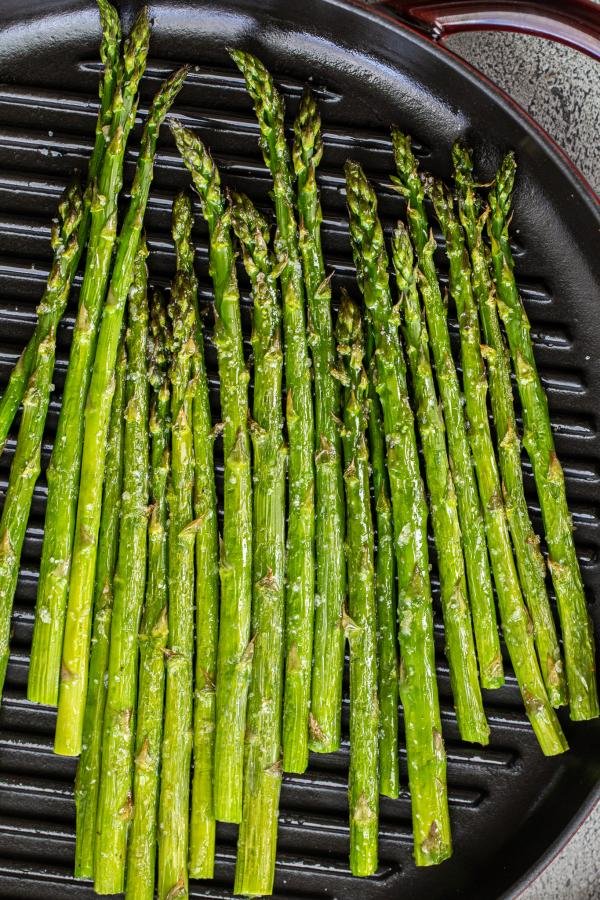 Oven roasted asparagus is delicious and simple. Everyone needs a foolproof, no-fuss recipe in their back pocket for the perfect spear. Especially with asparagus season right around the corner…
Oven roasted asparagus is the perfect side dish to just about ANY entree. Pair it with protein or pasta — or, hey, gobble it up all on its own.
At Momsdish, we have a major obsession with asparagus! My husband, Tim, swears this secret recipe is the best around. Recently, I put it to test while on a family cabin trip and everyone loved it! Little do they know it only requires three, simple ingredients…
How to Properly Trim Asparagus
So, you went to the store and you have your bundle of asparagus. But how do you get your spears trimmed and ready for cooking? Follow these easy steps:
Wash asparagus before you start.
Trim the spears by cutting off the tough, woody bottom-half with a sharp knife. You can also do this by snapping the woody part off with your hand — it should break off naturally.
Toss the ends and get to cookin'!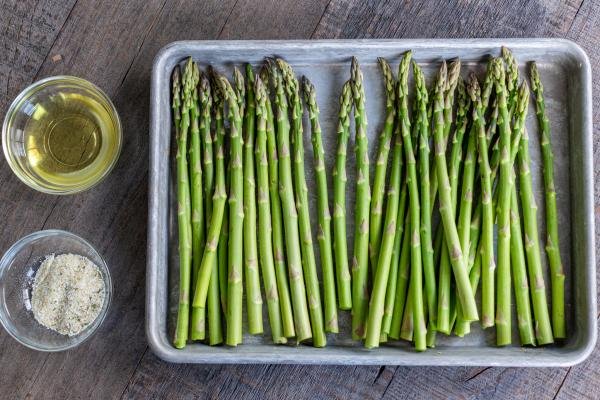 How Long Do You Cook Asparagus in the Oven?
Cooking asparagus in the oven couldn't be easier. The trick is cooking it at the right temperature for the right amount of time to give it a nice bite. Here is two different ways you can cook asparagus in the oven:
Method #1 (Tim's Favorite)
Trim your asparagus according to the above instructions.
Place your spears in an even layer on a baking sheet.
Sprinkle with olive oil and parsley salt
Bake on broil for about 5 minutes. Tim loves his spears a little undercooked!
Note: If you wish, give the spears a stir and broil for a couple minutes more. Just make sure to keep a close eye that they don't burn.
Serve warm or cold.
Method #2 (Traditional)
Preheat the oven to 400 ℉ and line a baking sheet with foil.
Arrange asparagus in a single layer, parallel to one another.
Drizzle with olive oil. Season with parsley salt. (Alternately, you can also use garlic powder, black pepper and salt.)
Toss the spears with your hands to coat them.
Roast for up to 20 minutes. Asparagus is done cooking when it's tender but still crisp and bright green. I find that the sweet spot is around 12 minutes!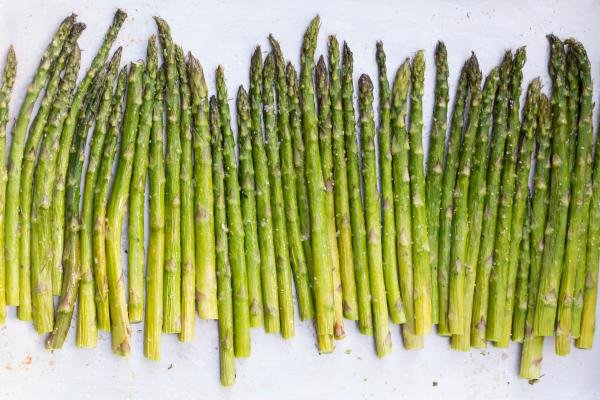 Tips for Roasting Asparagus
To prevent asparagus from getting mushy, take the asparagus out a minute or two before you think it is done. Account for the asparagus cooking a little more as it rests.
Like it cheesy? Sprinkle some freshly grated parmesan on top of your asparagus and let it create a nice crust in the oven.
Squeeze some fresh lemon juice a top your asparagus for a burst of freshness.
For extra flavor, prep your asparagus the night before by marinating it in the oil and spices. When you're ready to eat, simply pop it in the oven and roast according to instructions!
Storing Oven Roasted Asparagus
Store roasted asparagus in an airtight container in the fridge for up to a week. When you are ready to reheat, simply broil the asparagus on a baking sheet to make it crispy again.
What Else to Serve With Oven Roasted Asparagus
Recipe
Oven roasted asparagus never gets old. Only five minutes of quick prep required before popping this healthy dish into the oven. What's not to love?
Nutrition Facts
Oven Roasted Asparagus
Amount Per Serving
Calories 32
Calories from Fat 36
% Daily Value*
Fat 4g6%
Sodium 872mg36%
Potassium 8mg0%
Carbohydrates 1g0%
Protein 1g2%
Vitamin A 30IU1%
Vitamin C 1mg1%
Iron 1mg6%
* Percent Daily Values are based on a 2000 calorie diet.