Steak sandwiches always hit the spot. In my take, tender, juicy strips of steak and caramelized onions are covered with melty havarti cheese and nestled in between two buttery slices of baguette. Yum!
We love making sandwiches with steak. If you have a thing for red meat too, check out my Philly Cheesesteak and our Gluten Free Philly Stuffed Peppers!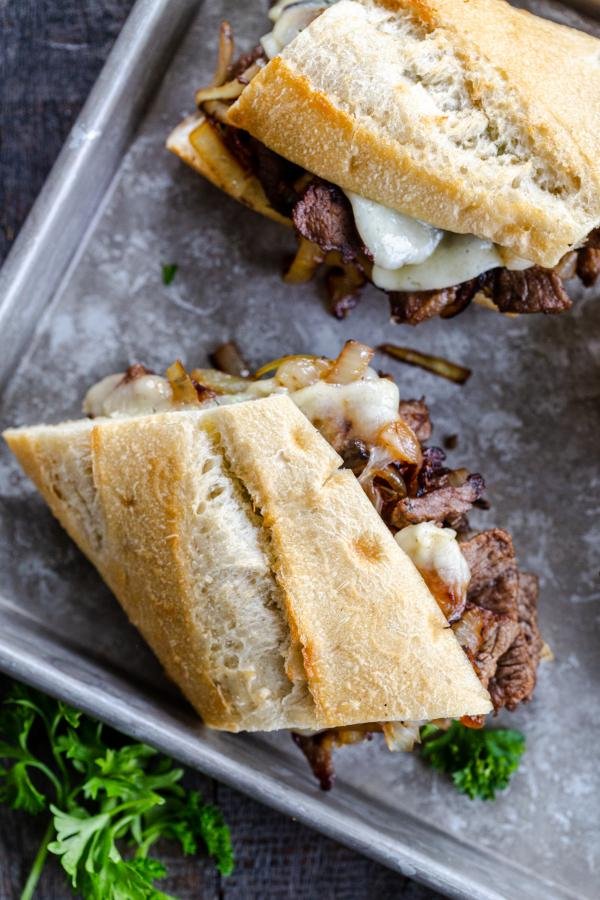 Steak sandwiches have been a staple in my home for as long as I can remember. We love making it for a quick dinner or when we are hosting a party.
To me, steak sandwiches are an upgraded version of a typical burger. I love both, don't get me wrong, but if I had to choose, I would opt for the steak sandwich each and every time.
Prepare the Right Steak for the Sandwich
The most tender cut of steak for this sandwich is definitely the ribeye. In my opinion it is the perfect cut for a "sando". However, it can be quite pricey. If you want a different cut of beef, here are a couple great alternatives:
Top Sirloin: This cut is a bit tougher than ribeye, but when cooked properly it is tender and juicy!
Skirt Steak: Skirt steak is my favorite value steak. It's often sold in larger quantities, so it is great when you're feeding large crowds. I also find that it is tender when marinated well.
NY Strip: This cut has a little less marbling than a ribeye, but it is still considered a choice cut. It's super tender and perfect for slicing.
When cooking your steak, you have two options: slicing the steak and sauteeing it or cooking your steak whole and slicing it up after it is cooked through. I prefer to cook my steaks whole because of all the flavor that gets locked in to the meat. Just be certain to let your steaks rest for at least 10 minutes before slicing them up.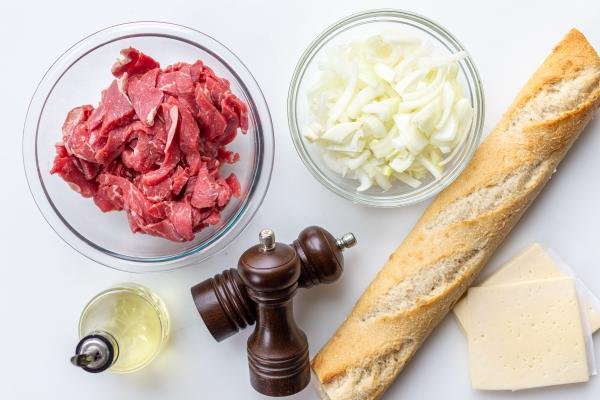 Tip: use our freshly baked Baguette recipe for the best sandwich!
Prepare Steak Sandwich Ahead of Time
The best part about this sandwich is that you can make a huge batch and either refrigerate or freeze the filling. This is great for meal prepping and having a quick dish in your back pocket for those crazy weekdays. Since this meal can be heated up in the oven on a baking sheet, it is super fast, easy and requires minimal clean-up.
I prefer to not assemble my sandwiches until I am ready to eat them. This prevents soggy bread and rubbery cheese. Instead, I refrigerate or freeze the filling ahead of time and prepare my sandwiches as I go. Here's how to do it: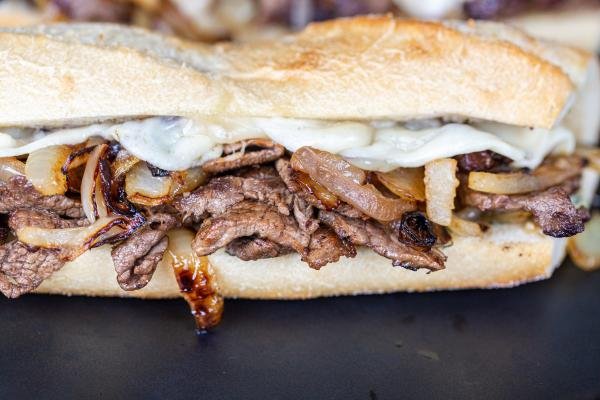 Refrigerating
Your steak filling will stay fresh for up to 3 days when stored in an airtight container in the refrigerator. When you are ready to eat, assemble your sandwiches and bake them in whole in the oven. To keep them warm, place them on a serving dish covered with aluminum foil prior to serving.
Freezing
Freeze your filling in an airtight container in the fridge for 2-3 weeks. Thaw in the fridge when you are ready to eat and reheat in the oven just like with the refrigerated filling above!
What Goes with Steak Sandwiches?
What's a sandwich without a nice side? Below, I will list some of my favorite dishes to pair steak sandwiches with:
Air Fryer Fries: For half the fat and calories, these fries are still so delicious. Whip up a big batch in your air fryer and feel less guilty about indulging in red meat.
Pickled Cabbage Salad: This tangy, coleslaw-like salad is the perfect sidekick to a savory beef sandwich. You could even get creative here and use this as a topping for your sandwich itself!
Caesar Salad: My homemade caesar salad is to-die-for. It's tangy, citrusy and savory. I love pairing it with steak sandwiches!
Recipe
Steak sandwiches always hit the spot. In my take, tender, juicy strips of steak and caramelized onions are covered with melty havarti cheese and nestled in between two buttery slices of baguette. Yum!
Ingredients
Herb Butter
1/2

cup

butter

softened

1

tbsp

fresh dill

diced

3

garlic cloves
Steak Sandwich
Nutrition Facts
Steak Sandwich Recipe
Amount Per Serving
Calories 500
Calories from Fat 315
% Daily Value*
Fat 35g54%
Cholesterol 103mg34%
Sodium 1734mg72%
Potassium 294mg8%
Carbohydrates 23g8%
Protein 24g48%
Vitamin A 632IU13%
Vitamin C 2mg2%
Calcium 163mg16%
Iron 3mg17%
* Percent Daily Values are based on a 2000 calorie diet.