This recipe was inspired by my Eastern European roots! If you love Pierogi from your local grocery store, these Classic Pierogi with Potatoes and Cheese will win you over!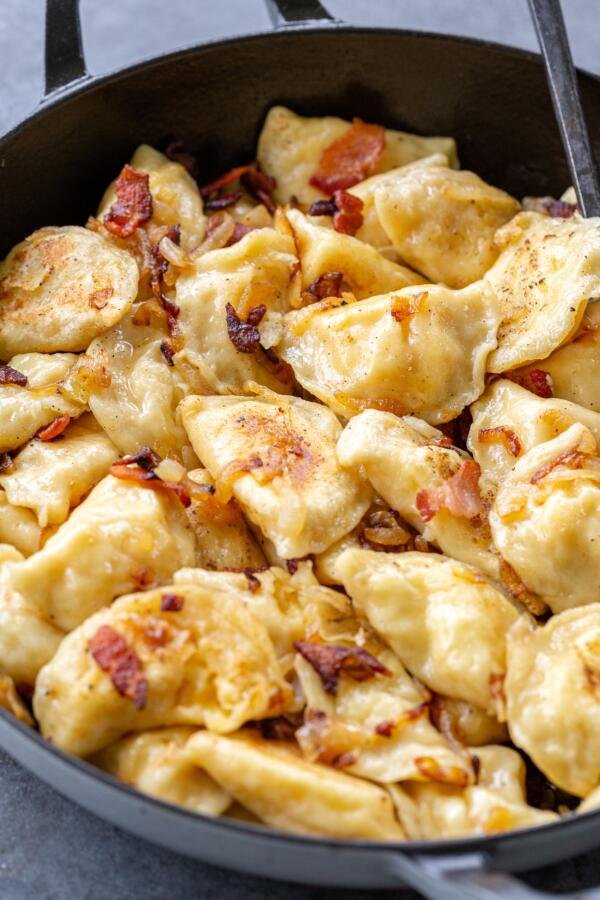 The Classic Pierogi is the perfect way to use leftover mashed potatoes. The simple filling is comforting and irresistible. Good luck only eating a few! If you've never had pierogi before, they are much like Asian dumplings with an Eastern European twist. Trust me, you're going to love them.
My family grew up calling these potato filled morsels "vareniki". My mother would make a huge batch with leftover mashed potatoes and us kids would gobble them up before they even hit the table. Today, I like to top them with some crispy bacon and a huge dollop of Canadian sour cream.
What are Classic Pierogi With Potatoes and Cheese
These dumplings are stuffed full with creamy mashed potatoes and cheese and covered with the most irresistible breading. Get ready to fall in love.
Flavor: Salty mashed potatoes and tangy cheddar cheese make for a simple and delectable flavor profile.
Texture: The breading is first boiled and then pan fried for the perfect bite. I like to think that these pierogis are equally binge worthy for both their taste and texture. There's something so satisfying about the crispy outer layer and the ultra creamy inside.
Time: All together, these pierogis take about an hour and a half from prep to finish.
How to Make Classic Pierogi
Although these pierogis look impressive, they are actually quite easy (and fun!) to make. Follow the simple steps below and have your guests thinking you snuck a Ukrainian grandma into your kitchen.
Filling: Use leftover mashed potatoes or whip up a quick batch. Mix in some sharp cheddar cheese.
Dough: Whisk eggs with sour cream and milk. Add in flour and salt. Knead the dough by hand or with a standing mixer. Allow the dough to rest for 10 minutes once fully kneaded and elastic.
Shape Pierogi: Roll out dough on a well floured surface. Cut circles out of the dough using a cookie cutter or a floured glass cup. Place a dollop of filling in each round. Fold the dough over like an empanada and pinch together the edges to seal the filling inside. Place pierogi on a floured surface.
Pierogi Variations
Mashed potatoes and cheese not your style? That's okay! Here are a couple other fun filling options to try out.
Ground beef and onions.
Ham and cheese.
Blueberries and farmer's cheese.
Sauerkraut and mushroom.
Caramelized onions and mashed potatoes.
Ways to Serve Pierogi with Potatoes and Cheese
There are so many different ways you can serve your pierogis. Here are a couple of our favorites:
Pierogi with Butter: Boil your pierogi and them toss them with butter immediately.
Pan Fried: After you boil them, toss them in a buttered pan to create a golden crust. This is a great way to serve leftovers!
Cartelized Onions: Toss your pierogi with caramelized onions for a wonderful texture.
Bacon: Pan fry some bacon bits and toss them with your pierogi.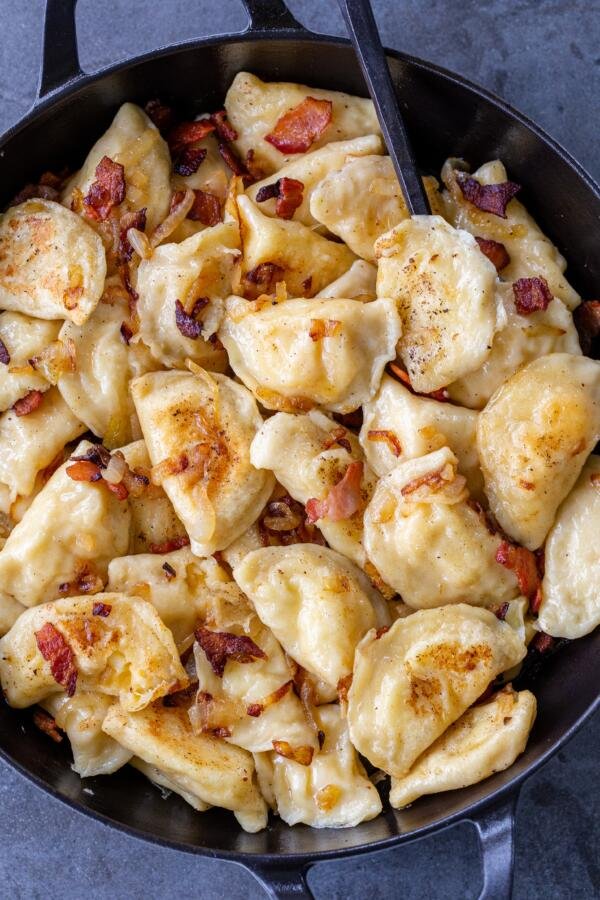 Making Pierogi In Advance
Cook & Refrigerate: After cooking your pierogi, toss them in butter and place them in an airtight container in the refrigerator. Store for up to a week.
Freeze for Later: Place raw pierogi on a floured baking sheet. Place in the freezer. Once frozen, remove from tray and store inside a freezer-safe bag.
FAQ
Are pierogis Polish or German?
Pierogis likely originated from Poland. However, there is much debate over this. It's been pretty difficult to track where the first recipe popped up.
What are pierogis traditionally served with?
Traditionally, pierogis are served with caramelized onions, bacon bits, and/or a dollop of sour cream.
How do you know when pierogies are cooked?
Once they float to the top of the boiling water, the pierogis are fully cooked. I love how this takes all the guesswork out of cooking!
Why is my pierogi dough sticky/dense?
Using less of more flour is the trick. Add in the flour slowly to control the texture and adjust accordingly.
Other Pierogi Recipes To Try
Can't get enough of pierogis? Us either. Here are a couple other recipes to try.
Recipe
This recipe was inspired by my Eastern European roots! Do you like Pierogi, these Classic Pierogi with Potatoes and Cheese will win you over!
Ingredients
Instructions
Nutrition Facts
The Classic Pierogi (Potato and Cheese)
Amount Per Serving
Calories 189
Calories from Fat 72
% Daily Value*
Fat 8g12%
Cholesterol 40mg13%
Sodium 408mg17%
Potassium 87mg2%
Carbohydrates 24g8%
Protein 6g12%
Vitamin A 253IU5%
Vitamin C 1mg1%
Calcium 69mg7%
Iron 2mg11%
* Percent Daily Values are based on a 2000 calorie diet.