Blueberry filled pierogi (aka Vareniki) are light, fluffy and incredibly delicious. Pulled straight from my family's recipe book, these are just the way my grandma made them.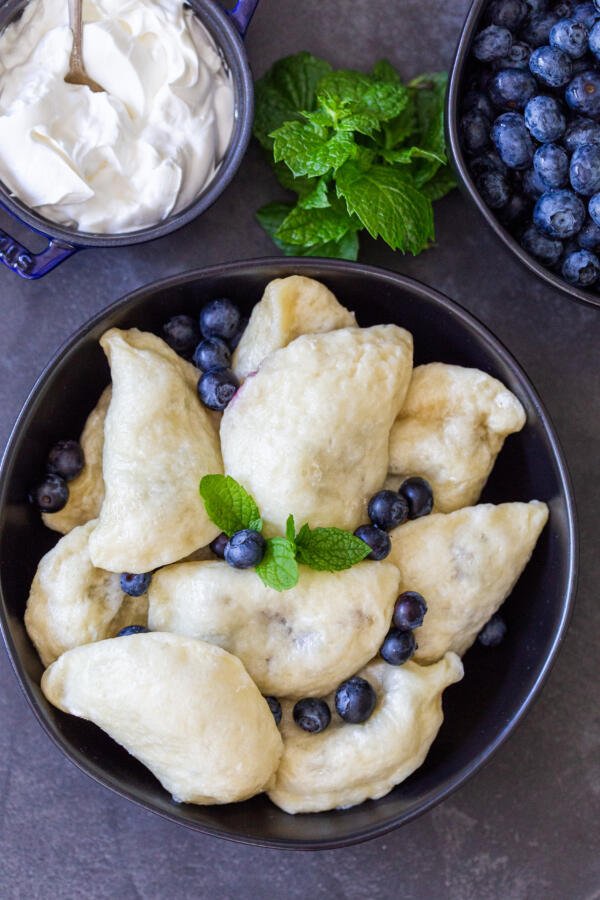 Blueberry Pierogi are the perfect dessert to make during the summer months. During my childhood, making them was an entire day process. We went out to the forest to pick the berries, made the dough by hand and enjoyed them fresh that evening. We definitely built up an appetite by the time we were done!
The yeast-based dough really takes these pierogies to the next level. They really melt in your mouth. Pair them with a hot cup of tea and be prepared to fall in love!
What are Pierogies?
Pierogies, or "vareniki", are filled dumplings that hail straight from Central and Eastern Europe. Traditionally, they are made with unleavened dough that is wrapped around various sweet and savory fillings.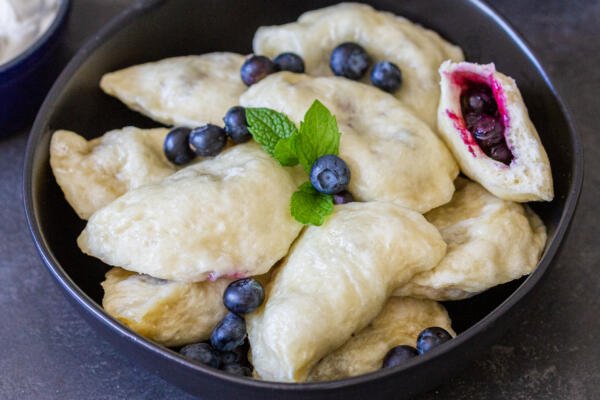 Most people would say that pierogi are a Polish dish. Others argue that they are German or Ukrainian. However, they are common throughout all of Europe. It's not a surprise that so many folks are fighting over who created these dumplings. They are just that delicious!
How to Make Steamed Blueberry Pierogi
Measure out all your ingredients to make preparation a bit easier.
Combine sugar, salt, flour and yeast.
In small portions, add water in until the dough texture is nice and smooth. Cover the dough and let it rise for an hour.
Wash your berries and grab some sugar. Flour your work surface.
Divide your dough into equal pieces. Cover the dough balls with a tea towel while you are working to prevent it from drying out.
Roll or stretch out each dough piece. Place a dollop of blueberries in the middle of each dough piece and sprinkle ⅓ sugar directly on top.
Fold the dough over to make a taco shape and make sure that the side is tightly sealed. Make sure to place pierogi back on a floured surface while you finish preparing the rest of the batch.
Bring a pot with water to a boil. Place a steamer in the inside. Place raw vareniki on the steamer and cover it with a lid.
Let each batch steam for about 7 minutes. The pierogi should come out light and fluffy.
What is the Best Way to Cook Pierogies?
Typically, you will want to boil Pierogi in a large pot, taking extra care to make sure there is plenty of space around each dumpling so they don't stick together. To reheat them, you can toss them in a hot skillet with butter or a microwave.
In this recipe, the dough is made with yeast. Therefore, you will get the best results when you steam them. This makes them super fluffy and airy.
Other Fillings to Use for Pierogies
This puffy, yeast dough pairs perfectly with a fruit or berry filling. You can also fill the dumplings with a meat and potato mixture if you are in the mood for something more savory. Here are a couple of my childhood favorites:
Strawberries: Cut your strawberries into tiny pieces. Toss them with a bit of sugar and that's it!
Cherries: Cut cherries into small pieces. Add a splash of sugar right on top of your dollop.
Potatoes: Make a batch of mashed potatoes for a savory filling. Serve with a side of sour cream for dipping!
Beef and Onions: Make a simple filling of ground beef and onions. Saute minced onions in butter until soft and translucent. Add in a pound of lean ground beef and brown until cooked through. Season to taste with salt and pepper.
A Few More Pierogi Recipes
Recipe
Blueberry filled pierogi (aka Vareniki) are light, fluffy and incredibly delicious. Pulled straight from my family's recipe book, these are just the way my grandma made them.
Ingredients
Filling
3

cup

fresh blueberries

1

cup

sugar
Nutrition Facts
Steamed Blueberry Pierogi
Amount Per Serving
Calories 77
Calories from Fat 9
% Daily Value*
Fat 1g2%
Sodium 15mg1%
Potassium 24mg1%
Carbohydrates 17g6%
Protein 1g2%
Vitamin A 5IU0%
Vitamin C 1.1mg1%
Calcium 3mg0%
Iron 0.6mg3%
* Percent Daily Values are based on a 2000 calorie diet.