Pierogi with farmer's cheese is as classic Ukrainian as it gets. Called "vareniki," these little dumplings are filled with sweet cheese and absolutely to-die-for!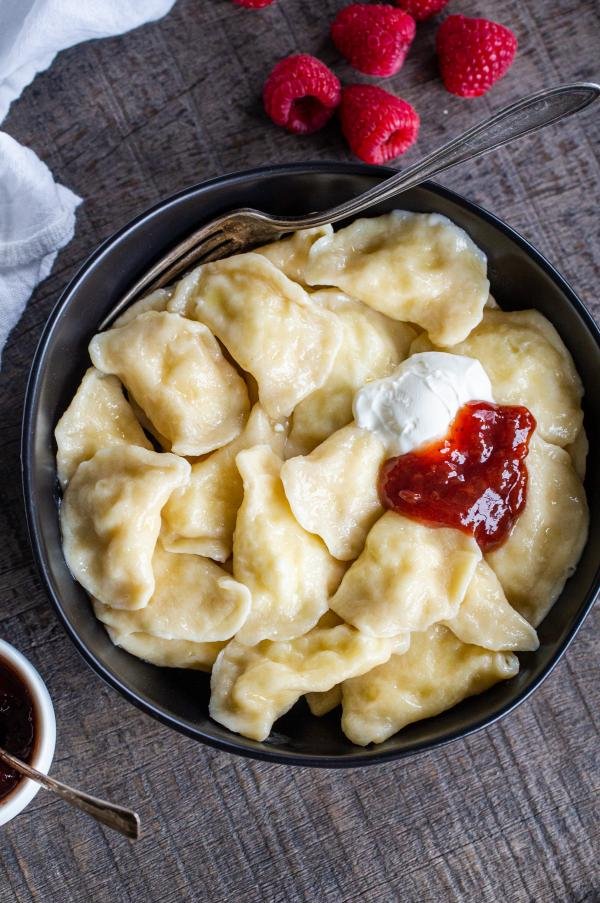 Pierogi can have so many different types of fillings. They can range from sweet to savory, but this particular version is my husband's favorite. He loves it so much that I had to create a lazy pierogi recipe for the days that I din't have time to make them the traditional way.
Get ready to venture straight into my childhood when you bite into pierogi with farmer's cheese. Passed down through several generations, this recipe is authentic, time-tested and so tasty!
What are Vareniki?
In English, "vareniki" translates to "boiled things". In short, vareniki are dumplings filled with an assortment of mostly vegetarian fillings. Below I will go more in depth about the difference between some of the dumplings you'll see on this blog and beyond.
Difference between Vareniki, Pierogi and Pelmeni?
If you have been following my blog, or any Eastern European food blog for that matter, you have probably started to notice that we LOVE our dumplings. There are so many different types, variations and fillings that it might be hard to keep up. Therefore, I wanted to give you a little background on the three most common dumplings to help clear up the confusion.
Vareniki and Pierogi are actually the same type of dumpling! Now, you are probably wondering why there are two different words to describe the same dish? Well, vareniki is the more commonly used term in Russia, while pierogi is the term used in Poland, Ukraine and Slovakia. These dumplings are typically served as an appetizer or dessert and made with mostly vegetarian ingredients (although my version contains meat). See what I mean? This dumpling situation can feel like a whirlwind!
To make matters even more confusing, Russian piroshky often get mixed up with pierogi. But, piroshky are actually quite different because they are fried instead of boiled. The type of dough you use for each dumpling is also quite different as well.
Pelmeni are tiny morsels that are stuffed with a filling of meat and simple spices like salt, pepper and garlic. The raw dough is stuffed with a raw meat filling (typically beef, fish or pork) and the two cook together in boiling water until the dumpling floats to the top of the pot. This dish is typically served with a dollop of sour cream and dill, or in a light chicken broth. Unlike vereniki or pierogi, this dish is typically served as a meal versus a dessert or appetizer.
Freezing Pierogi
First, freeze your pierogi on a floured surface like a baking sheet. Only after they are completely frozen can you store them in a freezer bag. They will stay fresh for up to two or three months (just keep an eye out for freezer burn). Never freeze cooked pierogi. The reheating doesn't work well and they become mushy.
Pierogi Filling
Like I said before, there are a ton of different pierogi filling options. I stick to this one mostly to stay on my husband's good side :-). Feel free to toss in some fresh fruit to this recipe to switch things up though. Blueberries and cherries are always welcome additions.
If you want something more savory, mushroom and onion, sauerkraut and potato or potato and cheese are great options as well. For extra decadence, toss these pierogi in high-quality European butter as soon as they come out of the boiling water.
Pierogi Dough
I have to say that this dough is incredible to work with! It is stretchy and malleable, making it super easy to shape. Just make sure you don't roll it out too thin to prevent tearing. When the pierogi are cooked, you will surely fall in love with the texture and how well the filling is secured inside the dough.
Other Pierogi Recipes To Try:
Recipe
Pierogi with farmer's cheese is as classic Ukrainian as it gets. Called "vareniki," these little dumplings are filled with sweet cheese and absolutely to-die-for!
Instructions
Nutrition Facts
Pierogi with Farmers Cheese (Vareniki Recipe)
Amount Per Serving
Calories 56
Calories from Fat 18
% Daily Value*
Fat 2g3%
Cholesterol 12mg4%
Sodium 90mg4%
Potassium 15mg0%
Carbohydrates 8g3%
Protein 3g6%
Vitamin A 18IU0%
Calcium 6mg1%
Iron 1mg6%
* Percent Daily Values are based on a 2000 calorie diet.