Craving pierogi, but don't have the time to make them? This easy Pierogi recipe uses a couple of tricks and shortcuts to bring the taste of homemade pierogi to your table in under 30 minutes.
These easy dumplings are a "lazy" way of making Russian Farmers Cheese Varenyky at home, in just a fraction of the time.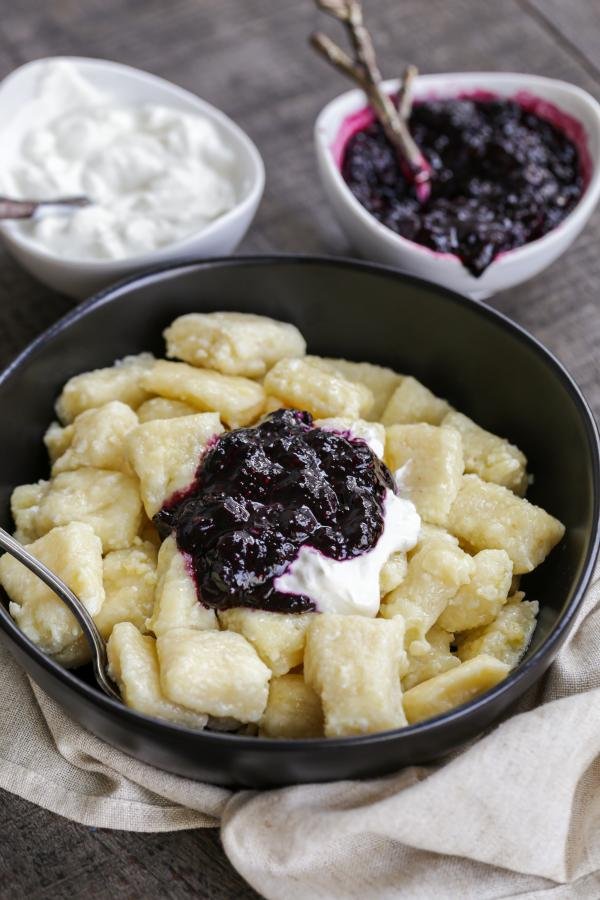 Lazy Pierogi look alot like Italian gnocchi. For this recipe, you will skip making the homemade farmer's cheese and substitute it for the store bought cottage cheese. This will save you time without compromising flavor, as cottage cheese is super close to the real thing.
Instead of making the dough and the filling separately, you are going to mix ALL the ingredients together and skip the extra work. That's right! You can make these quick pierogi using only ONE bowl!
How to Make Pierogi
What is Pierogi?
Pierogies are an extremely popular treat in Eastern Europe. Almost every country has its own version. Russian and Ukrainian style pierogies are bite-sized, dough-based dumplings that are typically filled with potato, meat, cheese or fruit. The dumplings are then boiled in hot water and served immediately. They can also be fried, which is more common with the savory variety. In short, the possibilities are endless and delicious!
Traditionally, pierogi are made by preparing a homemade dough. Then, a filling is made separately. The last step consists of stuffing the dough with your filling and sealing each dumpling by hand. While rewarding, this process is time consuming and tedious. Lazy Pierogi, on the other hand, require a fraction of the labor.
How to Cook Lazy Pierogi?
Like I said above, you will mix all your ingredients together in one bowl to create a batter that is both the dough and filling, all-in-one! Then you will roll out a few long strands of your cheesy dough and cut them into uniform pieces. To cook the pierogies, you will boil small batches in a large pot of water until they rise to the top. Once they rise, immediately take them out. Don't overcook them. If you do, they will fall apart and become inedible.
How to Serve Pierogi
After pierogies come out of boiling water, it is best to submerge them into melted butter and immediately serve them with your favorite toppings. Here are a couple of my favorite pierogi compliments:
Sour Cream: Place a dollop or two on your serving plate and dip away!
Jams: Berry jams are my go-to. They add an awesome pop of flavor and a nice contrast to the cheese.
Syrups: Fruit, maple or chocolate syrups can be drizzled on top or placed in a bowl for dipping.
Honey: Spoon some warmed honey over the top of your pierogies.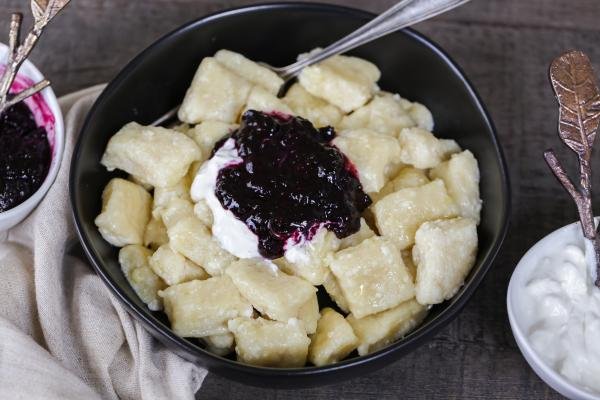 Traditional Pierogi Recipes
Want to make the real thing? Here are a few of my favorite, homemade pierogi recipes. They are a bit more time consuming, but totally worth it. Enjoy!
Steamed Blueberry Pierogi – This recipe comes from either my mother or grandma's kitchen. The jury is still out on this one. No matter who can claim it as their own, it sure is delicious. Each pierogi is stuffed with fresh blueberries and a heavy sprinkle of sugar. These dumplings are simple and sweet.
Potato Pierogi – Many Americans were likely introduced to savory pierogies before they tried the sweet variety. These fried pierogis have a sour cream-infused dough and is stuffed with a yummy potato filling.
Vareniki Recipe – Sour cream-infused dough wraps around a gooey filling of farmer's cheese and blueberries. Yum!
Recipe
Craving pierogi, but don't have the time to make them? This easy recipe uses a couple of tricks and shortcuts to bring the taste of homemade pierogi to your table in under 30 minutes.
Nutrition Facts
Lazy Pierogi Recipe
Amount Per Serving
Calories 401
Calories from Fat 144
% Daily Value*
Fat 16g25%
Cholesterol 100mg33%
Sodium 343mg14%
Potassium 65mg2%
Carbohydrates 49g16%
Protein 14g28%
Vitamin A 375IU8%
Calcium 17mg2%
Iron 2mg11%
* Percent Daily Values are based on a 2000 calorie diet.