Ferrero Raffaello candies are rich and creamy with a hint of coconut. They come together easily and stay fresh for weeks.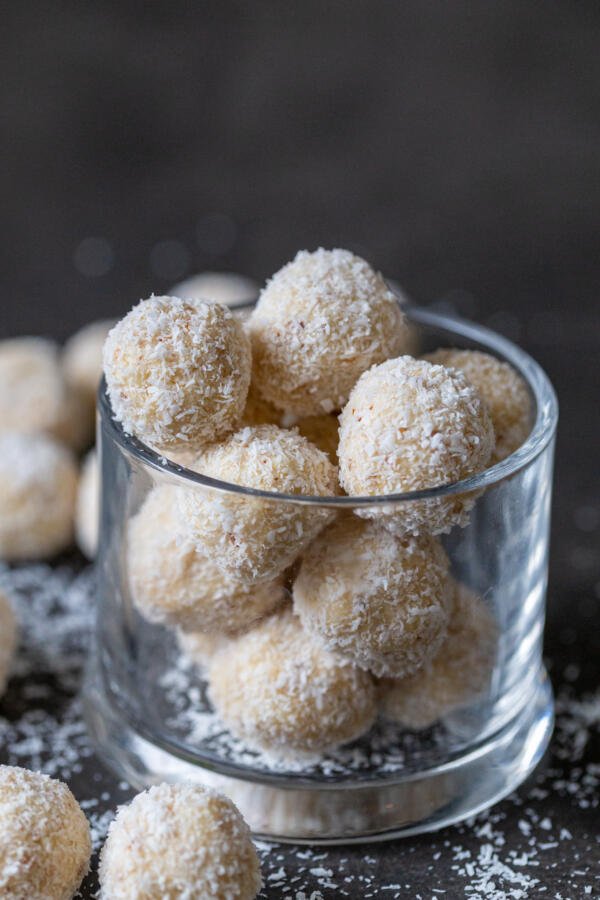 Raffaello Candies are spherical coconut–almond confections originally introduced by famous Italian sweets maker Ferrero (many folks also love this brand's signature cookie: Ferrero Rocher).
The cookie is made up of a spherical wafer which is filled with a white milky cream and roasted almonds. It is surrounded by a coconut layer with a white cream coating.
Ferrero Raffaello candies are one of my favorites out there. They are truly heavenly! But sometimes, the eyes ask for more than the pocket can handle. Making the candies at home is not only easy, it's budget-friendly. Gotta love guilt free indulgences…
How to Make Raffaello Candy
Raffaello candy looks so darn fancy, but it's actually quite easy to make and requires only a handful of ingredients to put together. Follow these super simple steps to have perfect candy in no time:
Combine sugar and butter until creamy.
Mix dry milk into the butter.
Crush and add wafers, almond extract and tiny pieces of coconut flakes into the mixture. Mix well.
Using an ice cream scoop, place 1/2 of the almond inside and make a small round piece.
Roll each candy into coconut flake. Repeat for each piece.
Hot Tip: Because the coconut flakes and wafers may not be exactly the same as the ones I used, your consistency might turn out a little bit dry. If this happens, just add a little more butter or cream cheese to create enough moisture.
Here are the wafers I used. I typically have to trek to a European specialty store to snag them. But, don't worry if you can't find them or don't feel making an extra stop at another store. You can use any brand of wafers that come in vanilla.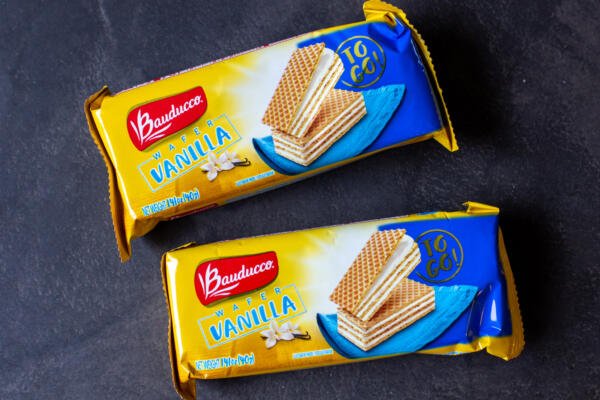 Storing Raffaello Candy
Whether you are making a big batch to have on hand for yourself or stocking up to the barrage of friends and family coming to your home during the holidays, you need good tips on how to store you candies. Check out my best practices below:
Refrigerator: Raffaello candy can be stored in a refrigerator for up to a few weeks. Make sure they are kept in an airtight container.
Freezer: Place your Raffaellos in a single layer on a lined baking sheet. Pop the entire baking sheet in the freezer and allow your candies to completely free overnight. Remove from the baking sheet and place in a plastic storage bag.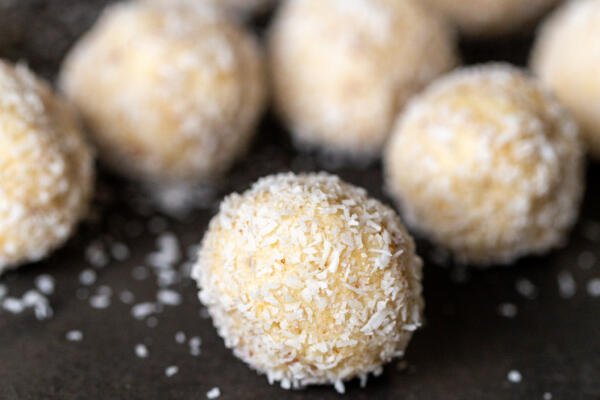 Other Similar Recipes to Try:
Holiday cookie trays, potlucks, birthdays, and family parties all call for one thing: SWEETS! Here are a couple sweet treats to satiate that craving for something decadent:
Recipe
Ferrero Raffaello candies are rich and creamy with a hint of coconut. They come together easily and stay fresh for weeks.
Ingredients
1

cup

white sugar

1

cup

unsalted butter

room temperature

2

cup

dry milk

1 1/2

cup

unsweetened coconut flakes

shredded into tiny pieces

1

cup

vanilla wafers

1

tsp

almond extract

cut in half

1/2

cup

roasted almonds

1/2

cup

unsweetened coconut flakes

for coating, shredded into tiny pieces

2

oz

cream cheese

add only if the texture is crumbly
Nutrition Facts
Ferrero Raffaello Candy Recipe
Amount Per Serving
Calories 143
Calories from Fat 90
% Daily Value*
Fat 10g15%
Cholesterol 18mg6%
Sodium 37mg2%
Potassium 124mg4%
Carbohydrates 11g4%
Protein 3g6%
Vitamin A 202IU4%
Vitamin C 1mg1%
Calcium 66mg7%
Iron 1mg6%
* Percent Daily Values are based on a 2000 calorie diet.
This post is not affiliated with Ferrero company.