This recipe for chocolate raspberry truffles is melt-in-your-mouth amazing. With just 3 ingredients, they're the perfect combination of tart & decadent!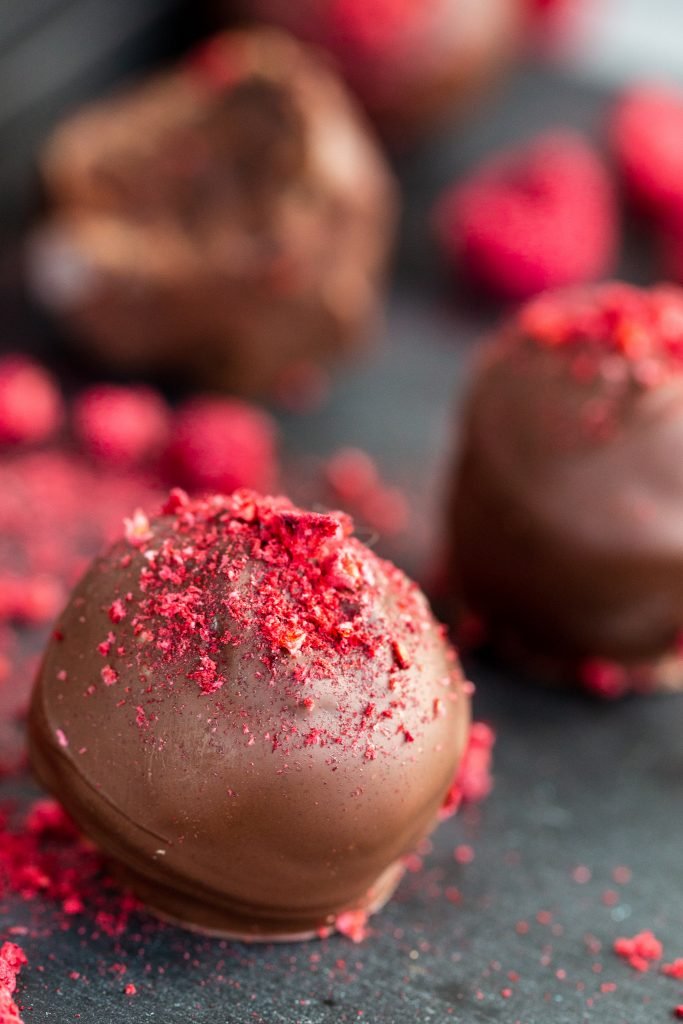 These chocolate raspberry truffles are probably my all-time favorite treats. Back in the day, I bought a very expensive raspberry truffle and was hoping to share it with my husband. Before I could get a bite, he gobbled it down and I realized that truffles were something you need to make in bulk. They're just too good to share. Thus, this recipe was born and I can't wait for you to try it. Perfect for your next Valentine's Day dinner!
Note: You'll need freeze-dried raspberries to make this recipe. They can be found in most grocery stores in the dried fruit section. Trader Joe's has an amazing variety!
What are Chocolate Raspberry Truffles?
These chocolate raspberry truffles are made of a ganache center of semi-sweet chocolate, heavy whipping cream, and freeze-dried raspberries. They're then finished with chocolate for an extra layer of decadence. Below, find an overview of the flavor, texture, and time it takes to whip them up.
Flavor: The flavor of these truffles is a perfect balance of decadent chocolate and tangy raspberries.
Texture: Each bite is smooth and creamy. The texture is like chocolate silk!
Time: From start to finish, these truffles take just 20 minutes to put together.
Making Chocolate Raspberry Truffles from Scratch
​The first step to making this candy is to melt the chocolate chips and whipping cream until smooth and creamy.
Blend the Raspberries: Next, blend the freeze-dried raspberries until fine and add them into the melted chocolate.
Portion the Batter: Then, portion out the batter and roll it into smooth circles.
Dip the Truffles; Then, melt the chocolate chips until smooth and dip the truffles into the chocolate. Finish them with a sprinkle of crushed raspberries. Enjoy!
Tips for Making the Best Chocolate Raspberry Truffles
A couple of tips will help you get the most out of your truffles.
Melt the chocolate in increments. The best way to melt chocolate chips is by microwaving them in 30-second increments so they don't burn. After each interval, stir them until the mixture is completely smooth.
Use a cookie scoop to portion out the batter. To ensure each truffle is similar in size, use a cookie scoop to portion out the batter.
Keep the truffles refrigerated. Truffles are prone to melting at room temperature and are best kept refrigerated between snacking.
Hot Tip: If you don't have a microwave, use the double boiler method instead to melt the chocolate chips. To do so, boil water in a small saucepan and place a glass bowl on top of it. Pop the chocolate chips in the glass bowl and whisk the chocolate chips until smooth.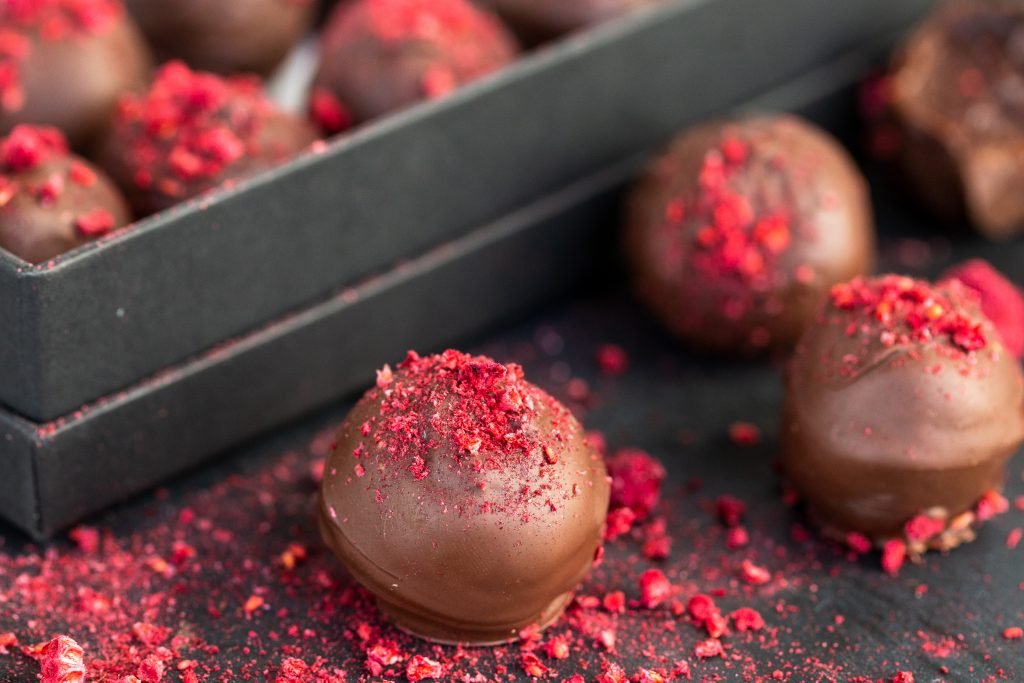 A Couple of Variations
If you're in the mood to experiment, there are a couple of variations to play around with after you give the truffles the final dipping in chocolate.
Roll them in crushed chocolate wafers
Roll them in shredded coconut flakes
Dust them with cocoa powder
Finish them in rough-chopped chocolate
Storing & Freezing Chocolate Raspberry Truffles
Truffles are great for making ahead of time or freezing for a rainy day dessert. Below, find all the helpful tips you need.
Refrigerator: To keep chocolate truffles on hand for several weeks, refrigerate them in an airtight container. If you prefer a creamier and softer texture, leave them out at room temperature 30 minutes before serving.
Freezer: To keep chocolate truffles on hand for up to 3 months, place them on a baking sheet lined with parchment paper. Next, pop them in the freezer uncovered. Once completely frozen, transfer them to a freezer-safe bag.
FAQ
What makes a truffle a truffle?
What makes a truffle a truffle is the combination of semi-sweet chocolate and heavy cream. Additionally, all truffles are rolled into a perfectly spherical ball.
Can you use frozen raspberries instead of freeze-dried?
You should not use frozen raspberries. They contain a ton of water and will ruin the texture of the truffles. If you can't get your hands on freeze-dried, use raspberry jam as a second-best option.
Can you use white chocolate instead of semi-sweet?
White chocolate would be amazing. The truffles will have more of a candy-like flavor, as white chocolate is much sweeter.
Can you use freeze-dried raspberry powder instead?
Yes, freeze-dried raspberry powder will be just as good and will eliminate the extra step of blending.
Other Chocolate Desserts to Try
Recipe
These 3-ingredient chocolate raspberry truffles are the perfect balance of tart and decadent. Perfect for quick dessert or Valentine's Day!
Nutrition Facts
Chocolate Raspberry Truffles
Amount Per Serving
Calories 133
Calories from Fat 72
% Daily Value*
Fat 8g12%
Cholesterol 5mg2%
Sodium 8mg0%
Potassium 87mg2%
Carbohydrates 13g4%
Protein 1g2%
Vitamin A 61IU1%
Vitamin C 1mg1%
Calcium 20mg2%
Iron 1mg6%
* Percent Daily Values are based on a 2000 calorie diet.