Sugar-free coconut bars are no-bake, healthy treats that taste sinful. Consider them your new, guilt-free obsession.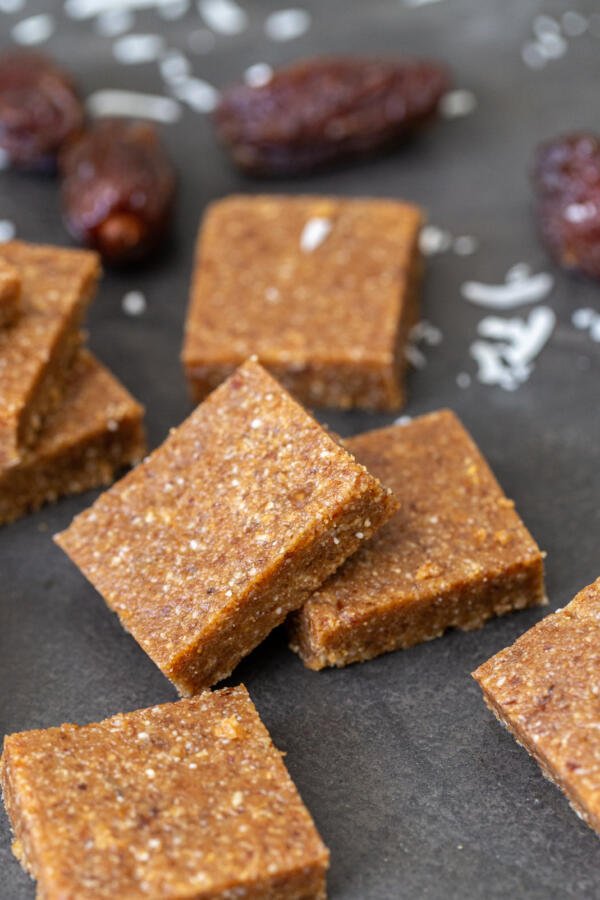 Sugar-free coconut bars have absolutely no added sugar. Sweetened with dates, they are naturally decadent and Whole 30 approved.
These squares are straight up energy bars. They contain a ton of vitamins and protein, making them the perfect companion for your next hike or camping trip. Bye, bye expensive Clif Bars!
Why Are Energy Bars Good For You?
Not all energy bars are created equal. The store bought variety tend to be high in sugar and preservatives, much like that of a candy bar. If you are really looking for a bar to keep you sustained, making these sugar-free coconut bars is your best bet – for your health and your wallet.
How to Make Sugar Free Coconut Bars
When we say no-bake, we mean it. These are the perfect treats to whip up on a whim or during a hot summer day when turning the oven on is out of the question. Follow these simple steps to get perfect bars each and every time:
Measure and prepare all the ingredients.
Combine everything in a food processor.
Blend together until smooth and creamy.
Spread the mixture to a baking dish. Press and flatten the mixture evenly.
Chill in the refrigerator until the bars set. Cut and serve!
Hot tip: Roll the "dough" into energy balls instead. Line a baking sheet with parchment paper and line it with your coconut balls. Chill, serve and stow away the rest for when a sweet tooth calls!
Sprucing Up Your Coconut Bars
You know the saying – the beauty of the bar is in the eye of the beholder. Feel free to customize your bars to your specific taste buds with these fun additions:
Whole or Ground Flaxseeds: High in fiber, low in cholesterol and packed with omega-3 fats, flax seeds are a perfect addition to your coconut bars.
Chia Seeds: Just like flax seeds, chia seeds are low in cholesterol, high in fiber and full of omega-3 fats. They are also rich in protein.
Chopped Nuts: Like a little crunch? Add your favorite coarse-chopped nuts to the bars for a nice bite. Almonds, walnuts and pistachios work amazingly well.
Dark Chocolate: Find the darkest, richest chocolate bar you can, coarse chop it and add it to the mix for a decadent spin. Alternatively, you can use dark chocolate chips.
Carob Chips: Carob chips are a dairy-free alternative to chocolate chips. Made from the Mediterranean carob tree, they have a more mellow taste than chocolate, are caffeine free and high in fiber.
Nut Butters: Up the protein content and add a couple tablespoons of almond, peanut or cashew butter. Mmmmm, healthy fats…
Rolled Oats: If you aren't watching your carbs, mix a cup of rolled oats into the mix after you blend for some added texture and fiber.
Protein Powder: Have a favorite protein powder flavor? Add a couple tablespoons and stay fuller longer.
Vanilla Extract: Add a teaspoon if it suits you.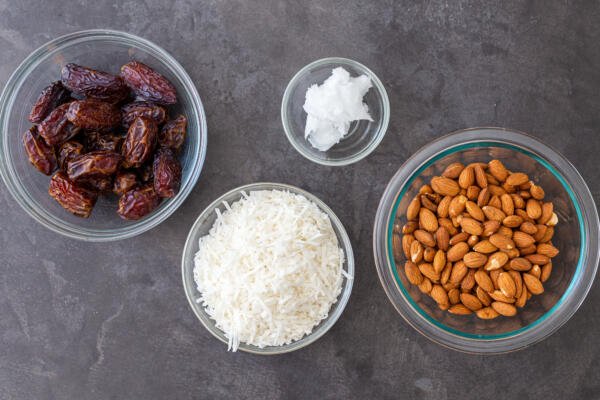 Storing Coconut Bars
Coconut bars don't fare very well at room temperature, as they can melt and turn into a mess. Make sure to keep them stored in the refrigerator in between snacking to keep them fresher longer. See below for details on how to freeze as well.
Refrigerating: Store your coconut bars in the refrigerator for up to two weeks. If you need to stack them in an airtight container, make sure to separate each layer with parchment paper to prevent any sticking.
Freezing: Freeze your coconut bars by wrapping each bar in plastic and popping them directly into the freezer. When you're ready for a snack, take a couple out and allow them to thaw on the counter for 30 minutes or so.
Other Coconut Recipes
Ferrero Raffaello Cake Recipe – The perfect candy made into a cake. What more is there to say?
Coconut Macaroon Recipe – Macaroons are so easy to make and perfect for the coconut addict in your life (that's okay if it's you!). Bonus: These treats are naturally gluten-free.
Ferrero Raffaello Candy Recipe – Try your hand at making these famous candies at home. Bring them to your next potluck and impress the crowd.
Recipe
Sugar-free coconut bars are no-bake, healthy treats that taste sinful. Consider them your new, guilt-free obsession.
Ingredients
2

cup

Dates

1 1/2

cup

roasted Almonds

2

cup

Unsweetened Coconut Flakes

2

tbsp

Coconut Oil
Nutrition Facts
Sugar-Free Coconut Bars
Amount Per Serving
Calories 342
Calories from Fat 216
% Daily Value*
Fat 24g37%
Sodium 7mg0%
Potassium 436mg12%
Carbohydrates 31g10%
Protein 6g12%
Vitamin C 0.4mg0%
Calcium 73mg7%
Iron 1.7mg9%
* Percent Daily Values are based on a 2000 calorie diet.