Coconut Macaroons are delicious, gluten-free cookies made with just a couple of ingredients. They are easy to make and come together in a matter of minutes.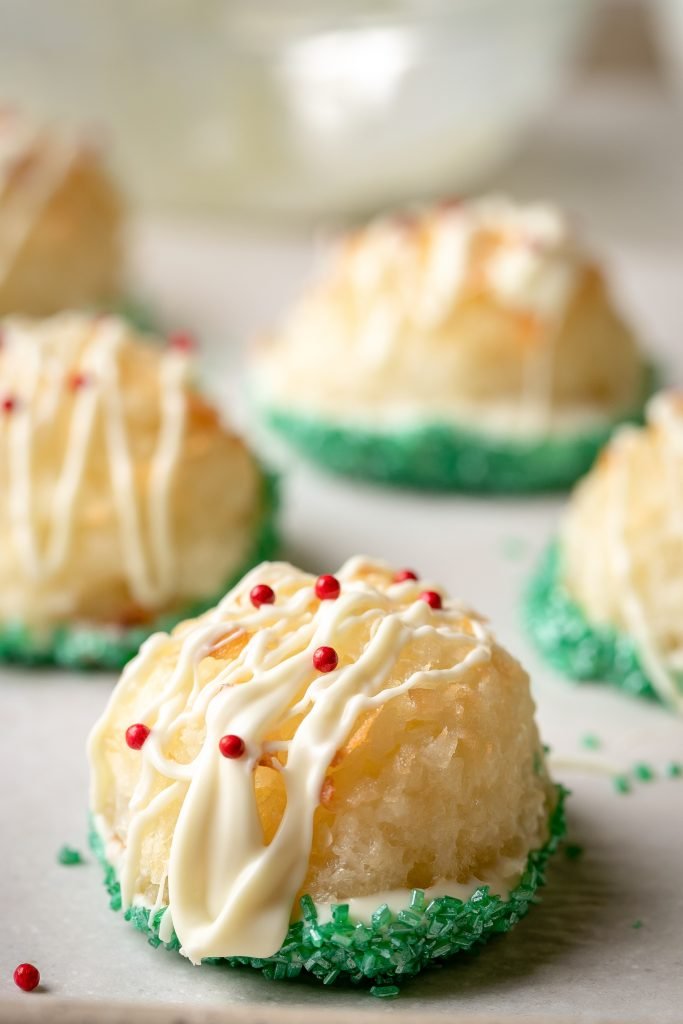 There is nothing quite like a chewy coconut macaroons. The white chocolate-dipped bottom covered with colorful sprinkles will make this the most sought after cookie on your Christmas tray. Make these with your kids and watch their eyes light up. These are such a blast to put together!
Big thanks to Marina from Let The Baking Begin for sharing such an amazing recipe! She is an amazing baker and everything I've made from her blog has turned out great. You should also check out her beautiful Napoleon Cake if you're a sweets freak.
How to Make Coconut Macaroon
Preheat your oven and line baking sheet with parchment paper. Combine coconut, egg whites, sugar and vanilla in a bowl.
Use an ice-cream scoop to form macaroons. Place tightly packed scoops directly on baking sheet.
Bake in the oven at 250°F. Allow to completely cool.
Melt your white chocolate until smooth.
Dip the cookie bottoms into the white chocolate, then directly into a bowl filled with emerald sprinkles. Place on parchment paper to set. Drizzle remaining white chocolate over the top of macaroons. Sprinkle with red sprinkles.
Tips for success
Weigh Your Ingredients. Weighing your ingredients will ensure that you get the absolute perfect texture. Yes, it's a little perfectionist, but so worth it!
Use sweetened coconut. Use sweetened coconut shreds to get that quintessential, ooey-gooey texture.
Melt chocolate in intervals. Melt the white chocolate in 10 second intervals to prevent overcooking. If you microwave it for too long, it will become crumbly and unsalvageable.
Use an ice cream scoop. To keep your cookies consistent in size, use a small or medium ice cream scoop.
Or, shape your macaroons by hand. You can also scoop out the filling and shape the macaroons with well-oiled hands by rolling between your palms.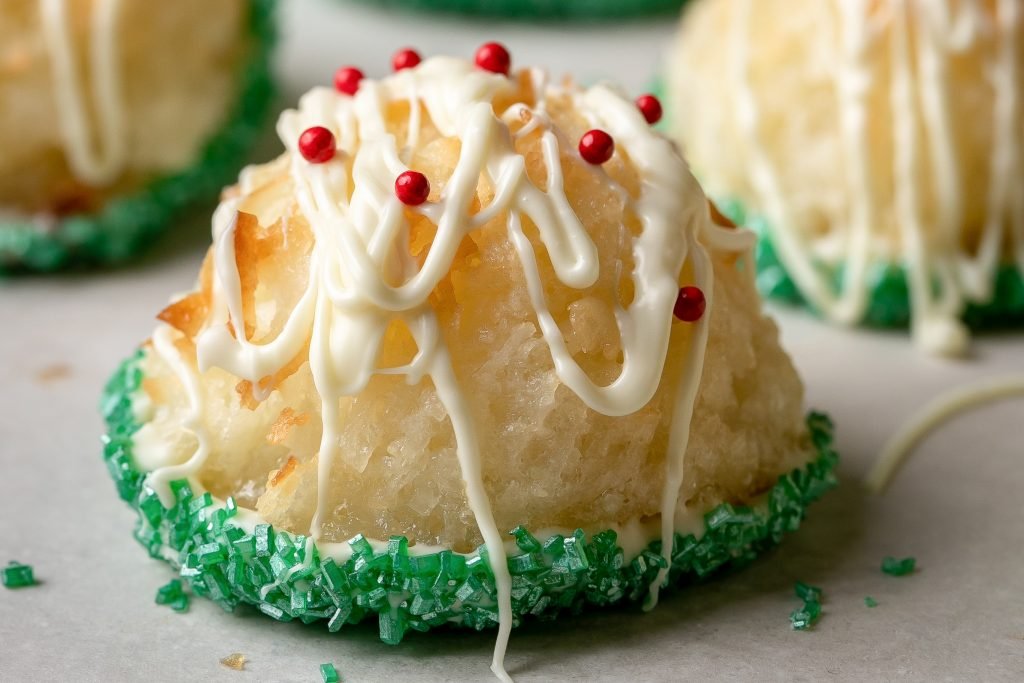 FAQ
Where do coconut macaroons come from?
To be honest, no one really knows. The consensus for where these delectable treats came from is almost evenly split between Italy and Spain.
Why did my coconut macaroons spread?
Your macaroons will spread while baking if you don't incorporate your batter well enough. You should mix the ingredients together until they are nice and sticky to prevent speeding.
What is the difference between a macaroon and a macaron?
A macaroon is a coconut cookie, while a macaron is a delicate French sandwich cookie. They often get mixed up because of the similar spelling but couldn't be more different! Check out my recipe for The Perfect French Macarons if you have a hankering for this cookie.
Storing Macaroons
Refrigerate: Store in an airtight container at room temperature for up to 3 days. Or, store them in the refrigerator for up to two weeks.
Freezing: Freeze the macaroons for up to 2 months. Store them in a sealed air tight container or a freezer-safe bag to keep the cookies from soaking up any smells in your freezer.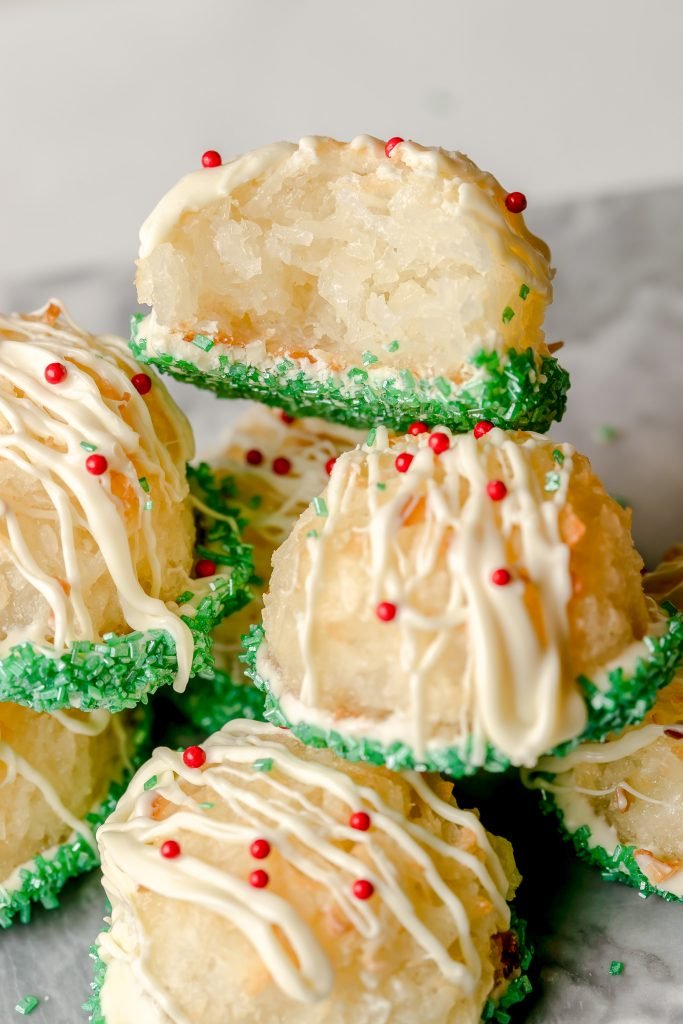 Other Cookies To Try
Recipe
Coconut Macaroons are delicious, gluten-free cookies made with just a couple of ingredients. They are easy to make and come together in a matter of minutes.
Instructions
Cookies
Place the oven rack in the middle and preheat your oven to 250°F. Line a small baking sheet with parchment paper and set aside. In a small bowl, combine coconut, coconut oil, egg whites, sugar, and vanilla until the mixture is sticky.

Using a small or medium ice cream scoope, tightly pack each scoop and release onto the parchment paper.
Decoration
In a small bowl, microwave the chocolate in 10 second intervals, mixing well between each until the chocolate chips just start to melt. Continue whisking until the chocolate is completely melted. If it needs a little bit more time, do not heat for more than 5 seconds at a time at this point.
Nutrition Facts
Coconut Macaroon Recipe
Amount Per Serving
Calories 130
Calories from Fat 54
% Daily Value*
Fat 6g9%
Cholesterol 2mg1%
Sodium 40mg2%
Potassium 61mg2%
Carbohydrates 17g6%
Protein 1g2%
Calcium 16mg2%
Iron 0.2mg1%
* Percent Daily Values are based on a 2000 calorie diet.