This Ferrero Raffaello cake recipe is super moist and the perfect combination of almond and coconut. If you love the candy, you'll love the cake!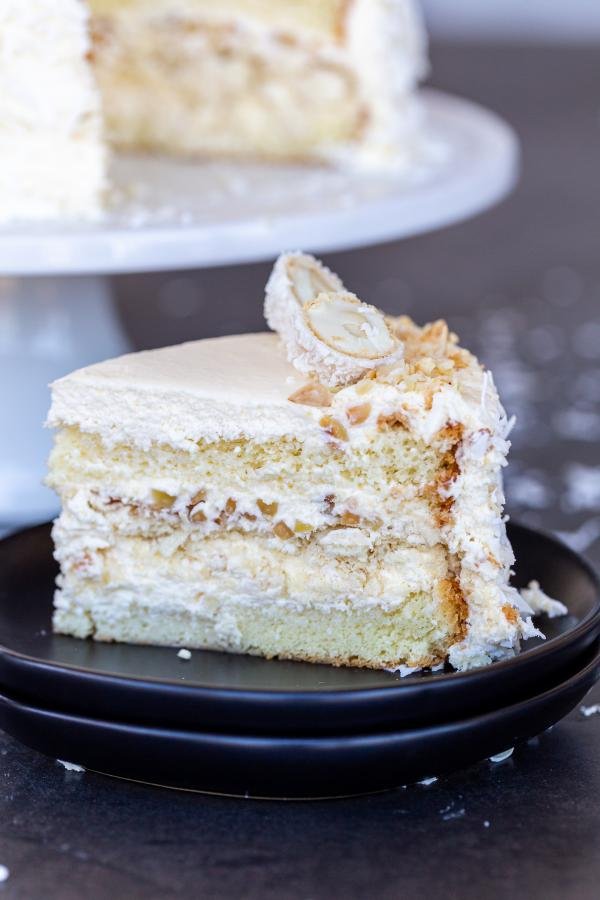 Just like its close sibling the Ferrero Rocher Cake, this cake doesn't lack creativity. If you've ever had tried Ferrero Raffaello Chocolates, you can already expect what this cake has in store for you. It's not only super moist, but it also tastes just like the famous coconut almond candy in every bite.
With the flaky, snow-like coconut on the outside, it's the perfect candidate for wintertime baking. At the same time, the light flavors make it perfect year-round. After all, when is there a bad time for a slice of coconut cake?
P.S. If you want to go the mile and make the candy yourself too, check out our Ferrero Raffaello Candy Recipe.
What is in a Ferrero Raffaello?
If you've never tried a Ferrero Raffaello before (bless your heart!), the flavor profile is made up of a combination of almond, coconut, and creamy white chocolate. The truffle also contains a crispy cookie wafer on the inside, making its texture just as addicting as its taste. All in all, a candy worth turning into a cake!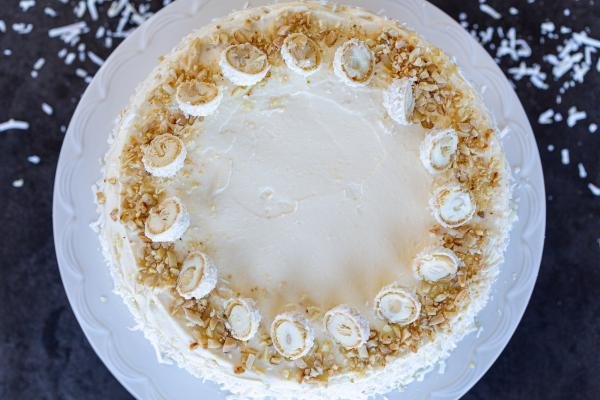 How to Make Ferrero Raffaello Cake
Despite its appearance, making Ferrero Raffaello cake is actually quite simple. Below, find a brief overview of the recipe before you get to baking.
Make the Sponge Cake: Preheat the oven. While it's warming up, use a hand mixer or stand mixer to beat the eggs, almond extract, and sugar until it triples in size. Next, use a spatula to fold in the flour.
Bake the Sponge Cake: Pour the batter into a greased 9-inch cake pan and bake it for 30 minutes.
Make the Raffaello Cake Cream: Using a stand mixer or hand mixer, beat the cream cheese, butter, and sweetened condensed milk. Next, add in the coconut flakes and dried milk and beat to combine.
Soak the Cake Layers: In a small bowl, combine the milk with sweetened condensed milk to create the soaking cream. Next, slice the cooled cake into three even layers using a serrated bread knife. Using a spoon or pastry brush, smother each cake layer in the soaking cream.
Frost and Top the Cake Layers: Frost one of the cake layers with the cake cream and top it with the crushed almonds and wafers. Repeat with the other layer, saving the layer with the round top for the very top layer. Frost the outside of the cake with the remaining cake cream and top with the Ferrero Raffaello candies and coconut flakes.
Let the Cake Set: Store the cake in an airtight cake container overnight to set and allow the flavors to develop. Slice and enjoy!
Tips & Tricks
Below, find a handful of tips and tricks to help you make the perfect Ferrero Raffaello cake.
Indulge with sweetened coconut flakes. If you have an out-of-control sweet tooth, opt for sweetened coconut flakes over unsweetened ones.
Use softened butter and cream cheese. Leave the butter and cream cheese out at room temperature for 30 minutes to soften them and make them easier to work with.
Use ground almond. Instead of using roasted almond slivers, sprinkle on ground almond meal instead if you like a finer texture and consistency.
Allow the cake to set overnight. Allowing the cake to set overnight brings out the best flavor and texture. It's worth the wait!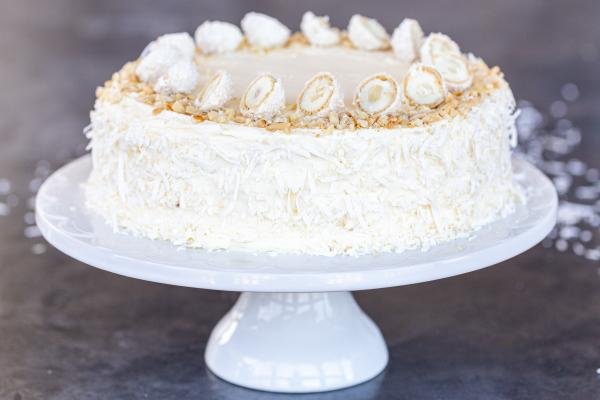 Storing Ferrero Raffaello Cake
Refrigerator: Keep the leftover cake stored in an airtight container in the fridge for up to a week. If you have a cake container, it will work best in terms of protecting the shape of the cake.
Freezer: You can freeze the entire cake by placing it on a baking sheet lined with parchment paper and popping it in the freezer uncovered. Once it's completely frozen, carefully wrap the cake in a of couple layers of plastic wrap. Store it in the freezer for up to a month. To defrost it, allow it to thaw in the fridge overnight.
FAQ
What does Ferrero Raffaello taste like?
Ferrero Raffaello candy, which this cake is based on, has the perfect flavor combination of white chocolate, coconut, and almonds.
Can I use salted butter instead?
You can opt for salted butter over unsalted if you'd like. It will add a nice salty touch to the cream, which may totally be up your alley.
Should I use sweetened or unsweetened coconut flakes?
You can use either sweetened or unsweetened coconut flakes. It comes down to how aggressive your sweet tooth is!
What kind of wafers should I use?
Any vanilla wafer will do the trick. If you can opt for a European-style brand.
Do I need to keep the cake roll refrigerated?
Yes, you should keep the cake and leftovers refrigerated.
Other Decadent Cakes To Try
Recipe
This Ferrero Raffaello cake recipe is super moist and the perfect combination of almond and coconut. If you love the candy, you'll love the cake!
Ingredients
Ferrero Raffaello Cake Cream
Cake Layer Filing
1/2

cup

milk

for soaking the cake

2

tbsp

condensed milk

for soaking the cake

1

cup

crushed toasted almonds

1/2

cup

crushed vanilla wafers
Decorating the Cake
1

cup

coconut flakes

12

Ferrero Raffaello candies
Instructions
Cake
Preheat the oven to 350°F. Using a stand mixer or hand mixer, beat the eggs, almond extract, and sugar until it triples in volume.

Using a spatula, fold in the flour by thirds just until it's combined. Be extra careful not to over mix it batter, or the cake will lose its fluffiness.
Ferrero Raffaello Cake Cream
Nutrition Facts
Ferrero Raffaello Cake Recipe
Amount Per Serving
Calories 651
Calories from Fat 423
% Daily Value*
Fat 47g72%
Cholesterol 163mg54%
Sodium 221mg9%
Potassium 386mg11%
Carbohydrates 49g16%
Protein 12g24%
Vitamin A 1193IU24%
Vitamin C 1mg1%
Calcium 200mg20%
Iron 2mg11%
* Percent Daily Values are based on a 2000 calorie diet.