This shrimp tempura recipe will make even the most seafood-adverse swoon. Fried to crispy, golden perfection, it's impossible to eat just one!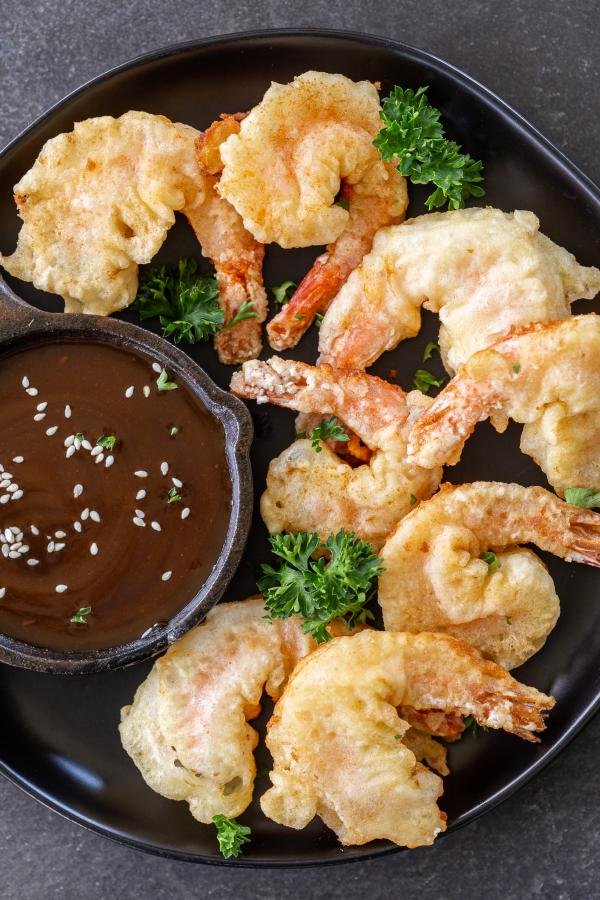 Do you love ordering a plate of crispy, shrimp tempura when you're out to sushi? Ever thought about making these tasty morsels at home? It's much easier than you think and almost impossible to mess up! With just a little prep and some easy deep-frying, you'll be fighting over the tempura with chopsticks before you know it.
What is Shrimp Tempura Made of?
Shrimp tempura is one of the most popular and well-known Japanese dishes behind sushi and teriyaki. It consists of raw shrimp that's been dipped in a simple batter of flour, water, cornstarch, and eggs. The end result? A slightly puffy, golden brown breading wrapped around a juicy shrimp. YUM!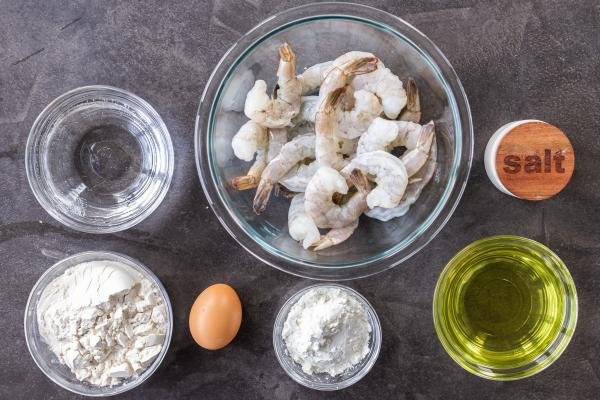 How to Prepare Shrimp Tempura at Home
To make shrimp tempura, you'll want to opt for jumbo shrimp over other varieties. This is the easiest shrimp to bread and fry!
Clean & Prepare the Shrimp: Peel the shrimp, but make sure to keep the tail intact.
Preheat the Oil: Next, preheat the oil in the skillet or pot – you're going to want it nice and hot!
Toss the Shrimp in Cornstarch: To help the breading stick, toss the shrimp in a bit of cornstarch and salt.
Make the Tempura Batter: In a medium mixing bowl, whisk the egg with water. Add in the all-purpose flour and whisk until well-combined and free of lumps.
Coat the Shrimp: Next, dip the shrimps into the batter one at a time and pop them gently in the hot oil. Fry until golden brown (2-3 minutes). Remove the shrimps from the skillet and place them on a plate lined with paper towels to absorb any excess oil. Enjoy immediately with your favorite dipping sauce!
Money-Saving Tip: You'll be filling your frying pan with about two inches of oil, so use canola or vegetable oil over more expensive varieties. The mild taste is perfect for tempura!
3 Pro Tips for Perfect Shrimp Tempura
Following a handful of tips will make your tempura restaurant-worthy.
Coat the shrimp in cornstarch first. To help the batter stick, coat the shrimp in cornstarch first.
Use extra cold water for the batter. Using cold water for the tempura batter will yield that signature, fluffy texture.
Make sure that oil is hot enough. You'll want to make sure the oil is preheated before you pop the shrimp in to get the best texture. To do so, use a candy thermometer or meat thermometer to ensure the oil has reached about 350°F.
Hot Tip: Have excess batter leftover? Dip your favorite vegetables in it and deep fry them along the shrimp!
A Quick Sauce to Serve with Shrimp Tempura
Tempura sauce, or "tentsuyu", is almost as good as the tempura itself! To make your own at home, follow these easy steps:
Whisk the Wet Ingredients: In a small bowl, whisk equal parts mirin, dashi, soy sauce, and sugar. Feel free to adjust the flavors slightly to your individual taste.
Top with Green Onion: Using a sharp knife, thinly slice a stalk of green onion. Top the tempura sauce with the green onion. Dip and enjoy!
All You Need to Know About Storing, Freezing, & Reheating
Like most fried food, shrimp tempura is best eaten fresh out of the fryer oil. However, if you have leftovers or are freezing a batch raw for a rainy day, find all the tips you need here.
Storing: To keep tempura on hand for 1-2 days, store it in an airtight container in the refrigerator.
Freezing: To freeze tempura for up to a month, freeze it raw. To do so, batter the shrimp as directed and lay the shrimp on a baking sheet lined with parchment paper. Pop the baking sheet in the fridge until the tempura is completely frozen. Transfer to a freezer-safe bag and fry from frozen when you're ready.
Reheating: The best way to reheat fried tempura is in the oven or in an air fryer if you have one. Avoid microwaving tempura, or they'll turn soggy.
FAQ
What kind of shrimp is used for tempura?
Jumbo shrimp with the tail-on is the best option for tempura.
Is tempura always fried?
Traditional tempura is always fried in hot oil.
What goes with shrimp tempura?
Shrimp tempura is a great appetizer to serve before a bowl of hot yakisoba noodles or chicken teriyaki.
What's the difference between tempura and regular batter?
The difference between tempura and regular batter is that tempura batter contains water, making it lighter and fluffier than other kinds of batter.
Is tempura a side dish?
Tempura can be served as a side dish or an appetizer.
More Tasty Asian-Inspired Dishes
Recipe
This shrimp tempura makes for the perfect appetizer or side dish. Fried until golden brown and lightly crispy, they're perfect for dipping!
Nutrition Facts
Crazy Easy Shrimp Tempura Recipe
Amount Per Serving
Calories 167
Calories from Fat 18
% Daily Value*
Fat 2g3%
Cholesterol 123mg41%
Sodium 829mg35%
Potassium 118mg3%
Carbohydrates 23g8%
Protein 13g26%
Vitamin A 176IU4%
Calcium 50mg5%
Iron 1mg6%
* Percent Daily Values are based on a 2000 calorie diet.