Yakisoba is a classic Japanese noodle dish with a salty, sweet and sour sauce. Made in one-pan, this recipe is so easy to make and is always a crowd pleaser.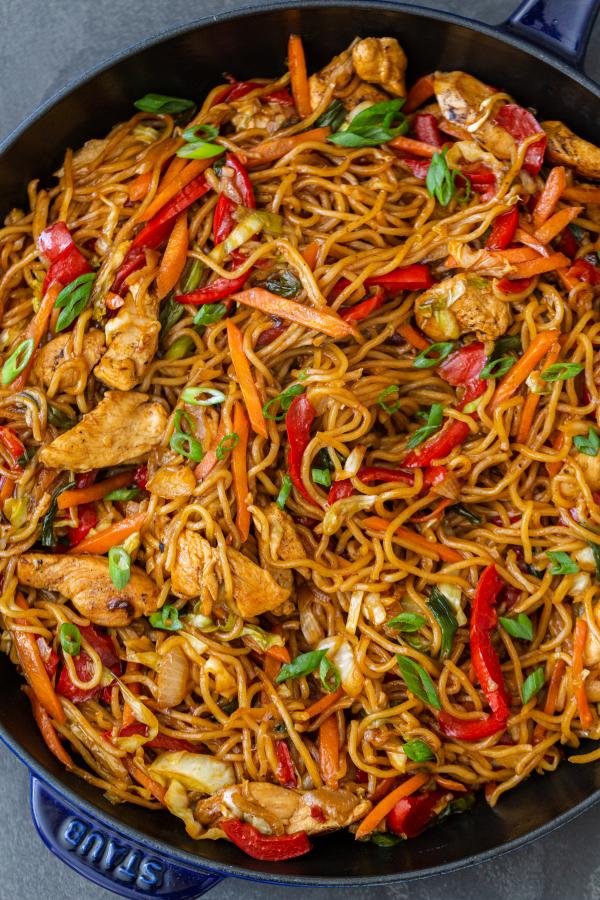 Yakisoba noodles have become quite the staple in our home. We love ordering takeout just like the next family, but this recipe is so quick we can whip it up before a delivery order could even arrive.
These noodles are made with chicken, but if you are craving beef try making Beef Yakisoba instead. Also, feel free to omit the chicken or beef if you are a vegetarian! The noodles are just as delicious meatless or tossed with some grilled tofu instead.
What is Yakisoba?
Yakisoba noodles look similar to ramen noodles, but they are slightly different. They are made of wheat and best when stir-fried. A traditional yakisoba dish is made with thin slices of pork, carrots, cabbage, onions and a signature sweet and salty sauce. We love our yakisoba with chicken, but feel free to substitute pork if you so wish!
Ingredients for Yakisoba Noodles
Red Bell Pepper – you can also use green or yellow bell peppers.
Carrot – add some color by adding mixed colored carrots.
Green Onions – if you don't have any on hand, you can skip out on it.
Boneless Chicken – beef, pork, shrimp, tofu or more veggies are also great options.
Cabbage Head – green cabbage is the best in this recipe.
Yellow Onion – you can also use white onions.
Yakisoba Noodles – ramen noodles, sold in most grocery stores fridge section.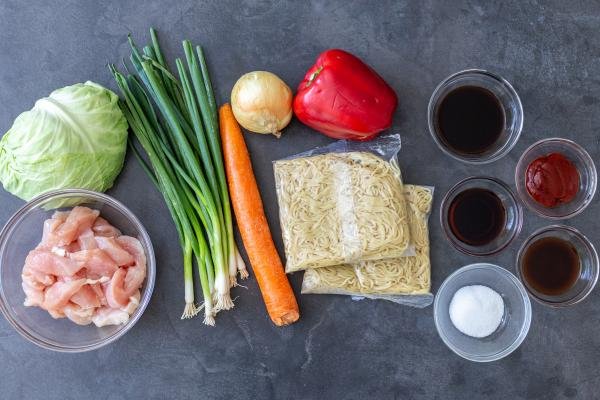 Yakisoba Sauce Ingredients:
Sugar – white sugar will give you the best flavors in this dish.
Soy Sauce – low sodium soy sauce will make the best option.
Oyster Sauce – that deep flavor, such a great addition to the sauce.
Ketchup – this will add a tart and sweet taste to the dish.
Worcester Sauce – is a must for the recipe, it gives it a really great deep flavor.
How to Make Yakisoba
Combine all your sauce ingredients together
Prep your veggies and cook your noodles.
Note: some varieties come precooked and only need a quick reheating.
Cook all your veggies in a skillet until golden brown.
Cook your chicken in a separate pan.
Add your veggies back into your chicken pan. Add in the sauce and stir to combine.
Add your noodles into the mixture. Cook for a few minutes. Serve!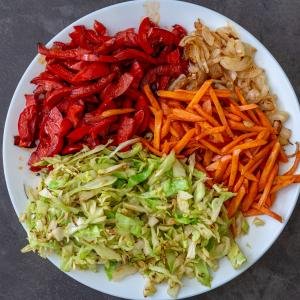 Where to Buy Yakisoba Noodles
Yakisoba noodles are becoming so popular that you can find them in most grocery stores. If you are having a hard time spotting them, your local Asian specialty store will definitely have them. You can also order them from Amazon in a pinch.
As a heads up, yakisoba noodles are sold a couple of different ways. Sometimes they are stored in packages with water and only need to be drained and tossed in the pan. Other times, yakisoba noodles are vacuum-sealed and need to be revived by placing them in cold water to loosen them up before cooking.
Tips for the Best Yakisoba
Prepare all your ingredients ahead of time for easier stir-frying.
Use a wok pan to prepare your noodles if you have one. If you don't, use a large skillet.
Slice your chicken into thin strips for quicker cooking.
Don't overcook your yakisoba. This dish has a tendency to dry out if stir-fried too long.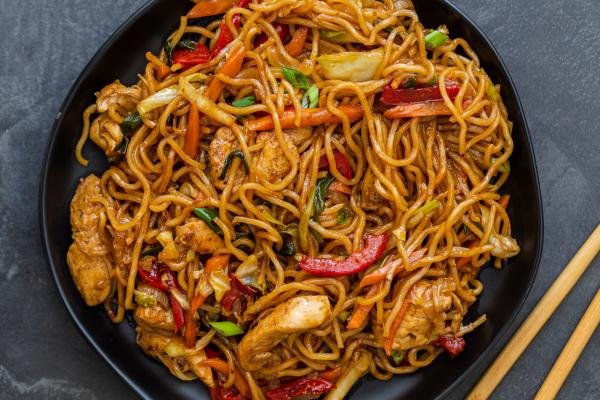 Other Asian Noodle Recipes
Asian noodle dishes are always LOVED in our home. Try your hand at making a couple other of our favorites:
Recipe
Yakisoba is a classic Japanese noodle dish with a salty, sweet and sour sauce. Made in one-pan, this recipe is so easy to make and is always a crowd pleaser.
Ingredients
Yakisoba Noodles Ingredients
1

tbsp

oil

avocado or olive

1

large red bell pepper

1

large carrot

1/2

bunch of green onions

1

lb

boneless chicken

1/2

small cabbage head

1/2

large yellow onion

16

oz

yakisoba noodles
Yakisoba Sauce Ingredients
Nutrition Facts
Yakisoba Noodles
Amount Per Serving
Calories 282
Calories from Fat 72
% Daily Value*
Fat 8g12%
Cholesterol 29mg10%
Sodium 1386mg58%
Potassium 426mg12%
Carbohydrates 36g12%
Protein 16g32%
Vitamin A 1110IU22%
Vitamin C 19.2mg23%
Calcium 45mg5%
Iron 2.7mg15%
* Percent Daily Values are based on a 2000 calorie diet.