Chicken teriyaki is such an easy dish to whip up at home. With just two ingredients – chicken and your favorite teriyaki sauce – this dish comes together in a matter of minutes.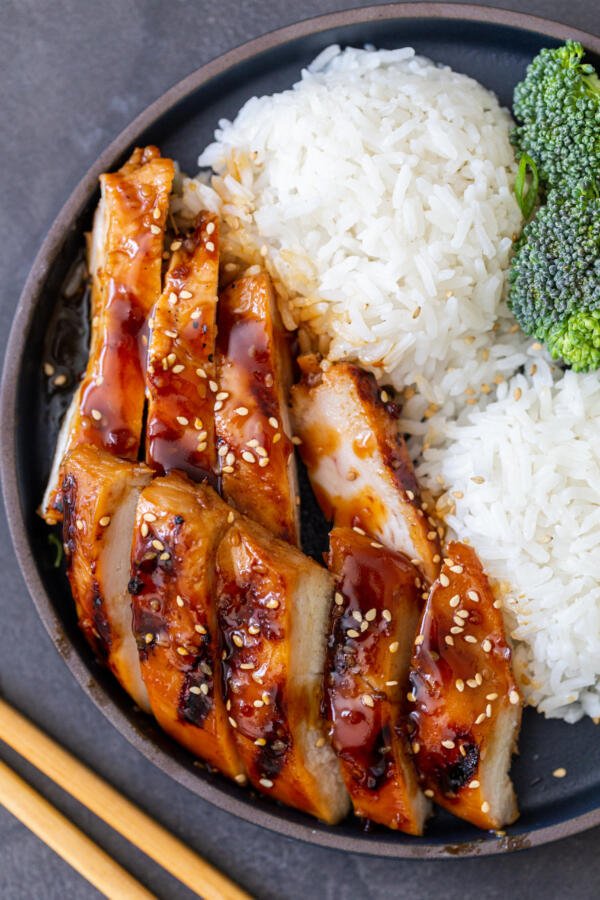 Chicken teriyaki is truly a dish the whole family loves. Pair it with steamed broccoli and rice for a simple weeknight meal.
This teriyaki chicken recipe can be prepared outside on the grill or quickly on the stove depending on your mood. Simple and tasty, it will be your new, go-to hosting food when in a pinch.
What Is Chicken Teriyaki Made Of?
Chicken teriyaki only requires boneless skinless chicken thighs or breast and teriyaki sauce.
Chicken thighs are best because the fatty, dark meat compliments the sweet sauce so perfectly. When marinated long enough in the sauce, the meat should come out tender, juicy and full-of-flavor.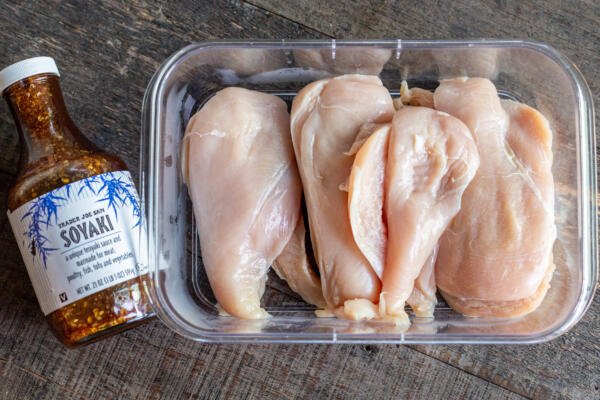 What Is The Best Teriyaki Sauce?
Save yourself the stress and buy a tried-and-true bottled sauce. Trader Joe's Soyaki Sauce or Soy Vay's Veri Veri Teriyaki are amazing and similar in flavor. Both are sweet and salty, while also thick enough to stay coated on the chicken while cooking. Marinate your chicken for a minimum of 30 minutes. Overnight is preferred.
How To Make Chicken Teriyaki
Chicken teriyaki is super easy to make. The key is grilling the chicken at the right temperature and for the right amount of time. Follow these steps to nail it on your first try: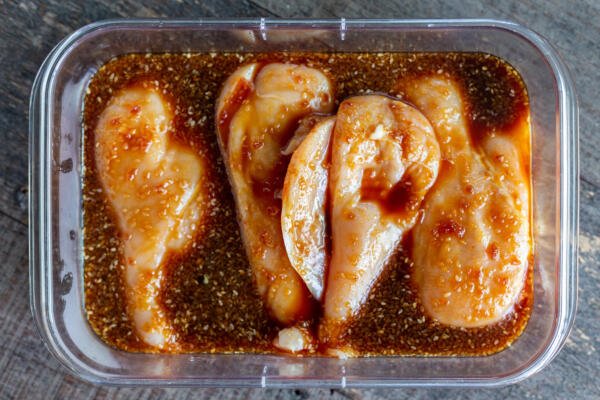 Marinate for chicken in a generous amount of teriyaki sauce.
You can definitely cook your chicken teriyaki indoors, but there is nothing quite like the smokiness of the grill. Fire up your grill to medium heat. Once it's nice and hot, brush the grates with a bit of cooking oil with a high smoke point. Examples include avocado, almond, corn, canola, grapeseed, peanut, safflower, sesame and sunflower oils.
Note: You can also use an indoor grill, cast iron grill skillet or panini press. All of the above will give you those nice grill marks.
Place chicken on the grill and brush on a heavy coat of marinade.
Cook until the chicken is golden brown and seared with grill marks.Slice chicken in thin long pieces before serving.
Hot tip: Check doneness by slicing each chicken piece to see if the juices run clear. You can also use a meat thermometer to ensure the internal temperature is 165 °F. Since chicken thighs are quite thin, they shouldn't take more than 3-5 minutes per side.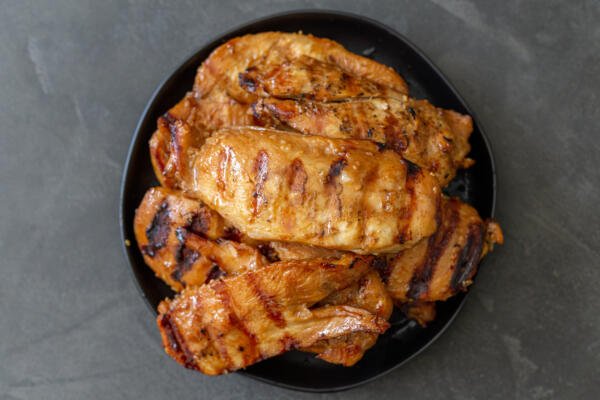 Teriyaki Bowl
You know it was going this direction, didn't you? Forget ordering takeout – you got this! Teriyaki bowls make for a quick lunch or dinner. Here's the components you need to make the perfect bowl:
Steamed white or brown rice. You could even use quinoa if you're feeling extra healthy.

Hot tip: You can use any short-grain rice, but if you want this dish to be most authentic opt for Premium Short Grain Rice.

Steamed or sauteed veggies. You can't go wrong here — use whatever veggies you have hanging out in your fridge! Broccoli, air fryer asparagus, carrots, zucchini and cabbage are all great options.

Hot tip: Up your veggie intake by adding in several handfuls of spinach or kale. This is a great way to use up any greens that might be turning in your fridge.

Side salad with homemade China Coast Dressing: You have probably had this salad many times and wondered: How do they make this delicious dressing?! This creamy dressing is super easy to make and when tossed with fresh iceberg lettuce, the most refreshing side dish for teriyaki. Don't forget to sprinkle the salad with some sesame seeds.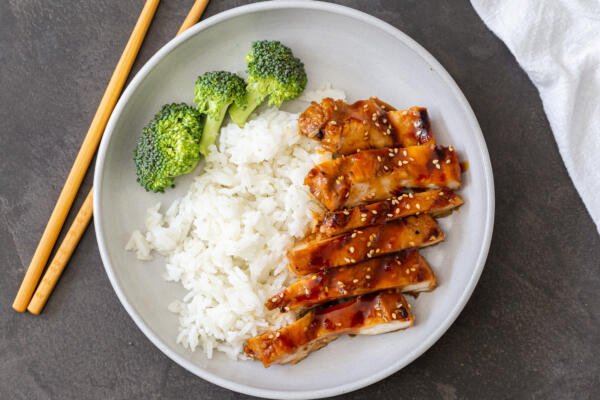 Recipe
Chicken teriyaki is such an easy dish to whip up at home. With just two ingredients – chicken and your favorite teriyaki sauce – this dish comes together in a matter of minutes.
Ingredients
1 1/2

cup

Teriyaki sauce

Very Very Teriyaki or Hawaiian

3

lb

skinless boneless chicken
Instructions
In a medium bowl, add teriyaki sauce with the chicken and turn to coat. Let the chicken marinate for at least 30 minutes.

Preheat the grill to a medium heat. Both indoor and outdoor grills should work. Once the grill is hot, lightly brush the grate with oil.
Nutrition Facts
Grilled Teriyaki Chicken
Amount Per Serving
Calories 334
Calories from Fat 81
% Daily Value*
Fat 9g14%
Cholesterol 215mg72%
Sodium 2962mg123%
Potassium 718mg21%
Carbohydrates 11g4%
Protein 48g96%
Vitamin A 54IU1%
Calcium 38mg4%
Iron 3mg17%
* Percent Daily Values are based on a 2000 calorie diet.