Arugula, avocado, tomato and cucumber salad is the perfect addition to your summer BBQ. It's light, crispy and refreshing – just the way it should be.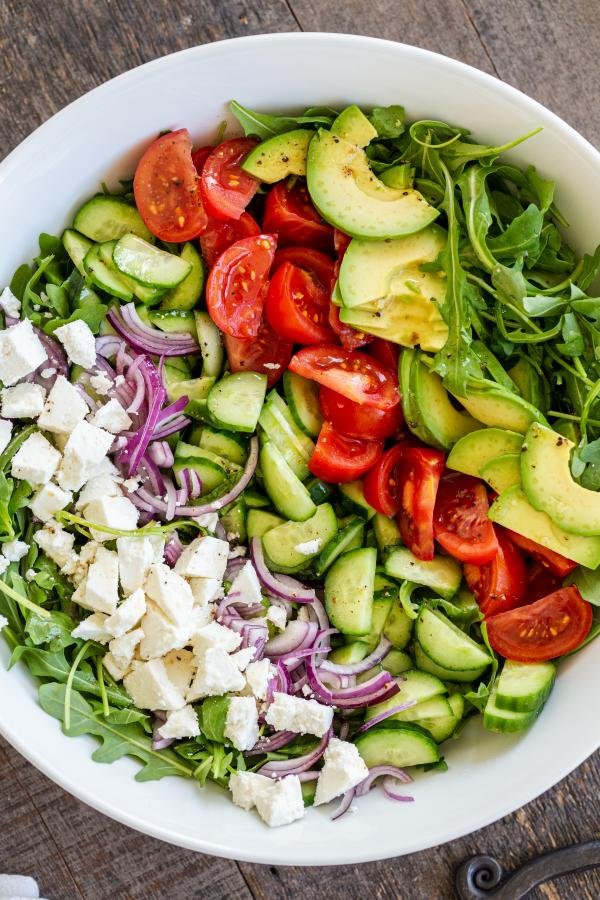 Arugula, avocado, tomato and cucumber salad pairs wonderfully with just about any grilled meat. It's crunchy and creamy and tossed in a wonderfully citrus-y vinaigrette.
This simple salad is delicious in all its simplicity. Sometimes less is more and in this case, the veggies and the light dressing speak for themselves. There's nothing better than a dish that tastes amazing while also being healthy for you!
Arugula is so good for you, it boasts some pretty incredible health benefits. From calcium to potassium to folate, this leafy green is packed with some serious vitamins and minerals. If arugula isn't already on your weekly list, it will be after you dive into this salad!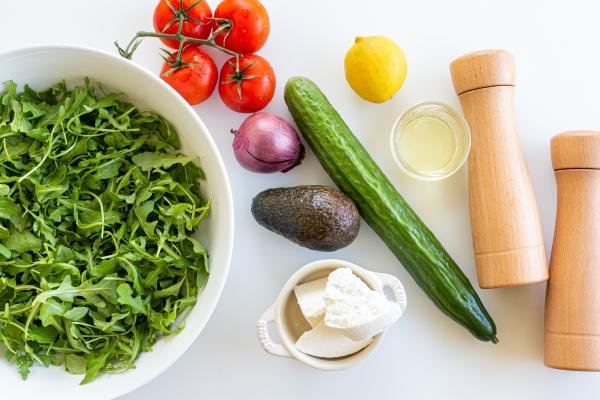 How to Make Arugula Salad
Salads should always be easy. Why? Because they are best when made with whole ingredients that you don't have to fuss over. As always, use the freshest produce you can get your hands on! Follow these step-by-step instructions to make this dish in a matter of minutes:
Chop all the veggies and combine them together with feta cheese in a large bowl.
In a small bowl, whisk together olive oil, lemon juice, salt, and pepper.
Toss the dressing into the veggies, stirring gently to prevent mashing the avocado pieces.
How to Cut an Avocado?
Follow these easy steps to cut your avocado perfectly:
Wash the outside of your avocado.
Using a sharp knife, cut through the center of the avocado, trailing your knife along the hard, inner seed.
Turning your hands in opposite directions, twist the two halves of the avocado apart and away from one another. The trick here is to not smash the flesh by twisting too hard – be delicate!
Now that you have two perfect avocado halves, take the side with the seed in it and hold it in the palm of your hand. Carefully take a knife and give it a good whack into the seed, sinking the blade in just a bit. Then, turn the knife until the seed comes out with little resistance.
Cut the halves again and remove the skin from the quarters of the avocado.
Slice avocado into pieces and you are ready to serve!
Make Arugula Salad Ahead of Time
Feel free to make your salad ahead of time. This will give it enough time to marinate and become more full-flavored. However, I wouldn't recommend any longer than two hours. Otherwise, the salad will turn soggy and the avocados will become brown and mushy. Besides its killer taste, this salad looks so beautiful. All the colors make for a wonderful presentation, so don't spoil that by making it too far ahead!
What Goes Well With Arugula Salad?
This arugula salad goes wonderfully with just about anything that comes hot off the grill.
5-Minute Grilled Chicken – I love this recipe. The marinade is super savory and the chicken comes out tender and juicy each time. Cube it up and eat it over the salad for a healthy meal.
Gyro and Tzatziki Sauce Recipe – Instead of adding simple veggies to this wrap, next level it by adding this salad in instead. The citrusy dressing will do wonders to offset the savoriness of the lamb.
BBQ Ribs Recipe – Pork ribs slathered in BBQ — need I say more? Well, I will because these ribs always fall right off the bone.
Beer Bratwurst – Juicy sausages are always welcome on my dinner table. Plus, there's nothing quite like the smell of beer brats grillin' in the summertime.
Recipe
Arugula, avocado, tomato and cucumber salad is the perfect addition to your summer BBQ. It's light, crispy and refreshing just the way it should be.
Ingredients
3

cup

arugula

4

small tomatoes

cut into bite size pieces

1

large avocado

cut into bite-size pieces

1

English Cucumber

cut into bite-size pieces

1/2

cup

Feta cheese

cut into small cubes

1

small purple onion

cut into quarter ring pieces

1

tbsp

lemon juice

3

tbsp

olive oil

1

tsp

salt

adjsut to taste

1

tsp

ground black pepper

adjust to taste
Instructions
Nutrition Facts
Arugula, Avocado, Tomato and Cucumber Salad
Amount Per Serving
Calories 136
Calories from Fat 99
% Daily Value*
Fat 11g17%
Cholesterol 8mg3%
Sodium 404mg17%
Potassium 376mg11%
Carbohydrates 8g3%
Protein 3g6%
Vitamin A 806IU16%
Vitamin C 15mg18%
Calcium 77mg8%
Iron 1mg6%
* Percent Daily Values are based on a 2000 calorie diet.