This scrumptious sandwich is a personal spin on a Greek-style gyro recipe. Packed with savory lamb, crispy veggies, feta cheese, and homemade tzatziki sauce!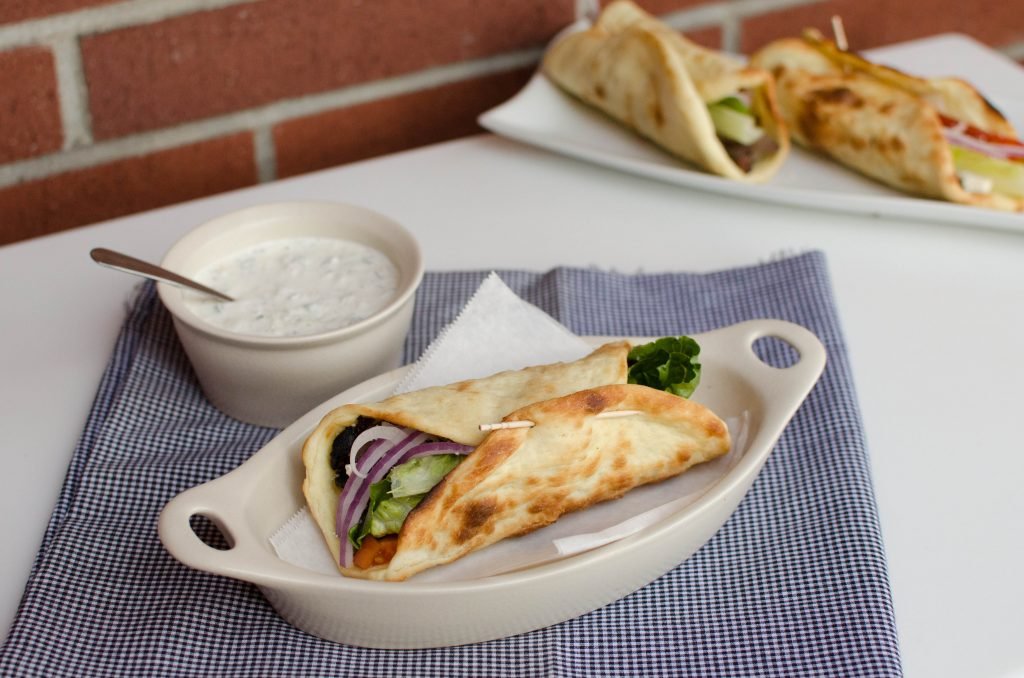 While this gyro recipe is nowhere near authentic homemade gyros, it will surely satiate your craving for a meaty sandwich. Inspired by the flavors of Greece and Asia, we use a savory marinade of soy sauce and onions for the lamb to complement the tangy tzatziki and feta cheese. For all you fusion lovers out there!
The Proper Way to Roll a Gyro
Rolling a gyro requires a bit of technique and the willpower to not overstuff the pita bread (good luck!).
Lay the Pita Flat: First, lay the pita bread on a flat surface.
Stuff the Pita: Next, stack the ingredients into the center of the pita bread, building upwards.
Fold the Pita: Fold one of the pita sides over, followed by the other. Wrap the gyro in parchment paper to keep the sandwich secured, or pierce it with a toothpick.
Like a warm pita? Wrap the pitas in aluminum foil and bake them in the oven at 300°F until warmed through.
Making this Gyro Recipe with Tzatziki Sauce
Making this spin on lamb gyros requires a bit grilling and some light assembly.
Marinate the Lamb: Slice the lamb into smaller pieces and place them in a baking dish with sliced onion, soy sauce, teriyaki sauce, and steak seasoning. Allow the lamb to marinate for in the refrigerator.
Grill the Lamb Gyro Meat: Heat up the grill and cook the lamb on both sides until the meat is completely cooked through. Allow the lamb to rest for a few minutes and slice it into small strips.
Make the Tzatziki: Slice, peel, and remove the seeds from the cucumbers. Next, grate them and squeeze out all the excess juice. In a medium bowl, mix the scallions, shredded cucumbers, pressed garlic, diced dill, Greek yogurt, salt and black pepper until well-combined. If you like a brighter tzatziki, add in a couple of teaspoons of lemon juice or red wine vinegar to taste.
Assemble the Gyros: Place the lamb in the center of the pita and top with feta cheese, followed by tomatoes, red onions, and lettuce. Serve the gyros with a side of the tzatziki sauce for dipping. Enjoy!
3 Tips for Making this Gyro-Inspired Sando
A handful of straightforward tips will help you nail our version of the gyro.
Marinate the meat overnight if you can. While the lamb will be delicious if it's marinated for just two hours, an overnight marinade will bring so much depth of flavor. If you have the time, it's worth it!
Be aware that lamb cooks very quickly. Lamb only takes a couple of minutes per side to cook, so make sure not to keep it over the grill too long or else it will get tough and rubbery.
Salt the cucumbers for 20 minutes to take more water out. If your cucumbers are extra watery, slice and salt them for 20 minutes to pull all the excess moisture out. This will make for such a flavorful tzatziki dip that doesn't taste watered down.
Tasty Side Dish Ideas
Turn your gyro into a full blown meal by pairing it with any one of these tasty side dishes.
Leftover & Meal Prep Storage Tips
To keep your leftovers fresh for as long as possible, store the meat and tzatziki sauce in two separate airtight containers in the fridge. Assemble the sandwiches on-demand to prevent them from turning soggy. When stored properly, the meat and sauce should keep fresh for up to 5 days.
FAQ
What is gyro meat typically made of in a traditional gyro recipe?
Traditional gyro meat is typically made with a meat mixture of lean ground beef and ground lamb, oregano, cumin, thyme, marjoram, and rosemary. It's then cooked on a rotisserie and sliced off into thin strips with a sharp knife.
What are some other sauces besides tzatziki that work well in a gyro recipe?
If you aren't a fan of tzatziki, you can swap it out for avocado hummus or baba ganoush (eggplant spread) in a gyro. So long as the sauce has a little tang, you'll be golden!
Can you use beef instead of lamb in a gyro recipe?
Swapping in beef for lamb in a gyro is perfectly acceptable. Sirloin steak and ribeye are both awesome cuts to use.
What's the difference between a gyro and a shawarma?
Shawarma is a Middle Eastern sandwich wrap, while a gyro is a Greek pita sandwich. That said, both contain a ton of savory meat, cheese, and crisp veggies.
What kind of lettuce is best for a gyro recipe?
Regular, old-fashioned romaine lettuce works best in a gyro for it's crispness and neutral flavor. However, you can also use iceberg lettuce or spinach if you'd like.
More Tasty Sandwich Recipes
Recipe
This gyro recipe is inspired by the famous Greek sandwich. Although it's not an authentic take, it's packed with feta cheese, fresh veggies, & tangy tzatziki.
Ingredients
Tzatziki Sauce
Sandwich Toppings & PIta Bread
2

medium tomatoes

5

large lettuce leaves

1

cup

feta cheese

1/2

medium purple onion

10

pita or naan bread
Instructions
Tzatziki Sauce and Assembling Gyro
Nutrition Facts
Gyro and Tzatziki Recipe
Amount Per Serving
Calories 445
Calories from Fat 279
% Daily Value*
Fat 31g48%
Cholesterol 102mg34%
Sodium 2368mg99%
Potassium 582mg17%
Carbohydrates 11g4%
Protein 30g60%
Vitamin A 1835IU37%
Vitamin C 7mg8%
Calcium 199mg20%
Iron 3mg17%
* Percent Daily Values are based on a 2000 calorie diet.