These easy oven baked BBQ pork ribs are fall-off-the-bone tender and so satisfying. Perfect as the centerpiece of you next BBQ or for a quick meal!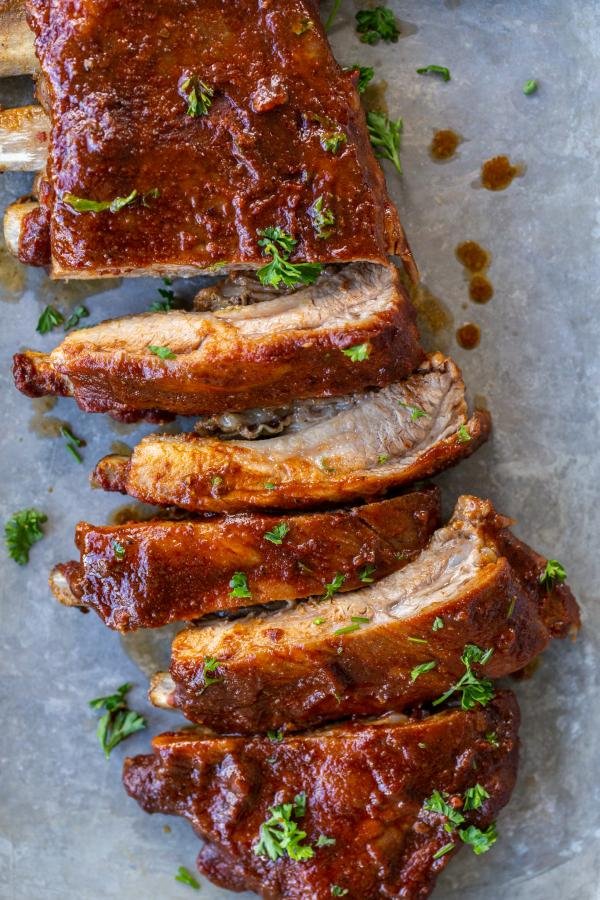 Now that our boys are teenagers, these oven baked BBQ ribs are on repeat in our home. After we took our first family trip to Texas, we all fell in love with BBQ and I had to figure out how to crack the code on tender ribs. After much demoing and trial and error in my kitchen, this recipe came to life and I can't wait to share it with you!
Not only are they fall off the bone tender, these ribs also so simple to make. From quick weeknight dinners to BBQs, this recipe is foolproof and always a crowd pleaser. With just a couple of simple steps, you'll never be subjected to eating dry, disappointing ribs again!
How to Make Oven Baked BBQ Ribs
Making oven baked BBQ ribs requires a little patience and just a few, simple steps. Below, find a quick rundown of the recipe before you dive in.
Make the Dry Rub: In a medium bowl, combine all the dry spices together. Next, spread the dry rub generously onto the ribs and allow them to marinate overnight if you can. If not, move on to the next step straight away.
Bake the Ribs: Wrap the ribs in a foil boat, ensuring the sides are sealed so the juices don't seep out. Bake the ribs in the oven at 350°F for 60-80 minutes on a baking sheet. Once the ribs are fall-off-the-bone tender, remove them from the oven and take them out of the foil boat.
Tips & Tricks
Here you'll find some handy tips and tricks to help you make the best BBQ ribs in the oven.
Allow the ribs to marinate overnight. Allowing the dry rib to work its magic overnight will make for super flavorful ribs. If you're in a pinch, you can skip this step but it's definitely worth the preplanning if you have the bandwidth.
Bake the ribs in foil. Prevent the ribs from drying out by baking them in a foil pouch. This will also create a steaming effect that will result in fall-off-the-bone tender meat. Yum!
Slather the ribs with BBQ. To keep the ribs hydrated and protected from too much direct heat, continue to slather them in the remaining BBQ sauce as you finish them.
Hot Tip: Our easy homemade BBQ sauce is made with pantry staples and easily rivals store bought sauces!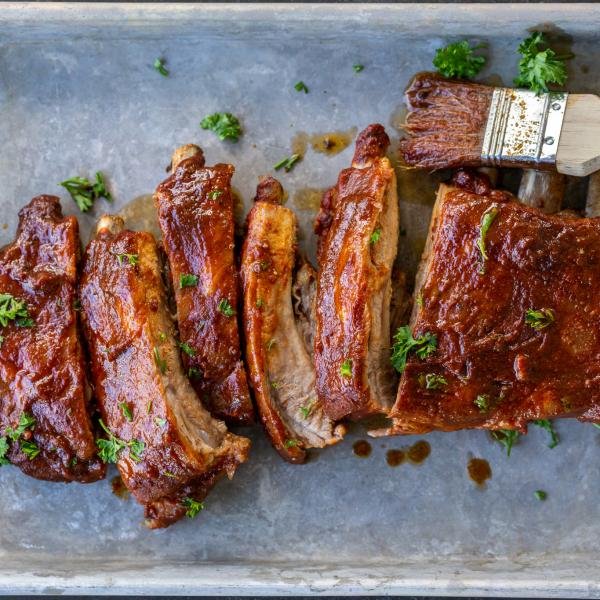 Serving Oven Baked BBQ Ribs
Serve oven baked ribs at your next BBQ or get-together alongside some comfort food classics. Creamy mashed potatoes, bacon macaroni and cheese or quick mac and cheese, and caesar salad make for a great spread. You can also make them the center of a fabulous low-carb meal and pair them with garden cucumber tomato salad or a beet arugula salad.
Storing Oven Baked Ribs
Whether you're making a couple of racks to nibble on throughout the week or have leftovers you want to freeze for a rainy day, find all the best storage tips here.
Refrigerator: To keep ribs fresh for up to a week, store them in an airtight container in the fridge. This will keep them moist and prevent them from drying out.
Freezer: If you have leftover ribs you can't eat within a week, freeze them for up to 3 months. To do so, lay them out flat on a baking sheet lined with parchment paper. Pop them into the freezer uncovered for a couple of hours, or until they are completely frozen. Next, transfer them to a freezer-safe bag. To thaw, place them in the fridge overnight.
Reheating Tip: The best way to reheat ribs is in the oven or in an air fryer. Keep in mind you may need to add some more BBQ sauce to keep the ribs hydrated during reheating.
FAQ
What's the best marinade for oven baked ribs?
The best marinade for pork ribs is a dry rub of paprika, onion salt, salt, and black pepper. Be very generous with the dry rub, ensuring you cover ever bit of surface of the ribs. If you can, let it sit overnight for the best flavor.
At what temperature should I cook ribs in the oven?
You should bake pork ribs at 350°F. This heat is high enough that the meat won't take forever to cook, but also low enough that the meat won't dry out.
How long does it take to cook ribs in the oven?
It takes anywhere from 60 to 80 minutes to bake pork ribs in the oven.
What is the purpose of a dry rub?
The purpose of a dry rub is to flavor the meat and help it develop a nice crust before slathering it in sauce. Don't skip this step, it's worth its weight in gold!
Can I use beef ribs instead of pork ribs?
You can totally use beef ribs instead of pork, but be mindful that they take about twice as long to bake. Drop the temperature of the oven down to 275°F and cook them for about 3 hours before finishing them on the grill.
Other Delicious Pork Recipes
Recipe
These easy oven baked BBQ pork ribs are fall-off-the-bone tender and so satisfying. Perfect as the centerpiece of you next BBQ or for a quick meal!
Nutrition Facts
Easy Oven Baked BBQ Pork Ribs
Amount Per Serving
Calories 545
Calories from Fat 342
% Daily Value*
Fat 38g58%
Cholesterol 127mg42%
Sodium 3621mg151%
Potassium 574mg16%
Carbohydrates 25g8%
Protein 25g50%
Vitamin A 1278IU26%
Vitamin C 0.4mg0%
Calcium 51mg5%
Iron 2mg11%
* Percent Daily Values are based on a 2000 calorie diet.