These grilled chicken thighs come out tender and juicy each and every time. Perfect as a kid-friendly main course or topper for your favorite salad!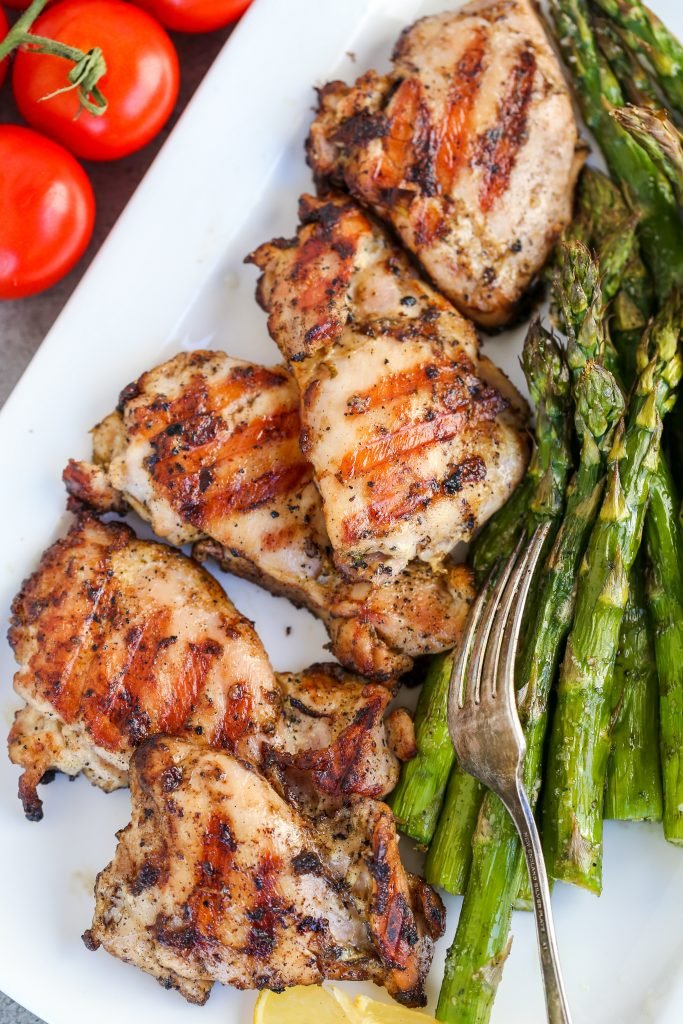 This chicken thigh recipe is the definition of foolproof. Not only does it require a measly 5 minutes of prep, but it also calls for just 3 simple ingredients. I love serving it for everything from large parties (it's ridiculously easy to batch cook) to summer picnics to camping trips. Even if you're not making it for a big group, I highly recommend you double or triple the recipe. Trust me, you're going to want the leftovers!
The BEST Grilled Chicken Marinade
It might seem a little weird, but using store-bought ranch dressing as a marinade is a game-changer. By letting the chicken thighs marinate in the creamy dressing overnight, you get ultra-tender and moist grilled chicken with minimal fuss. The result? A grilled chicken that has both a subtle sweetness and savoriness. If you're not a huge fan of ranch, you can easily use caesar salad dressing for a similar effect.
Not a fan of bottled dressing? Whip it up homemade with our recipe for light ranch dressing. It's made with a blend of sour cream, buttermilk, mayo, garlic cloves, black pepper, and fresh parsley and dill. Crazy easy and delicious!
How to Prepare Grilled Chicken Thighs
Preparing these grilled chicken thighs is so simple, a kid could easily put them together. Below, find a simplified overview of the process before you dive in.
Prep the Chicken Thighs: Using a sharp knife, slice the chicken thighs in half and place them into a large bowl.
Marinate the Chicken Thighs: Next, season the chicken thighs with garlic salt and the ranch dressing, making sure each one is evenly coated. Cover the bowl tightly with plastic wrap and marinate the chicken for at least 6-24 hours.
Grill the Chicken Thighs: Preheat the grill to high (about 380°F if you're using a gas grill). Place the chicken thighs on the grill grates and grill them until golden brown on each side and fully cooked through. Serve immediately and enjoy!
Did you know? The safe internal temperature for grilled chicken is 165°F. To take the guesswork out of gauging the doneness of your chicken, invest in an instant read thermometer. I've been using this one for years and it's saved me SO MUCH stress.
Tips for the Most Tender Grilled Chicken Thighs
Here you'll find a handful of pro tips to help you make the most tender grilled chicken thighs.
Use skinless boneless chicken thighs. Nothing compares to the cooking speed and juiciness of grilled boneless skinless chicken thighs. You can always use bone-in thighs, but they will take much longer to grill.
Avoid over-flipping the chicken. If you want those quintessential grill marks, refrain from flipping the chicken too much. Ideally, you'll only have to flip it once!
Keep prepped chicken stored in an airtight container. If you grill the chicken ahead of time, keep it stored in an airtight container until you're ready to serve it. The steam will keep the chicken both flavorful and moist.
Kabob Hack: If you're a fan of kabobs, slice the chicken thighs into quarters versus halves. Then, soak some wooden skewers in water for 30 minutes (this prevents them from burning over high heat). Assemble the chicken pieces on the skewers and grill them on both sides until golden brown. YUM!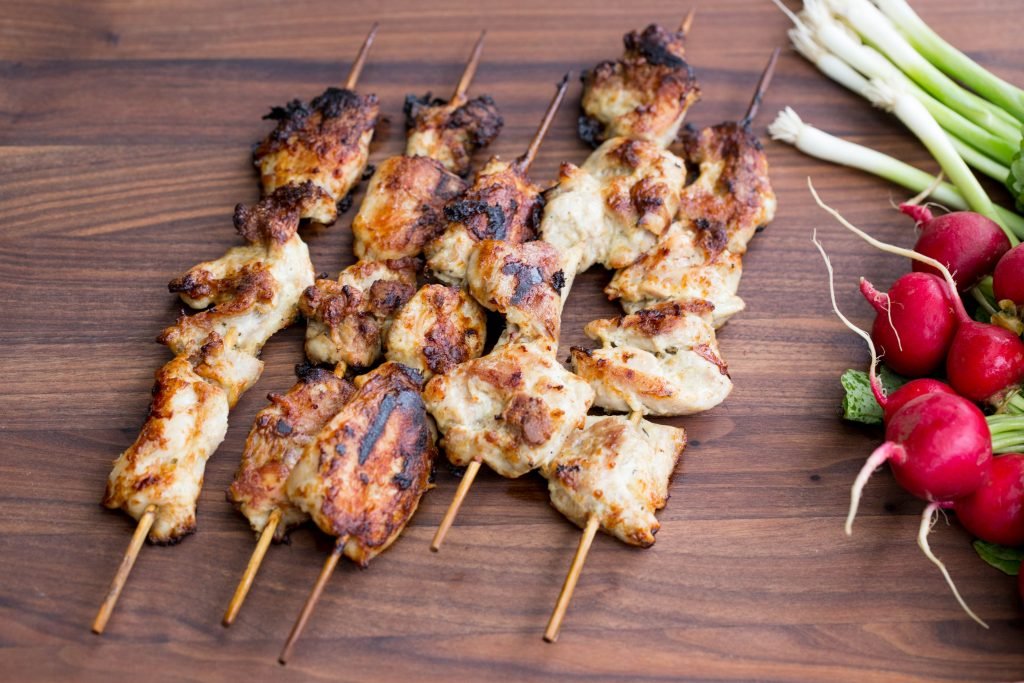 Ways to Serve Your Grilled Chicken Thighs
There are a million and one different ways to serve these grilled chicken thighs. For a comforting, well-rounded meal, serve them with a side dish of creamy mashed potatoes or olivier salad (Slavic-style potato salad). Or, if you're trying to keep things light serve the thighs on top of a homemade caesar salad or berry spinach salad.
How to Store Your Leftovers
Whether you have a couple of thighs to stow away in the fridge or a batch you'd like to freeze, find all our top storage tips here.
Refrigerator: To keep your chicken thighs on hand for up to 5 days, store them in an airtight container in the fridge. This will keep them from drying out quicker.
Freezer: If you'd like to keep your chicken thighs on hand for up to 1 month, store them in individual freezer-safe bags. To thaw, place them in the fridge overnight.
Reheating Tip: The best way to reheat your chicken thighs is in the microwave or an air fryer (if you don't have one yet, I love this model from Cosori).
Other Must Try Chicken Recipes
Recipe
These grilled chicken thighs are the epitome of tender and juicy. Whip them up on a gas grill or charcoal grill next time you're hosting!
Instructions
Cut the chicken thighs into halves and place them into a bowl. Season them with the garlic salt and pour the ranch dressing on top. Using your hands, massage the chicken until the seasoning is evenly coated. Cover the bowl with plastic wrap and allow the chicken to marinate for at least 6 hours (overnight preferred).
Nutrition Facts
5 Minute Grilled Chicken Thighs
Amount Per Serving
Calories 497
Calories from Fat 342
% Daily Value*
Fat 38g58%
Cholesterol 222mg74%
Sodium 3663mg153%
Potassium 466mg13%
Carbohydrates 1g0%
Protein 37g74%
Vitamin A 177IU4%
Calcium 20mg2%
Iron 2mg11%
* Percent Daily Values are based on a 2000 calorie diet.