These Johnsonville beer brats are cooked in juicy onions, then stuffed into buns and slathered in chili and a drizzle of ketchup. Comfort food at its best!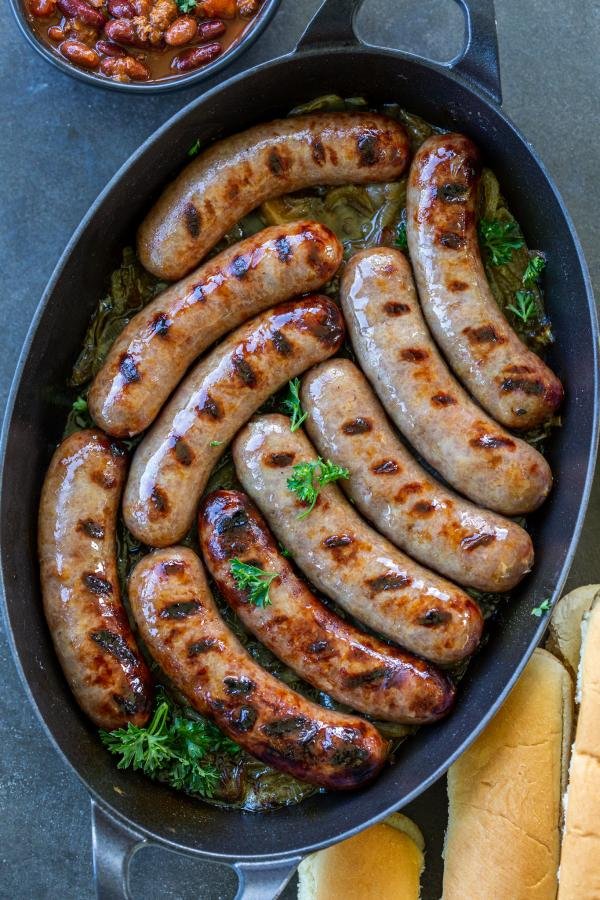 There's nothing like gathering a group of family and friends around one of the most great tasting recipes on the planet – Johnsonville beer brats smothered in chili and ketchup. I can't even count how many times I've had unexpected guests and leaned into this recipe to get a delicious meal on the table with minimal fuss and great pride. By grilling the brats first and finishing them in the oven with caramelized onions, you get all the smokiness of grilling and the juiciness of baking. The result? A brat that packs some pretty big taste.
Making Johnsonville Beer Brats
Making these Johnsonville beer brats only requires 6 simple ingredients and a handful of easy steps. Below, find an overview of the recipe before you dive in.
Cook the Onions: Slice the onions into half rings and cook them in a skillet over medium-high heat until golden brown.
Grill the Brats: Grill the brats on all sides.
Bake the Brats: Place the caramelized onions in the bottom of a baking dish and top them with the grilled brats. Then, cover the baking dish with foil and bake the brats at 350°F for 15-25 minutes.
Assemble the Brats: Finally, place a brat in a hot dog bun and top it with chili and a drizzle of ketchup. Repeat until all your brats are assembled. Enjoy!
Using frozen beer brats? That's totally fine. Take them out of the freezer and thaw them in the refrigerator overnight.
Tips for Making the Tastiest Beer Brats
Here you'll find a couple of pro tips to help you make the tastiest Johnsonville beer brats.
Only grill the brats until you get those signature grill marks. Of note, you'll want to avoid overcooking the brats since they will finish cooking all the way through in the oven. Once you get grill marks on all sides, immediately remove them from the fire.
Check the internal temperature of the brats with a meat thermometer. If you're unsure if your brats are cooked all the way through, check that the internal temperature has reached 160°F. To do so, poke the meat thermometer into the link sideways to ensure your testing the center. If you need a good recommendation, this model is a great starting point.
Only assemble the brats right before you plan to eat them. The chili will turn the bun soggy really fast, so only put the brats together right before you plan on chowing down.
Don't have a grill? No problem. Place the brats in a skillet filled with one cup water. Place the brats in and bring them to a gentle boil. Discard the water and sear the brats on all sides in the same skillet, then finish them in the oven as directed.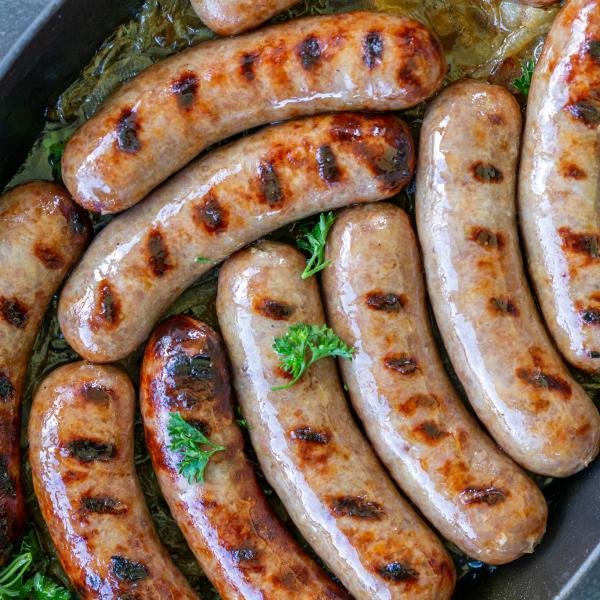 Ideas for Serving these Johnsonville Beer Brats
While these beer brats are filling all on their own, serve them with an assortment of sides for a well-rounded feast. If you want to stick to the comfort food theme, pair them with air fryer french fries and a homemade caesar salad. Or, for a fun spin on American hot dogs and potato salad, pair them with an Olivier salad (a Slavic-style potato salad).
Storing Your Leftovers
If you don't plan to eat the brats right away, keep them stored in a separate airtight container from the chili. They should keep for up to 3 days. To reheat the brats, cook them in a skillet on the stovetop with a bit of oil until warmed through. To reheat the chili, pop it in a sauce pan over medium heat or zap it in the microwave for a couple of minutes.
FAQ
What are Johnsonville beer brats made of?
Johnsonville beer brats are made with ground pork and beer.
Are Johnsonville beer brats gluten-free?
These brats contain beer and are not gluten-free.
Can you cook Johnsonville brats in the oven?
Cooking Johnsonville brats in the oven is a perfectly acceptable method. You don't always have to bust out the grill to enjoy brats!
Where can you buy Johnsonville beer brats?
You can pickup Johnsonville beer brats anywhere you get your weekly groceries. They are typically sold in the refrigerated aisle near the other sausage and hot dogs.
Are Johnsonville beer brats precooked?
No, Johnsonville beer brats are not precooked. They come as raw meat and require that you follow the safe handling instructions on the package to prepare them properly.
Other Sausage Recipes
Recipe
These Johnsonville beer brats are perfect for your next outdoor dinner. Thery're tender, juicy, and smothered in chili and ketchup!
Instructions
Slice the onions into half wrings. In an oiled skillet over medium heat, cook the onions until golden brown.

Cover baking dish with a lid or foil and bake the brats at 350°F for 15 minutes, or until fully cooked through.

Serve brats with buns, chili and ketchup. Enjoy!
Nutrition Facts
Johnsonville Beer Bratwurst Recipe
Amount Per Serving
Calories 419
Calories from Fat 225
% Daily Value*
Fat 25g38%
Cholesterol 58mg19%
Sodium 1090mg45%
Potassium 501mg14%
Carbohydrates 32g11%
Protein 16g32%
Vitamin A 208IU4%
Vitamin C 2mg2%
Calcium 107mg11%
Iron 4mg22%
* Percent Daily Values are based on a 2000 calorie diet.