Khinkali are super flavorful, meat-filled dumplings that are similar to soup dumplings. They reheat well, making them great for meal prep and freezing!
If you love dumplings, you will also love these pelmeni which are the Russian version of boiled dumplings.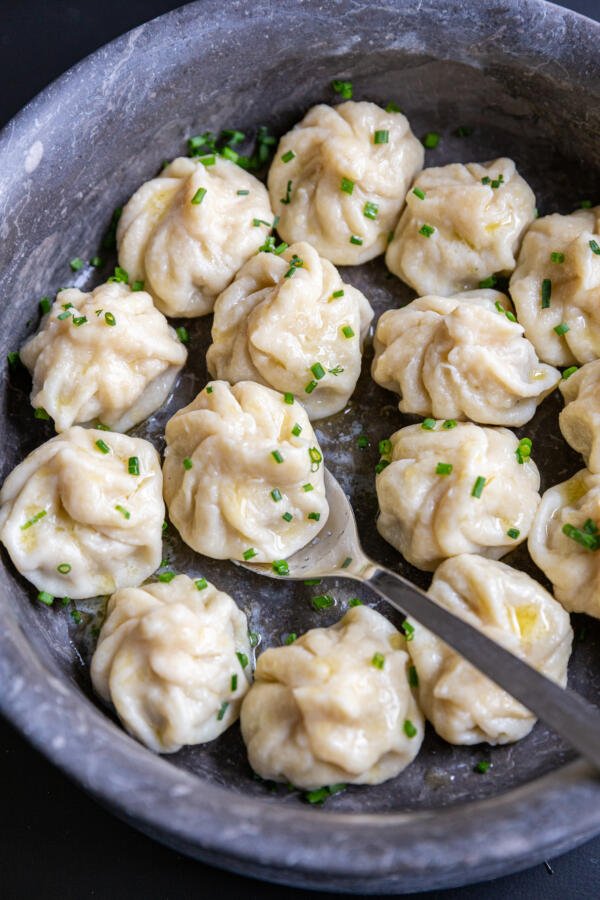 What are Khinkali?
Khinkali are Georgian dumplings that are a favorite at dinner parties or supras. The most common version of them is meat-filled, like in this recipe. In addition to the meat, the dumplings have a brothy filling due to the juices that the raw ground meat produces when cooked.
While the soup filling is similar to Chinese soup dumplings, the dough is thicker and they are boiled, instead of steamed.
Khinkali are also similar to Manti which is a Turkish dumpling. Manti are also meat-filled but are cooked in broth and served with a yogurt sauce.
Love Georgian cuisine? Check out my take on Khachapuri-also known as Georgian cheese bread!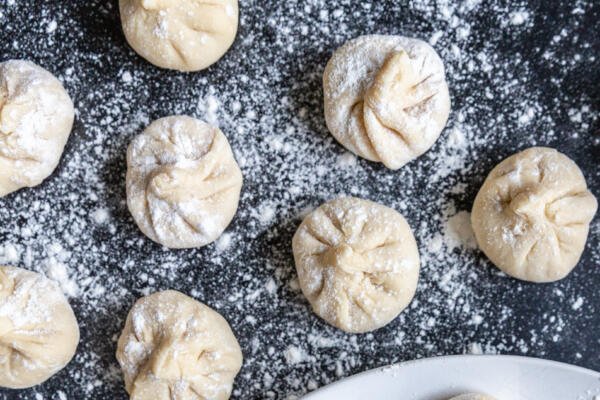 How to Make Khinkali Dough and Filling
To make the dough, mix together the flour and salt, then whisk in the eggs. Add the water and fold together until a dough forms. Finally, knead the dough until it is elastic.
To make the meat filling, mix together the ground meat (beef and chicken), onion, salt, pepper, and fresh herbs.
Hot Tip: My kids do not always like herbs in their dumplings. You can skip the herbs and serve them with fresh herbs instead.
How to Shape Khinkali
Roll the dough very thin and cut into circles 3 inches in diameter.
Add a dollop of the meat filling to a dough circle and fold the edges over. Pinch the edges together to seal. Repeat with the remaining ingredietns.
Cooking Khinkali
Boil a large pot of water and add a few Khinkali at a time. The dumplings will eventually float to the top, then allow them to simmer for 2-4 minutes until cooked.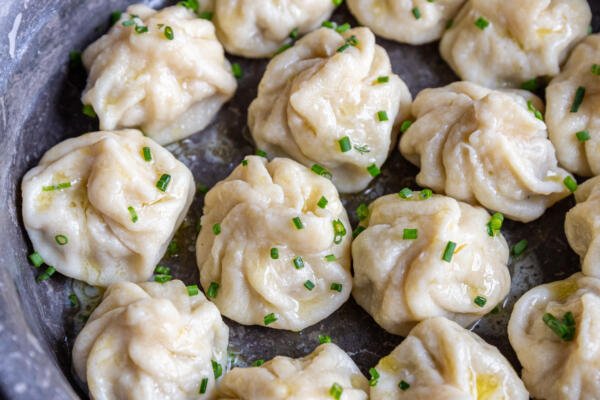 FAQ
When was Khinkali invented?
Khinkali was invented in Georgia hundreds of years ago. Some say that it was the Mongols (Chinese influence) that brought the dumplings to the region, while others insist that they originated in Georgia.
How do you reheat Khinkali?
You can reheat Khinkali by pan frying them in a skillet on the stove with a little oil. The bottoms of the dumplings will become browned, crispy, and so good.
How to eat Khinkali?
To eat Khinkali, use your hands to hold the warm dumpling by its stem, sprinkle it with a little pepper, and take a bite from the side of the soft top. Then, suck out the broth (you can blow on the broth to cool) before eating the filling and the rest of the dumpling. You can discard the doughy dumpling stem, if you'd like.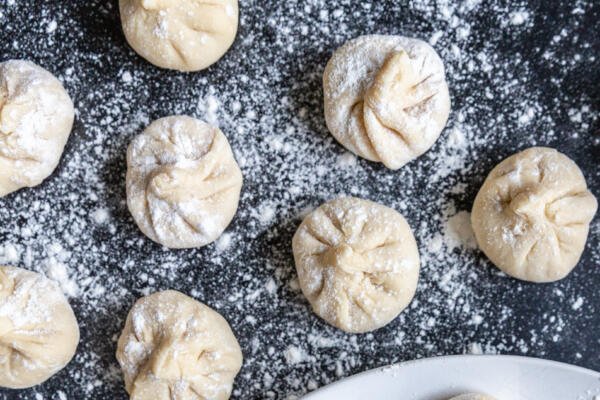 How to Freeze Khinkali?
To freeze Khinkali, place on a floured baking sheet and freeze. Once they are frozen, you can place them in a zip lock bag to store in the freezer.
Cooking Frozen Khinkali: It may take a few minutes longer to cook the frozen Khinkali, but the instructions remain the same.
More Dumpling Recipes
Recipe
Khinkali are super flavorful, meat-filled dumplings that are similar to soup dumplings. They reheat well, making them great for meal prep and can even be frozen! Both the dough and filling are easy to make and they're fun to assemble.
Ingredients
Khinkali Filling
1

lb

ground beef

1

lb

ground chicken

1

medium onion

minced

1

tsp

ground black pepper

1

tbsp

salt

adjust to taste

1

tbsp

herbs

(optional)
Instructions
Khinkali Dough
Note
: You can use any of your favorite combinations of ground meat. Such as beef, pork, turkey, chicken or even lamb.
Nutrition Facts
Khinkali Recipe (Georgian Dumplings)
Amount Per Serving
Calories 127
Calories from Fat 45
% Daily Value*
Fat 5g8%
Cholesterol 35mg12%
Sodium 412mg17%
Potassium 149mg4%
Carbohydrates 13g4%
Protein 7g14%
Vitamin A 27IU1%
Vitamin C 1mg1%
Calcium 10mg1%
Iron 1mg6%
* Percent Daily Values are based on a 2000 calorie diet.