Pelmeni Soup is comforting and healthy. Keep some of our homemade pelmeni on hand for this quick lunchtime favorite.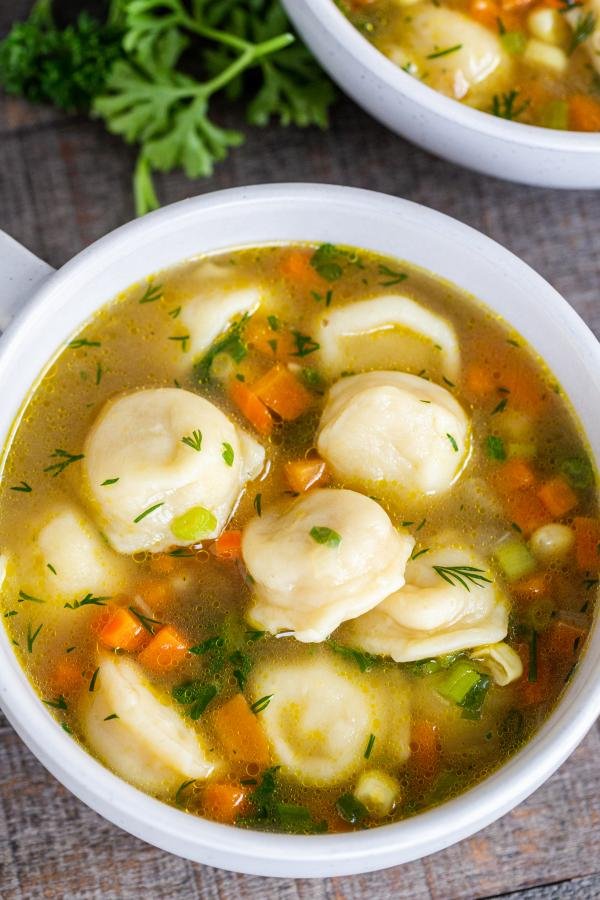 Pelmeni soup is comprised of veggies, chicken broth, and you guessed it, pelmeni! Never had pelmeni before? In short, they are the Russian version of boiled dumplings. Stuffed with ground beef, chicken or pork, onions and spices, they are a wonderful savory treat.
Before you get started on your soup, head over and learn how to make my family's recipe for pelmeni. Double up the recipe and eat a batch fresh and freeze the other to have on hand for this amazing soup. Trust me, you won't regret the extra work.
This simple soup is loved by children and adults alike. Think of it as an Eastern European spin on Chinese wonton soup. It's slurpy and chock-full of meaty morsels. YUM!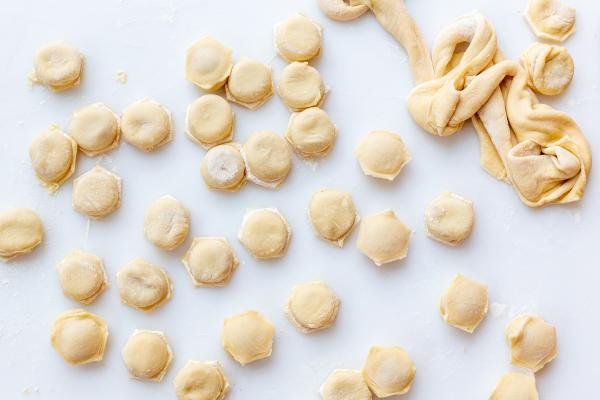 What are Siberian Pelmeni?
Pelmeni are sometimes referred to as Siberian Pelmeni, because they originated from Siberia. Traditionally, these are meat dumplings that are stuffed with a combination of beef and pork. Sometimes they can be lightened up with ground turkey or chicken.
My husband, Tim, was born in Siberia and immigrated to the United States at the age of 9. Pelmeni have always been a staple in his home and are expected to be in abundance at all his family parties.
Tips for Pelmeni Soup
This soup is very versatile — use the veggies you like most! Mix things up or add what you have on hand. Bok choy, carrots, corn, bell peppers, onions, mushrooms, kale and spinach are all great substitutions/additions.
If you don't have any homemade broth on hand, pick a flavorful store bought variety. Better than Bouillon broth concentrate is a staple in my fridge. It has such a rich flavor and lasts forever!
If you don't have the time or energy to make pelmeni from scratch, no worries! You can easily find frozen pelmeni at any Eastern European supermarket.
Only add your frozen pelmeni when all the veggies are cooked so they don't turn soggy. You will want to turn off the soup as soon as they float to the top.
This soup is taken to the NEXT LEVEL with a sprinkling of fresh dill right before serving. This extra burst of flavor takes me right back to my childhood! If you must, use dried dill, but the fresh stuff tastes the best!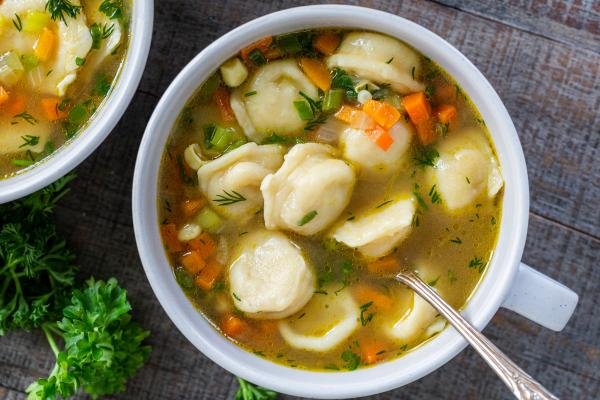 Trader Joe's Pelmeni
If you have a Trader Joe's close by, pick up their frozen pelmeni. Coming from an Eastern European, these are pretty authentic and amazing when used for this soup. They are packed full of herbs and super tasty!
More Childhood Soup Recipes
Here's more slurpy goodness straight from the motherland:
Recipe
Pelmeni Soup is comforting and healthy. Keep some of our homemade pelmeni on hand for this quick lunchtime favorite.
Ingredients
2

tbsp

olive oil

2

medium carrots

1/2

large onion

1

cup

frozen corn

3

qt

chicken broth

1

lb

pelmeni

1/2

cup

green onion

chopped

3

tbsp

fresh parsley

diced
Nutrition Facts
Dumpling (Pelmeni) Soup
Amount Per Serving
Calories 217
Calories from Fat 81
% Daily Value*
Fat 9g14%
Cholesterol 3mg1%
Sodium 1576mg66%
Potassium 429mg12%
Carbohydrates 32g11%
Protein 6g12%
Vitamin A 2743IU55%
Vitamin C 37mg45%
Calcium 55mg6%
Iron 2mg11%
* Percent Daily Values are based on a 2000 calorie diet.