This piroshky recipe cuts down on prep time with an overnight dough. Fried to perfection, you have your choice between a cabbage or ground chicken filling!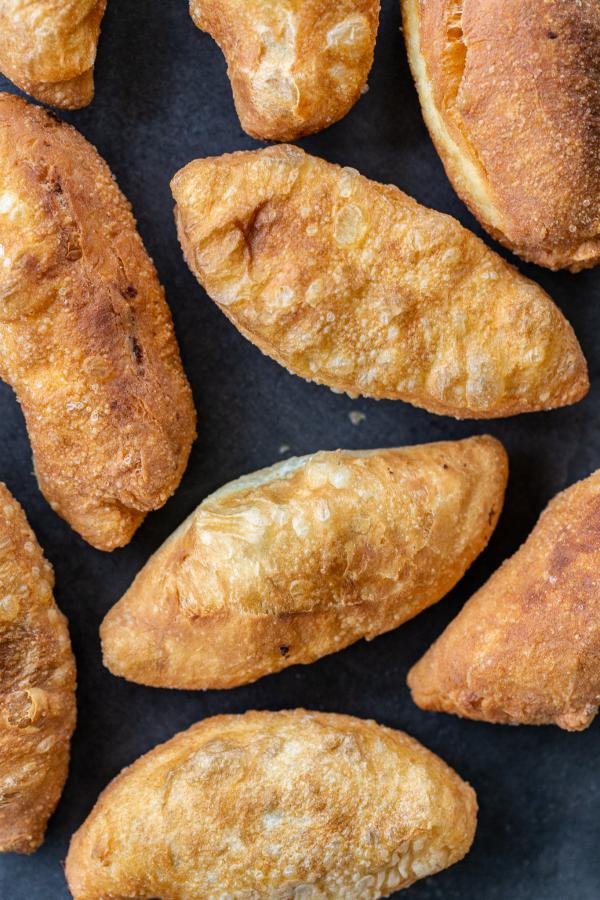 These piroshky are foolproof, fast, and so satisfying. Once my husband and I were married, it took me a whopping 8 years to work up the guts to make them for him. Why? This recipe comes straight from his mother's cookbook and was his absolute favorite childhood treat. But after living in Seattle for years and leaning heavily on the famous Piroshky Piroshky bakery in Pike Place Market to satiate his cravings, I knew I had to figure out how to make them homemade. After much trial and error, I couldn't be more excited that this recipe has become a fan favorite on the blog.
What are Piroshky?
Traditional piroshky are deep-fried or baked Slavic buns that are stuffed with a variety of different sweet and savory fillings. They're similar in nature to American-style handheld pies or British pasties. You'll find them served all throughout Eastern Europe and Russia with varying local flavor and flair. In this version, we cut down on the prep time significantly by using a quick, overnight dough. Below, find a rundown of the flavor, texture, and time it takes to prepare this recipe.
Flavor: The slightly sweet and salty piroshky dough is complemented by a savory filling of either cabbage or ground chicken.
Texture: The texture of these piroshky is the perfect combination of chewy yet airy bread dough and a tender filling of finely ground meat or vegetables.
Time: From start to finish, this recipe takes just over an hour to make. However, remember to take into account that you'll need to let the dough rest overnight before assembling.
How to Prepare Overnight Piroshky
Preparing these overnight piroshky only requires a handful of ingredients you likely already have hanging out in your kitchen and a bit of patience. Below, find a simplified overview of the process before you dive in.
Prepare the Dough a Day Ahead: The day before you plan to make this recipe, prepare the dough and let it sit overnight.
Make Your Filling of Choice: Prepare either a cabbage or the ground chicken filling. You can't go wrong here – both are equally delicious!
Assemble the Piroshky: With oiled hands, break the dough into similar-sized, small pieces. Flatten the dough and place the filling inside. Fold over the sides and pinch the edges together to seal the filling inside. Next, shape the dough into a long oval shape.
Fry the Piroshky: Fill a deep frying pan about halfway with oil. Place the raw buns in the oil and fry them until golden brown on both sides. Place the fried buns on a paper towel to drain them of excess oil. Enjoy immediately!
5 Pro Tips for Making the Best Piroshky
Here you'll find a handful of pro tips to help you nail this recipe for overnight piroshky.
Shape the piroshky with well-oiled hands. This piroshky dough is super sticky – don't fret that's exactly what you want! To make your life easier, make sure your hands are oiled before handling it.
Sift the flour. If your flour is full of clumps, sift the flour through a fine-mesh sieve before incorporating it into the dough. This will make for piroshky that are even in texture and consistency.
Fry the piroshky over medium-low heat. Avoid overcooking the outside of the piroshky and undercooking the inside by frying them over medium-low heat.
Don't overcrowd the piroshky. When frying, resist the urge to place too many piroshky in the oil at once. They are prone to sticking and need a bit of space to crisp up on all sides. Fry them in batches if you have to!
Experiment with different fillings. Get creative and dream up your own piroshky filling. From chocolate hazelnut spread (think: Nutella), ham and cheese, spinach and cheese, and sausages, you can't go wrong. This overnight dough is the perfect foundation for you to play around with different flavors and combinations.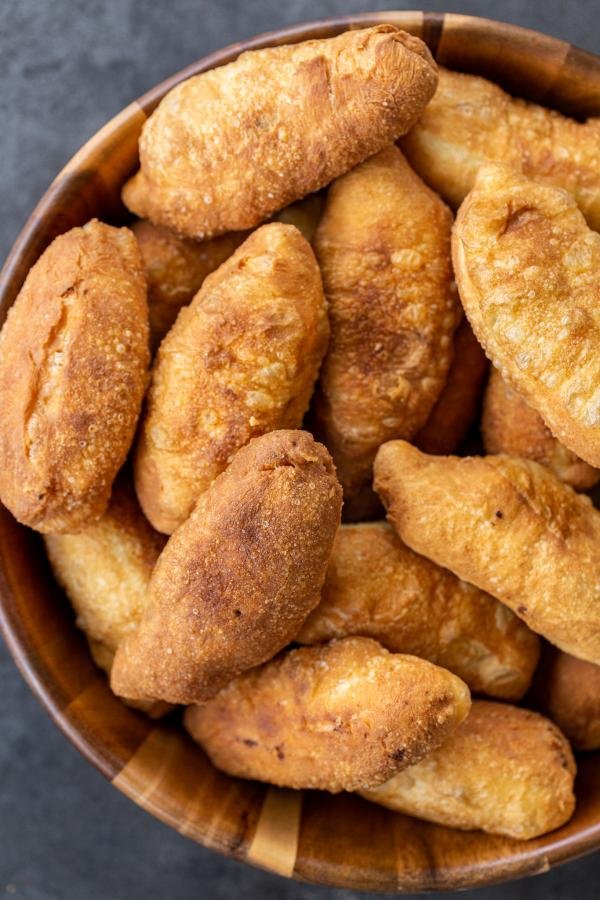 Ways to Serve Your Piroshky
Piroshky are super versatile and can be served as an appetizer, lunch, or dinner. If serving them as a meal, pair them with a salad of pickled veggies. For Slavics, there's nothing quite like the contrast between savory piroshky and tangy, pickled veggies. Pickled cabbage and beets, pickled mushrooms, or giardiniera are all great options. Serving them alongside a steaming bowl of borscht is always a great idea as well.
Freezing and Storing Piroshky
Whether you have a couple of piroshky to stow away in the refrigerated or would like to freeze a batch for a rainy day, find all the top storage tips here.
Refrigerator: To keep piroshky on hand for up to 3 days, store them in an airtight container in the fridge. This will keep them from turning stale and hardening.
Freezer (Raw): If you'd like to keep piroshky on hand for up to 3 months, freeze them raw. To do so, place the assembled piroshky on a baking sheet lined with parchment paper and pop the sheet into the freezer uncovered. Once completely frozen, transfer the piroshky to a freezer-safe bag. When you're ready, pop them directly into hot oil and fry until golden brown.
Reheating Tip: The best way to reheat piroshky is in the oven or in an air fryer (if you don't have one yet, I'm obsessed with this model) to return them to their crispy, fresh-out-of-the-fryer state. Avoid microwaving them, as they'll turn rubbery.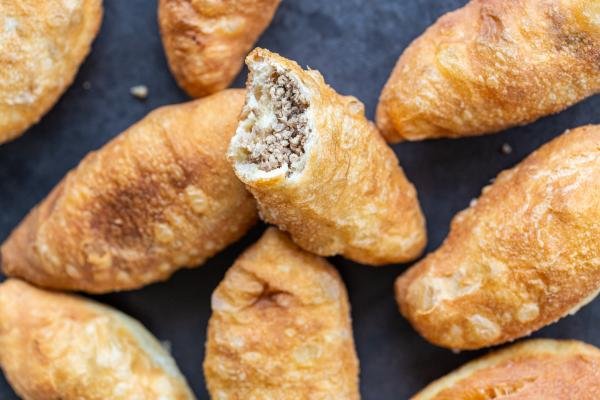 FAQ
What kind of yeast should you use?
Use active dry yeast for this recipe.
What kind of oil is best for frying piroshky?
Canola oil is best for frying piroshky. It's neutral in flavor and stands up super well to high heat. If you don't have any, avocado oil is a great backup.
How far in advance can you make the piroshky dough?
You can make overnight piroshky dough up to 3 days before you plan on assembling them. Just make sure to keep the dough covered while it's in storage so it doesn't soak up any lingering smells in your refrigerator.
Can you bake these piroshky instead of frying them?
While it's acceptable to bake some versions of piroshki, this recipe is best when the dough is deep-fried.
Are piroshky Russian?
While there's much debate surrounding where piroshky hail from, Russia is the most widely held belief. After the fall of the Soviet Union, immigrants from all different walks of life brought this bun to just about every single modern Eastern European country.
Other Tasty Slavic Morsels
Recipe
These piroshky are fried until golden brown and stuffed with a filling of either vegetables and ground chicken. A true Slavic staple!
Ingredients
Instructions
Cabbage Filling
Nutrition Facts
Piroshky with Overnight Dough (Cabbage or Meat Filling)
Amount Per Serving
Calories 149
Calories from Fat 36
% Daily Value*
Fat 4g6%
Cholesterol 28mg9%
Sodium 265mg11%
Potassium 165mg5%
Carbohydrates 21g7%
Protein 6g12%
Vitamin A 419IU8%
Vitamin C 6mg7%
Calcium 24mg2%
Iron 1mg6%
* Percent Daily Values are based on a 2000 calorie diet.