This recipe for wonton soup uses a quick frozen wontons hack. Made in just 30 minutes, it's teeming with juicy dumplings, bok choy, shiitakes & green onions.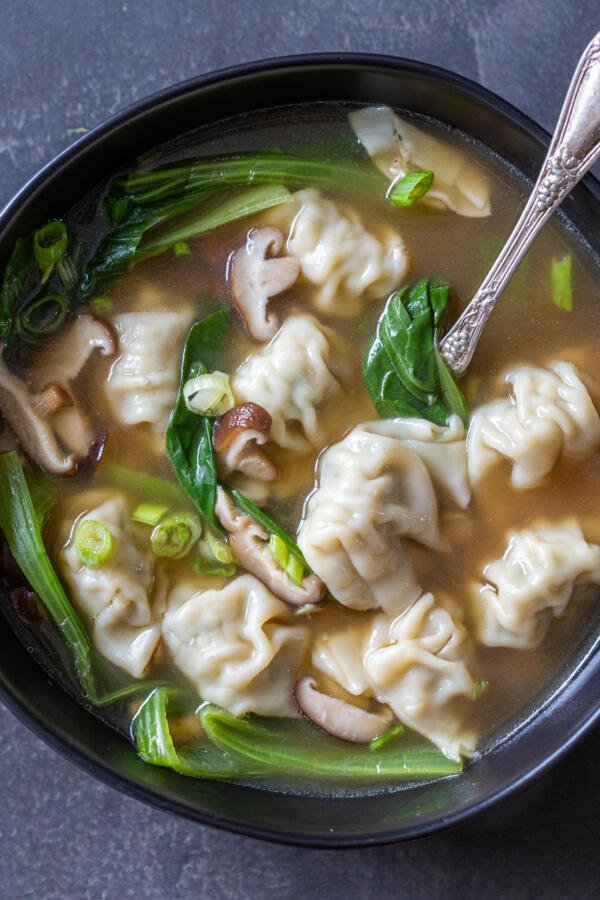 If you love ordering a huge bowl of wonton soup when you hit your favorite Chinese restaurant, this recipe is for you. Using a frozen, store bought wontons trick, it comes together in just 30 minutes and is made all in one pot. Effortless and so tasty!
What is Wonton Soup?
Wonton Soup is probably already one of your go-to dishes when you order Chinese take out. If it's not, get ready to fall in love. This soup is typically made with a light chicken-based broth and chock full of juicy dumplings and tender bok choy. For this recipe, we add some mushrooms because for more depth of flavor.
Frozen Wontons: I love using Trader Joe's Chicken Cilantro Mini Wontons. If you don't have one in your area, pick any dumpling from the grocery store or specialty Asian market.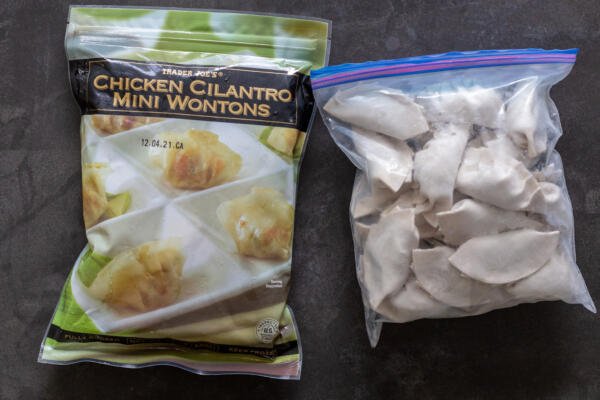 The Components of this Wonton Soup Recipe
Every wonton soup is a little different, but each will likely have the following central, ingredients:
Greens – Green onion and bok choy are crucial musts that elevate any wonton soup worth eating. You could also add in spinach, cilantro, broccoli or any other greens you like.
Garlic – Fresh garlic adds a welcome taste and fragrance to your wonton soup.
Mushrooms – While not every wonton soup calls for mushrooms, I believe they add a wonderful depth and earthiness. Shiitakes are my go-to, but feel free to use any fungi you like.
Broth – Chicken is preferred, but feel free to use veggie or even beef broth.
Wontons – You can use store bought wontons if you're in a pinch for time. If you're feeling ambitions make our gyoza recipe or pelmeni from scratch and substitute them for wontons.
Seasoning – Highly recommend adding a bit of low-sodium soy sauce and pure sesame oil to the broth. It adds so much flavor!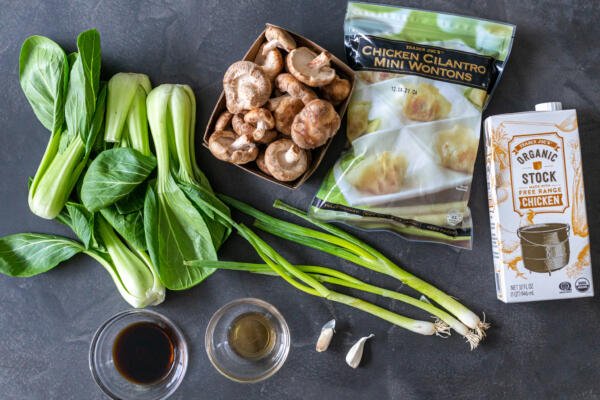 Preparing Wonton Soup with Frozen Dumplings
In just five simps steps, you'll have a ready-to-eat, restaurant quality soup in just 30 minutes total time.
Make the Broth: Combine water with chicken broth and pressed garlic. Bring to a boil.
Toss in the Frozen Wontons: Next. add in wontons.
Add in the Veggies: Slice the bok choy into smaller pieces and toss it in the soup pot. Next, add in the mushrooms.
Simmer the Soup: Turn the heat up to medium high heat and let the soup simmer for 15 minutes.
Add in the Soy Sauce & Sesame Oil: Season the soup with soy sauce and sesame oil. Ladle up a bowl and enjoy!
3 Tips for the Tastiest Wonton Soup
A couple of handy tips will help you make the best, steaming bowl of wonton soup.
Use low-sodium broth. Since you'll add in soy sauce at the very end, you'll want to use low-sodium chicken broth to ensure the soup doesn't come out too salty.
Wash the bok choy well. Bok choy is prone to having dirt stuck in between the leaves. Wash it thoroughly under cold water to make sure there's no grime.
Don't overcook the wontons. Avoid overcooking the wontons, as they will turn super mushy. Once they float to the top, they're ready to go!
Storing Leftovers
The awesome part about wonton soup is that the flavor just gets better and better as the broth marinates in itself. Store your soup in an airtight container in the fridge for up to five days. To reheat, place your soup in saucepan over medium-heat and stir every now and again until warmed through.
FAQ
Is wonton soup healthy?
Wonton soup is quite healthy. While the wonton wrappers do contain carbs, it's pretty minimal and the soup is quite light with all the veggies.
What is usually inside a wonton?
There are so many different kinds of wonton fillings. Typical stuffings include ground pork, shrimp, vegetables, scallions, ginger, rice noodles, and so much more.
What's the difference between wontons and dumplings?
There is no difference between wontons and dumplings – they are the same thing! Dumplings is just an overarching word that references all bite-sized morsels.
Can wonton soup be reheated?
Yes, wonton soup can be reheated in the microwave or on the stove top in a sauce pan. To do so, cook it over medium heat until warmed through.
Can wonton soup be frozen?
It's not a good idea to put wonton soup in the freezer. The dumplings don't thaw well and will turn to mush upon reheating. It's best to eat this soup within a couple of days!
Other Soup Recipes
Recipe
This wonton soup is the perfect, quick weeknight dinner. Even though it comes together in just 30 minutes, it tastes out of this world and is so satisfying.
Nutrition Facts
Wonton Soup Recipe
Amount Per Serving
Calories 110
Calories from Fat 27
% Daily Value*
Fat 3g5%
Cholesterol 2mg1%
Sodium 436mg18%
Potassium 221mg6%
Carbohydrates 16g5%
Protein 6g12%
Vitamin A 2559IU51%
Vitamin C 27mg33%
Calcium 82mg8%
Iron 2mg11%
* Percent Daily Values are based on a 2000 calorie diet.