One-Pot Veggie Yakisoba Noodles only take 30 minutes to get on your table. Slurpy noodles, savory sauce and tons of veggies make this dish hearty and healthy!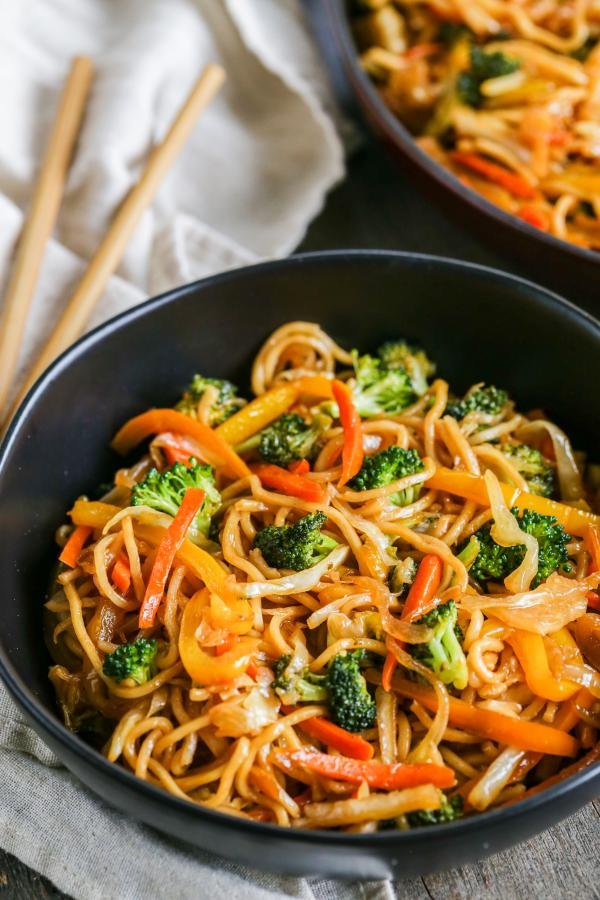 What the heck is yakisoba? Well, in Japanese "yaki" means "fried" and "soba" means "noodles". There you have it… fried noodles! To be more specific, these noodles are pan-fried and then tossed with a thick, flavorful sauce.
After a long day of work and managing the blog, the idea of doing a ton of dishes is well… pretty unattractive. One-pot dinners are a lifesaver. This dish has become one of my go-tos when we need something homemade and fast!
Yakisoba Noodles
Yakisoba noodles are extremely similar to ramen noodles (if you can't find them, ramen noodles can work in their place). Made from wheat, they have a great texture and taste and they add an awesome pop of yellow to this dish (although they don't contain any eggs). Yakisoba noodles are found pre-cooked in the refrigerated aisle of an Asian supermarket. They are are the easiest to use because they are precooked and ready to go!
Note: Yakisoba is becoming a pretty hot dish. Therefore, most grocery stores are starting to carry yakisoba noodles in the refrigerated section of the produce aisle or Asian aisle. This means you might not have to make the extra trip to the specialty Asian supermarket!
How to Heat Yakisoba Noodles?
If you are working with the pre-cooked Yakisoba noodles (recommended!), all you have to do is follow the instructions on the package. Sometimes yakisoba noodles are stored in packages with water and only need to be drained and tossed in the pan. Other times, yakisoba noodles are vacuum-sealed and need to be revived by placing them in cold water to loosen them up before cooking. Either way, you will not need to fuss with boiling a pot to cook the noodles fresh!
Vegetables to Use in Yakisoba
The options here are limitless! My go-to veggies for yakisoba are cabbage, carrots and broccoli. But, honestly, most veggies would go great in this dish. Use whatever is taking up space in your refrigerator. Other options include:
Asparagus
Eggplant
Zucchini (green or yellow)
Peas
Snap Peas
Brussel sprouts
Water chestnuts
Bell peppers
String Beans
Bok Choy
Chinese Broccoli
Spinach
Baby corns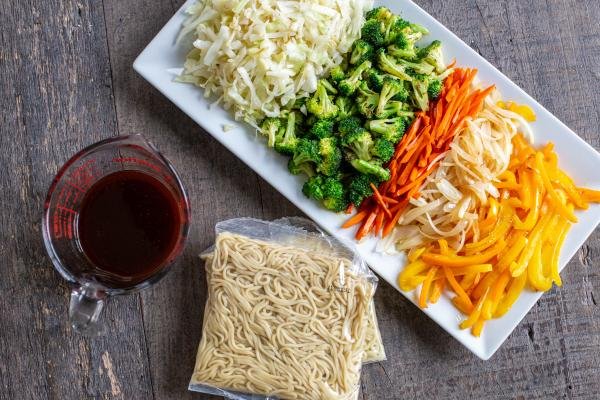 Other Yakisoba Recipes
Can't live without meat? Here are some other meat-heavy Yakisoba recipes to try out:
Chicken Yakisoba – Boneless chicken is sauteed to golden brown and adds a nice protein punch to yakisoba.
Beef Yakisoba – Skirt steak is sliced into thin pieces and pan-fried alongside some veggies. Bonus: Skirt steak is typically quite cheap!
Shrimp Yakisoba – Although I don't have a specific recipe, shrimp would be perfectly substituted in either the latter recipes.
Tofu Yakisoba – Add some extra vegetable protein by using tofu cubes instead of meat.
Tofu Tip: Make sure you extract as much liquid from your tofu as possible before pan-frying it. This will help it crisp up nicely. You can do this by wrapping your tofu block in a paper towel on top of a plate. Then, place something heavy on top, like a cast iron skillet. Allow the tofu block to sit under the cast iron skillet for 15-20 minutes. Pat it dry and then cut it into cubes.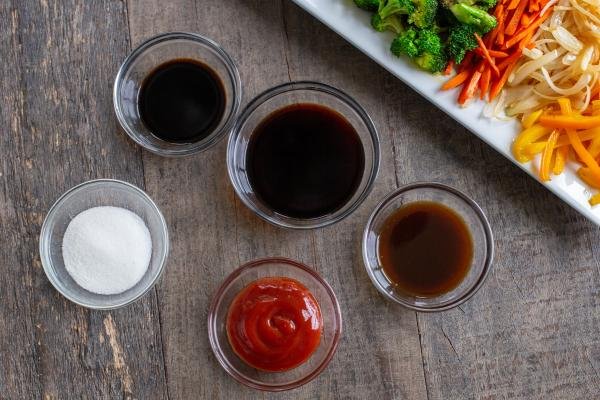 Yakisoba Sauce
Sugar, ketchup, worcestershire sauce, soy sauce and oyster sauce combine to make the perfect yakisoba sauce. The key to great yakisoba sauce is a thick, sugar-y flavor profile and texture. This will stand up to the noodles well and make certain that your dish is not too watery.
Adding the sauce right before the noodles is very important. If you add the sauce too early, it will burn to the sides or the pan and the sugar will turn hard and caramelize.
Other Asian Noodles to Try
Recipe
One-Pot Veggie Yakisoba Noodles only take 30 minutes to get on your table. Slurpy noodles, savory sauce and tons of veggies make this dish hearty and healthy!
Ingredients
1

large sweet bell pepper

cut into strips

1/2

lb

broccoli

cut into bite-size

2

large carrots

cut into strips

1/4

small cabbage

cut into strips

1

large onion

sliced into half ring

16

oz

yakisoba noodles

3

tbs

oil

for cooking vegetables
Nutrition Facts
One-Pot Veggie Yakisoba Recipe
Amount Per Serving
Calories 243
Calories from Fat 63
% Daily Value*
Fat 7g11%
Sodium 1338mg56%
Potassium 316mg9%
Carbohydrates 39g13%
Protein 7g14%
Vitamin A 3054IU61%
Vitamin C 31mg38%
Calcium 62mg6%
Iron 3mg17%
* Percent Daily Values are based on a 2000 calorie diet.