Lo mein might already be one of your go-tos when ordering Chinese takeout. Skip spending money and make this dish at home in only 30 minutes!
If you enjoyed this lo mein recipe, you'll love the Best Beef Stir Fry Recipe or try our Ultimate Philly Cheesesteak.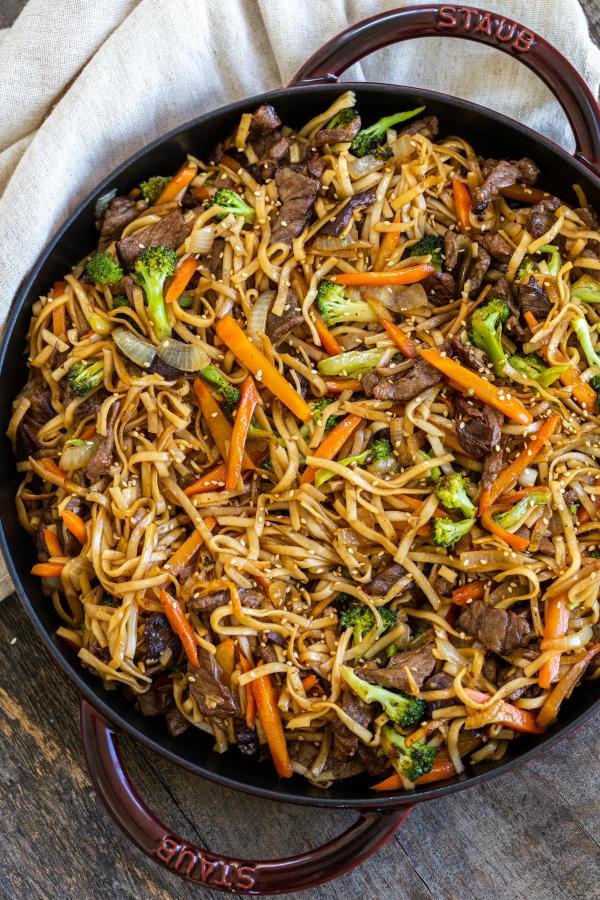 Lo Mein
If you haven't tried lo mein before, you are probably wondering what the heck it is. In short, lo mein is a stir-fried noodle dish. Long, soft egg noodles are tossed with a savory and sweet sauce and either beef or chicken. The end result is a bowl of slurpy deliciousness!
You have probably heard of lo mein's close cousin "chow mein". Wondering what the difference is between the two? Lo mein is a dish of soft noodles tossed in a thick sauce. Chow mein, on the other hand, calls for a longer frying time to make the noodles crispy. Both are delicious and super easy to make!
Lo Mein Sauce
Sweet, savory and rich, lo mein sauce is oh-so comforting. It's also VERY easy to make. My interpretation only requires brown sugar, beef broth and soy sauce. You simply bring all the components to a boil together and just like that, you have a homemade lo mein sauce.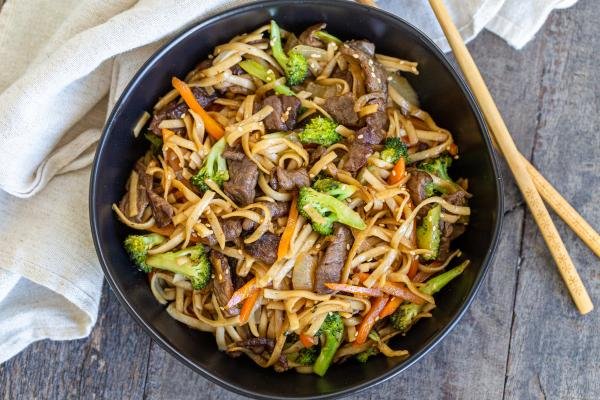 What Meat Goes with Lo Mein?
Beef: Flank steak, skirt steak, ribeye or top sirloin will all work great in this recipe. Whatever cut you choose, make sure the beef achieves a nice golden color. It will have so much flavor.
Chicken: If you are going to opt for chicken, use boneless breasts. Skip the browning step, but still slice the chicken into two-inch pieces. When sauteeing your chicken slices in your sauce, make sure to cook them all the way through!
Veggie Lo Mein: if you are skipping out on the meat, you can always make our incredible Veggie Lo Mein.
Lo Mein Noodles
Most grocery stores will carry lo mein noodles in the Asian aisle. You can find these wheat and egg based noodles dried or fresh. If you get lucky, you will find fresh lo mein noodles in the refrigerated section (sometimes in the produce aisle, sometimes in the Asian aisle). These will allow you to skip the boiling step entirely, as they are already cooked!
If you can't find dry or fresh lo mein noodles, don't panic! I often use spaghetti noodles when I am in a pinch. They work great and don't sacrifice taste!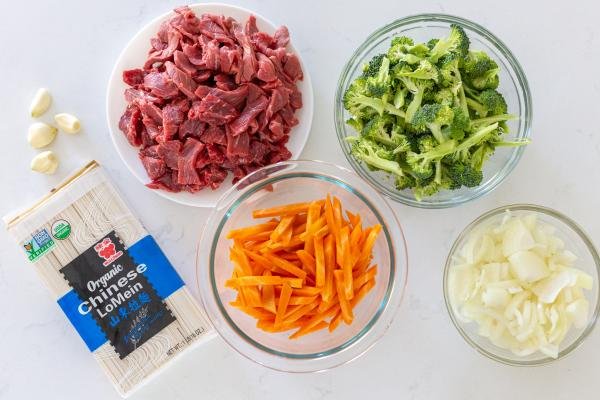 Lo Mein Ingredients
Noodles: Any egg noodles will work. Try to snag authentic lo mein noodles, but like I said above, spaghetti noodles will work also.

Note: After cooking the noodles rinse them with cold water to prevent them from sticking together.

Sesame Oil: If you don't already have sesame oil on hand, grab some! It is a key ingredient in most Asian cooking. It adds a toasted, nutty flavor to dishes. You will toss your cooked noodles in sesame oil to prevent them from sticking while you prepare the rest of your lo mein components.
Better than Bouillon (Beef flavor): This broth concentrate is a game changer! It has an amazing beef flavor and has become a staple in my kitchen. You will use it to make a beef broth that will serve as the base of your lo mein sauce.
Soy Sauce: You can't make Chinese food without soy sauce! Soy sauce will elevate your broth and give it that signature Asian flavor.
Brown Sugar: Brown sugar adds the necessary thickness to your sauce. Chinese sauces almost always contains brown or white sugar for this reason!
Garlic: Lo mein calls for fresh garlic. Don't use garlic powder or marinated garlic if you can avoid it. The fresh stuff makes all the difference!
Veggies: For my interpretation of lo mein, you will use carrots, onions and broccoli. Carrots and broccoli are perfect for stir-fry, as they keep a nice bite and provide a perfect contrast to soft lo mein noodles. You can also add bell peppers.
Storing Lo Mein
Store your lo mein in an airtight container in the fridge. It will last for 3-5 days! Bonus: The sauce gets richer as it marinates in the fridge. Can you say BOMB leftovers?!
Other Asian Recipes to Try
Recipe
Beef lo mein might already be one of your go-tos when ordering Chinese takeout. Skip spending money and make this dish at home in only 30 minutes!
Ingredients
8

oz

noodles

(cooked according to instructions)

1

tsp

sesame oil

1/4

cup

hot boiled water

1

tbsp

Beef Better Than Bouillon

3

tbsp

soy sauce

2

tbsp

brown sugar

oil (olive or sesame)

for frying

1

lb

beef

2

large carrots

2

cup

broccoli

1

large onion

4

garlic cloves
Nutrition Facts
Beef Lo Mein Recipe
Amount Per Serving
Calories 381
Calories from Fat 153
% Daily Value*
Fat 17g26%
Cholesterol 54mg18%
Sodium 586mg24%
Potassium 433mg12%
Carbohydrates 37g12%
Protein 20g40%
Vitamin A 3746IU75%
Vitamin C 6mg7%
Calcium 56mg6%
Iron 3mg17%
* Percent Daily Values are based on a 2000 calorie diet.