These peanut butter oatmeal cookies use basic pantry ingredients like eggs, rolled oats, peanut butter, and brown sugar. Get ready for soft and chewy cookies galore!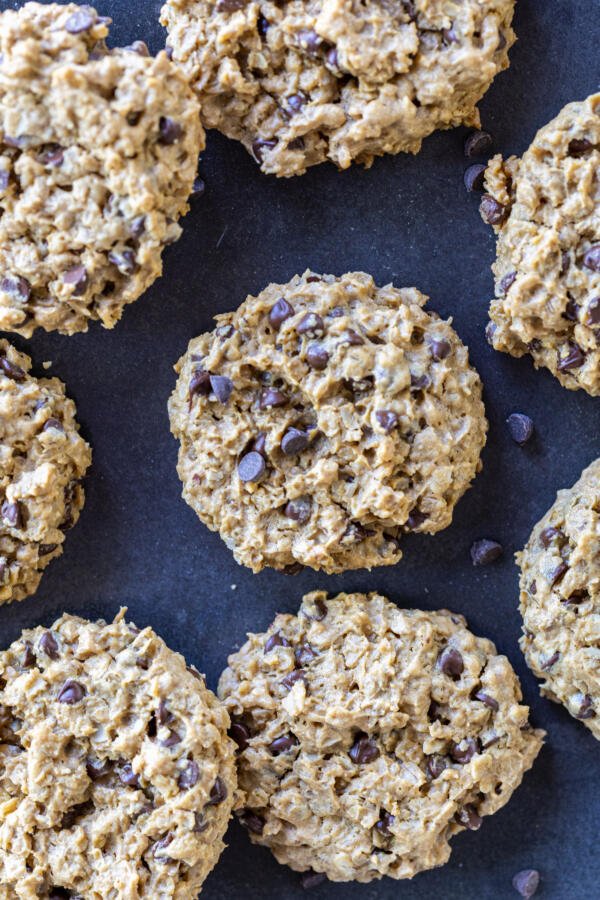 Hot tip: If you're looking for a dairy-free cookie, look no further! This cookie is it!
How to Make Peanut Butter Oatmeal Cookies
After you make these cookies once and taste their amazing flavor — you'll keep coming back to make more. Good thing they're crazy easy to make!
Whisk the eggs: While the oven is preheating to 350°F, whisk the eggs in a large bowl with brown sugar until well-beaten.
Stir in wet ingredients: Stir in the peanut butter until the mixture is creamy.
Add in dry ingredients: Add in the rolled oats, baking soda, and salt.
Combine with chocolate chips: Pour in chocolate chips and stir everything together until well combined.
Shape the cookies: Make cookie dough balls about 1.5 tablespoons in size. Place them on a baking sheet. Flatten the tops slightly.
Bake: Bake the cookies for 10-12 minutes or until the edges are lightly golden. Cool on a wire rack, then enjoy!
Pro tip: Make cookies crazy easily with this stand mixer. It does all the hard work for you!
Cookie Ingredient Adjustments
Add a bit of variety to the cookies with these ingredient adjustments. It's like a new taste every time!
Chocolate: Use any of your favorite chocolate chips in these cookies. We love semi-sweet chocolate chips, but white chocolate or dark chocolate work great, too.
Nuts: Chopped peanuts, walnuts, or pecans add more texture to the cookie.
Cinnamon: For a hint of fall-like flavors, add a teaspoon of cinnamon to the mixture.
Dry Fruit: Add in raisins, dried cranberries, or chopped cherries for a fruity addition.
Sea salt: We love to sprinkle a tiny bit of sea salt on top of the cookies right out of the oven.
Vanilla extract: For even more flavor, add one or two teaspoons of vanilla extract.
Granulated sugar: If you're out of brown sugar, use granulated sugar at a 1:1 ratio. Brown sugar makes darker, denser cookies with a caramel/molasses flavor, but granulated sugar can be a good substitute.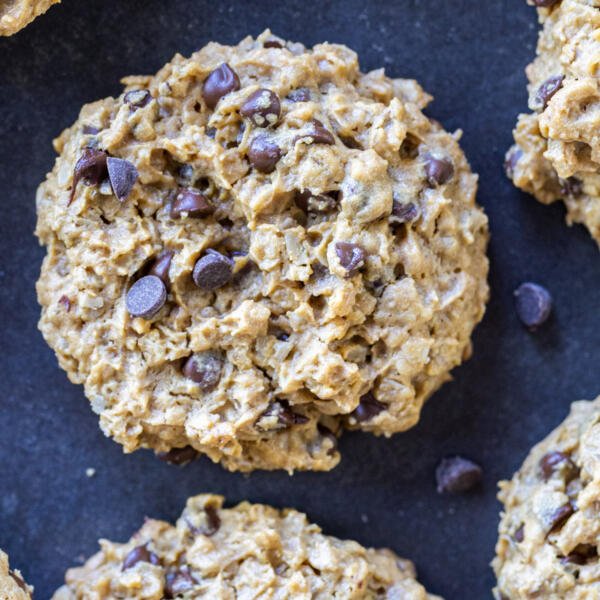 Tips for Baking Cookies
For the best peanut butter oatmeal cookies the first time, follow these easy tips.
Use good creamy peanut butter: Pure peanut butter gives these cookies the best taste. Additives tend to make these cookies taste weird. We like creamy peanut butter, but crunchy can be used in a pinch — your cookies will have more texture.
Shape with a scoop: To make even, circular cookies, use an ice cream or medium sized cookie scoop.
Allow cookies to rest: The cookies are very soft and hot when they come out. They need to rest for about 5-10 minutes to harden slightly before digging in.
Opt for rolled oats: Rolled oats are the best for these cookies. However, quick oats can be used in a pinch at a one-to-one ratio. Avoid using steel cut oats as they have a drastically different texture and take longer to cook.
Line the baking sheet: For extra-easy cleanup, line the baking sheet with parchment paper or a silicone mat. This is our favorite pre-cut parchment paper we use for all our baking needs.
Ways to Serve
Serve peanut butter oatmeal cookies as a snack, dessert, or breakfast in the morning. Since the cookies have rolled oats, they are good sources of fiber, protein, and carbohydrates — making them a great idea to enjoy any time of day. The cookies are wonderful when paired with a glass of milk, hot tea, or coffee. Keep a handful ready to go at a moment's notice in your cookie jar.
Storing the Cookies
Like most cookies, these cookies are safely stored at room temperature. However, for the best taste for the longest time, follow these storage tips.
Room temperature: To store for up to three days on the counter, place cookies in an airtight container.
Refrigerator: To store for up to a week, place cookies in an airtight container in the fridge.
Freezer: To store baked cookies for up to three months, freeze baked cookies and store in a ziplock bag or freezer-safe container. Thaw before serving.
FAQ
Can I use quick oats to make oatmeal cookies?
Most oatmeal cookies are made with rolled oats, but quick oats can be used in a pinch. The cookie made with quick oats will not have as much texture and may not be quite as chewy as it would be when made with rolled oats.
Why are my peanut butter cookies dry and crumbly?
These cookies may become dry and crumbly if cooked for too long, or there's not enough liquid in the dough. Bake cookies until edges are just barely browned. Make sure to use two large eggs to adequately moisten the dough. If the dough is too dry, add a teaspoon of oil or milk and mix thoroughly.
How do I make sure my cookies stay soft?
For cookies to stay soft, store them in an airtight container. When cookies are exposed to air, the moisture evaporates from the cookie and into the surrounding air, leaving the cookie stiff and easily broken.
More Cookies Using Nut Butter
Recipe
These peanut butter oatmeal cookies use basic pantry ingredients like eggs, rolled oats, peanut butter, and brown sugar. Get ready for soft and chewy cookies galore!
Nutrition Facts
Peanut Butter Oatmeal Cookies Recipe
Amount Per Serving
Calories 262
Calories from Fat 135
% Daily Value*
Fat 15g23%
Cholesterol 29mg10%
Sodium 191mg8%
Potassium 180mg5%
Carbohydrates 28g9%
Protein 8g16%
Vitamin A 62IU1%
Vitamin C 0.1mg0%
Calcium 39mg4%
Iron 1mg6%
* Percent Daily Values are based on a 2000 calorie diet.