Nutella Cookies are rich, chewy and so darn easy to make. If you can mix things, you can make these!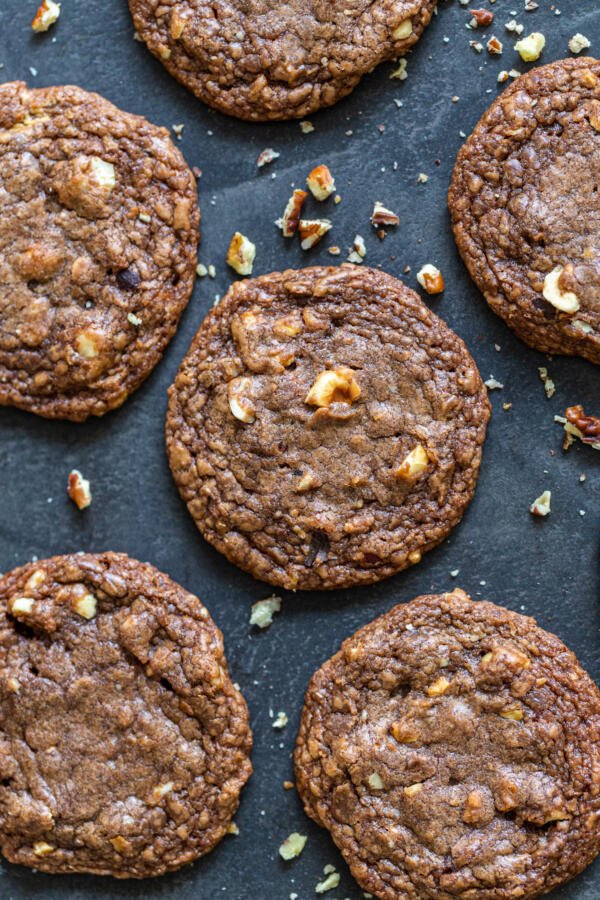 These Gluten-Free Nutella Cookies were invented by a friend of mine who has a wicked sweet tooth but must eat gluten-free. After trying these cookies for the first time, I begged for the recipe! Now I'm so excited to be sharing these little creations with you.
What I love most about these cookies is that they only require 5 minutes of prep and 5 simple ingredients. Plus, they are loaded with protein and are completely flourless! What's not to love?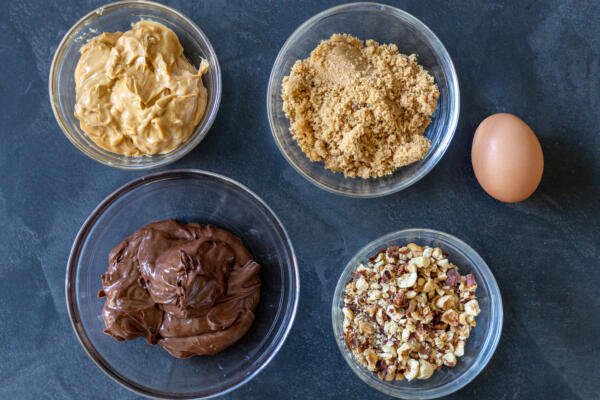 What is Nutella?
Nutella is a chocolate-hazelnut spread that has been gracing snack cupboards for decades. The Italian brand Ferrero introduced Nutella back in 1964 and chefs use it to stuff and sweeten a myriad of different treats. From crepes to cupcakes to cookies, Nutella adds a unique flavor and an unbeatable richness.
How to Make Gluten-Free Nutella Cookies
When a sweet tooth hits and you don't feel like baking something complicated, these cookies are your new secret weapon. The prep and clean-up couldn't be any easier and the end result is melt-in-your-mouth delicious. Follow these simple steps to nail this recipe each and every time:
Crush or rough chop the nuts.
Whisk egg and brown sugar together. Mix in peanut butter and Nutella spread.
Fold the nuts into the batter.
Scoop small pieces of dough onto a lined baking sheet. Using a fork, press on the tops lightly to flatten each cookie out.
Bake cookies at 350°F for 8-10 minutes. Allow cookies to set at room temperature.
FAQ
What can I add to Nutella cookies?
You can add anything from sprinkles to chocolate chips to dried cranberries. These cookies do great with an extra added bit of crunch or texture. You can also top your cookies with a sprinkling of fancy salt. Try Maldon Sea Salt Flakes to get that perfect sweet-and-salty combination.
Can I prepare Nutella cookies in advance?
Yes! You can make the dough a couple of days in advance. Keep it refrigerated in a sealed, airtight container. Before baking, allow the mixture to come to room temperature. Bake according to instructions and enjoy!
Is Nutella healthier than peanut butter?
Nutella is not healthier than peanut butter. It's packed with sugar and should be considered a dessert spread.
Why are my cookies falling apart?
Since these cookies are flour-less, it's important you let them set long enough. When they come out of the oven, allow them to sit at room temperature so they can completely harden and are easy to hold.
How to Store Nutella Cookies
Since these cookies are made without flour, they have a tendency to melt and spread at room temperature. To prevent this, store them in either the refrigerator or freezer.
Refrigerator: Store Nutella cookies in the refrigerator in an airtight container. They should keep for up to two weeks when stored properly.
Freezer: Place cookies in a single layer on a baking sheet. Pop entire tray into the freezer and allow cookies to completely freeze. Remove from the tray and place in a freezer-safe plastic storage bag. When you're ready to eat, allow cookies to thaw in the fridge until softened through.
Gluten-Free Nutella Cookies Tutorial
A few More Nutella Cookie Recipes
Love Nutella? We do too. Check out these other sweet treats that incorporate this delectable spread:
Recipe
Nutella Cookies are rich, chewy and so darn easy to make. If you can mix things, you can make these!
Ingredients
1

egg

1/2

cup

Nutella

1/2

cup

brown sugar

1/2

cup

peanut butter

(chunky or creamy)

1/2

cup

roasted nuts

(walnuts, pecans, peanuts also would work)
Nutrition Facts
Gluten-Free Nutella Cookies
Amount Per Serving
Calories 81
Calories from Fat 45
% Daily Value*
Fat 5g8%
Cholesterol 5mg2%
Sodium 25mg1%
Potassium 69mg2%
Carbohydrates 8g3%
Protein 2g4%
Vitamin A 8IU0%
Vitamin C 1mg1%
Calcium 13mg1%
Iron 1mg6%
* Percent Daily Values are based on a 2000 calorie diet.