These oatmeal raisin cookies are made with mashed bananas, almond butter, maple syrup, rolled oats, and raisins. They're as healthy as cookies can get!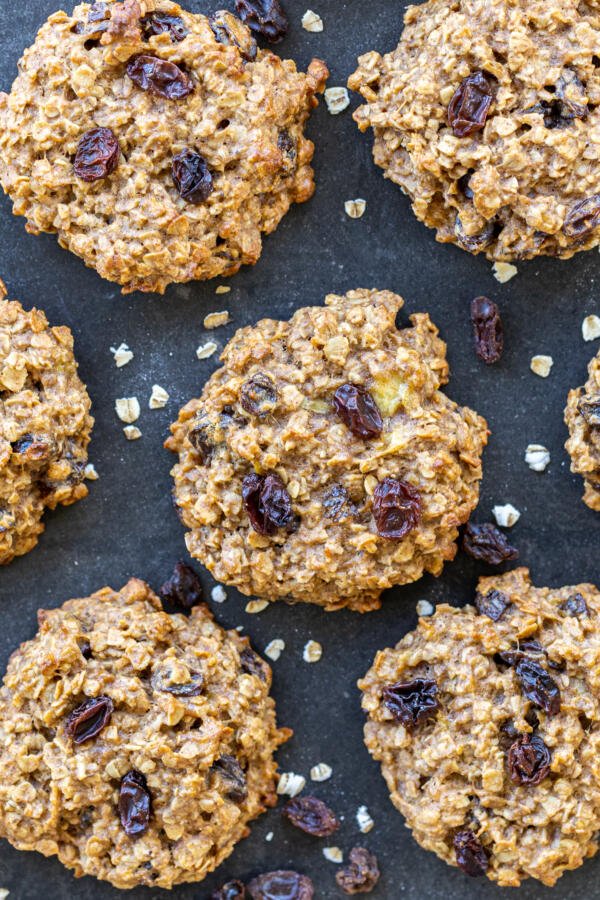 What are Oatmeal Raisin Cookies?
These healthy oatmeal cookies are made from a simple mixture of five ingredients. Almond butter, maple syrup, rolled oats, and raisins are mixed together with mashed bananas. Instead of the loads of added sugar in most cookies, these cookies get their sweetness from the ripe bananas, raisins, and maple syrup. Thy are also flour-less, making them a great option for gluten-free bakers. Get ready for warm and chewy cookies to pair with your next glass of milk or coffee!
How to Make Oatmeal Raisin Cookies
Oatmeal raisin cookies come together in a blink of an eye. They take a speedy five minutes of prep time and ten minutes of cook time. Few cookies are made faster than that!
Mash the banana: Preheat the oven to 350°F. Meanwhile, in a large bowl, mash bananas with a fork until creamy.
Add in wet ingredients: Add in almond butter and maple syrup. Stir to combine.
Combine the remainder: Add in the dry ingredients. Stir to combine.
Scoop the cookies: Scoop cookies (about 1.5 tablespoon in size or a medium sized cookie scoop) onto a lined baking sheet or parchment paper. Shape into a circle with a spoon, flattening the tops slightly.
Bake: Bake for 12-15 minutes or until the edges are lightly golden. Let the cookies rest on a wire rack for five minutes. Enjoy!
Change It Up
Shake things up with a few ingredient substitutions or additions. The flavor combinations are almost endless!
Replace the raisins: Instead of raisins, use dried blueberries, cranberries, or even chocolate chips.
Add nuts: For more crunch, fold in finely chopped pecans, walnuts, or other nuts to the mix. About 3/4 cup is perfect.
Swap out the butter: When you don't have almond butter, use cashew or peanut butter.
Change the syrup: Instead of maple syrup, use honey or brown sugar.
Mix in more flavor: For even more flavor, add one teaspoon cinnamon or one teaspoon vanilla extract. For more sweetness, add a tablespoon of regular or coconut sugar.
Tips from the Kitchen
If you don't consider yourself a baker — don't worry! With this oatmeal raisin cookie recipe and tips, you won't be a fish out of water.
Avoid overbaking the cookies: The oatmeal cookies are soft when they come out of the oven. Avoid over-baking or they may become too hard. Let the cookies completely cool down before digging in.
Microwave the butter: To make the almond butter easier to mix in, microwave for a few seconds.
Soak the raisins: For chewier raisins, soak them in water for about five minutes.
Adjust baking time: Depending on the size of the cookies, baking time may vary by a few minutes.
Use a cookie scoop: Shape the cookies with an ice cream or cookie scoop. The cookie dough is sticky and hard to work with when using bare hands, but cookie scoops make it much easier.
Use rolled oats: Rolled oats are the best for these cookies. However, quick oats can be used in a pinch at a one-to-one ratio. Avoid using steel cut oats as they have a different texture and take longer to cook.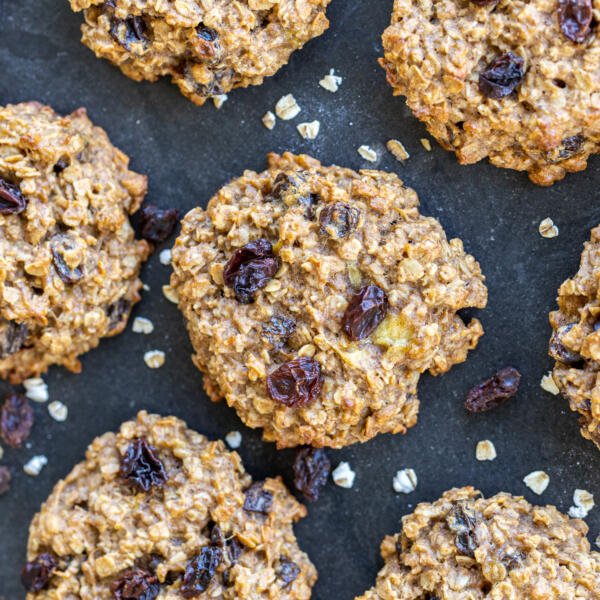 Make-Ahead Instructions
To have cookies ready to go ahead of time, it is best to bake, then freeze them. When you want to enjoy the cookies, simply take them out from the freezer, thaw, then warm them up in the microwave.
Ways to Serve
Since these cookies are full of great, filling ingredients like oats, bananas, and raisins, they are perfect to enjoy as a snack, dessert, or even as part of a breakfast on-the-go (much like our banana oatmeal cookies). Grab a couple cookies and a glass of milk, hot tea, or coffee and you're set. Or, make an extra special treat by putting a scoop of vanilla ice cream between two cookies to make an ice cream sandwich.
Storage Tips
When the cookie jar in your house is empty, these cookies are next to refill that jar. Here are our tips on how to best store them for optimal taste.
Counter: To store for up to three days, place cookies in an airtight container.
Refrigerator: To store for up to a week, place cookies in an airtight container in the fridge.
Freezer: To store baked cookies for up to three months, freeze cookies and store in a ziplock bag or freezer-safe container. Thaw before serving. If they seem too firm, warm them in the microwave for a few seconds to soften them up.
FAQ
Can quick oats and rolled oats be used interchangeably?
Most of the time, quick oats and rolled oats can be used interchangeably when baking. The main difference is the final texture of the baked item.
Are oatmeal raisin cookies healthier than chocolate chip cookies?
In most cases, oatmeal raisin cookies are healthier than typical chocolate chip cookies, mainly due to the ingredients. The ingredients in oatmeal raisin cookies provide a good source of protein, fiber, and carbohydrates which are important for a healthy diet. Also, oats are known to help lower cholesterol!
More Cookie Recipes
Recipe
These oatmeal raisin cookies are made with mashed bananas, almond butter, maple syrup, rolled oats, and raisins. They're as healthy as cookies can get!
Ingredients
2

large bananas

very ripe

2/3

cup

almond butter

unsweetened

1/4

cup

maple syrup

2

cups

rolled oats

2/3

cup

raisins
Nutrition Facts
Healthy Oatmeal Raisin Cookies (5 Ingredients)
Amount Per Serving
Calories 131
Calories from Fat 54
% Daily Value*
Fat 6g9%
Sodium 3mg0%
Potassium 203mg6%
Carbohydrates 18g6%
Protein 3g6%
Vitamin A 8IU0%
Vitamin C 1mg1%
Calcium 44mg4%
Iron 1mg6%
* Percent Daily Values are based on a 2000 calorie diet.