This banana baked oatmeal is made with mashed bananas, rolled oats, and a few pantry staples. It's a quick and healthy breakfast to have in your back pocket.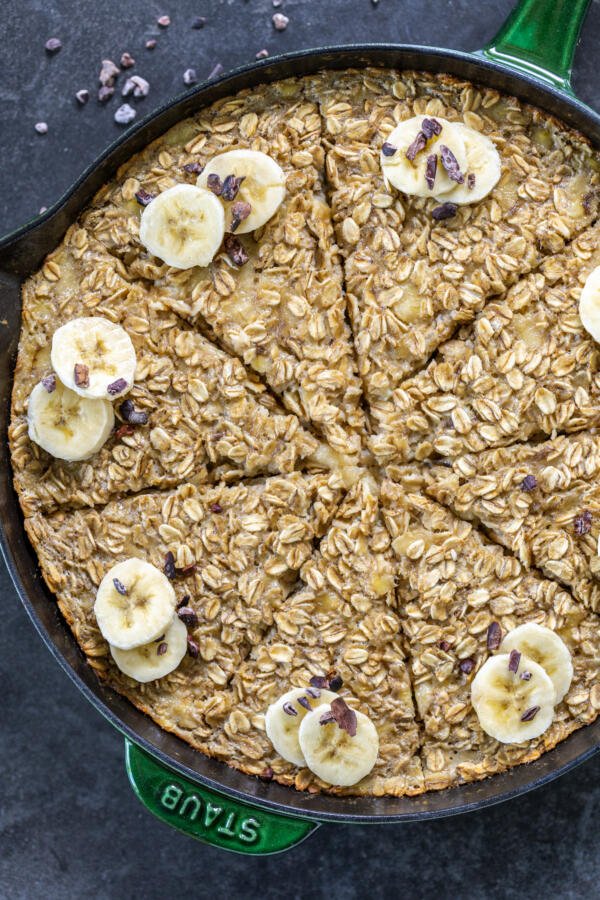 What is Banana Baked Oatmeal?
This banana baked oatmeal recipe makes a delicious breakfast casserole full of rolled oats, mashed bananas, eggs, milk, vanilla extract, and a few dry pantry staples. It's easy, kids love it, and it takes only ten minutes of prep time – it's the perfect breakfast for busy mornings. Get ready to make a nutritious, fiber-filled dish for you and your family!
Banana Baked Oatmeal
How to Make Banana Baked Oatmeal
Everyone can appreciate a quick and easy breakfast entree that's also filling and nutritious. Whip out a large bowl, whisk, and baking pan, and you're ready to get started.
Whisk the wet ingredients: Mash the ripe bananas in a large bowl, then add in brown sugar, vanilla, milk, and eggs. Whisk it all together.
Stir in dry ingredients: Stir in the rolled oats and baking powder and combine with the rest of the mixture.
Pour into a baking dish: Line a baking pan and pour the oat mixture into the pan.
Bake: Bake in the oven at 375°F for about 35 minutes.
Tips from the Kitchen
Follow these tips to avoid any bumps in the road on the way to your filling breakfast.
Measure the bananas: The equivalent of three large mashed bananas is about 1.5 cups. When using smaller bananas, make sure you have about 1.5 cups.
Use rolled oats: Use rolled oats instead of quick or steel cut oats. Quick oats are finer, which makes them cook faster and soak up more moisture. Steel cut oats also bake differently.
Adjust the serving size: Easily double or triple the recipe depending on how much baked oatmeal you want to make.
Wait for bananas to ripen: Use overripe bananas for the best flavor. Overripe bananas are sweeter and richer in antioxidants. Unripened bananas won't have as much flavor to them.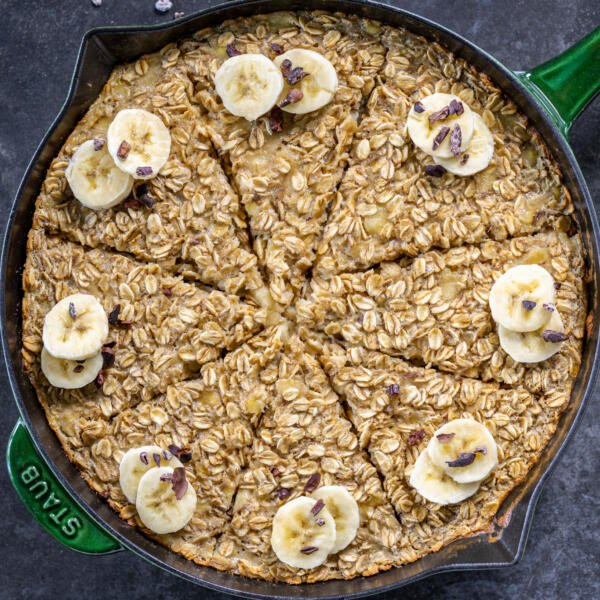 Variations
It is so easy to change up the flavor and texture of the baked oatmeal to best suit your cravings. Let us know in the comments of more great ingredients to add to this dish.
Fruit: For more vitamins, add blueberries, thinly sliced apples, or most any other fruits you like. If you have fresh bananas, add banana slices as well.
Spices: For more flavor, add in a tablespoon of cinnamon or nutmeg. A pinch of salt may be needed to bring out the flavors.
Milk: Replace the whole milk with non dairy milk like coconut milk, oat milk, cashew milk, or almond milk.
Nuts: We love adding more texture to our baked oatmeal. Add in nuts like walnuts, pecans, cashews, or almonds for an added crunch.
Sweetness: Replace the brown sugar with maple syrup or honey for a sweet, but slightly different taste. Or, add in your favorite chocolate chips.
Serving Suggestions
Banana baked oatmeal is usually served for breakfast, but don't let that stop you from having it any time of the day. Serve the oatmeal with your choice of toppings. For more protein, top with a nut butter like peanut butter. If you love chocolate, spread a bit of nutella on top. A drizzle of maple syrup will make the dish even sweeter. To serve it as a dessert instead of breakfast, combine it with a scoop of ice cream.
If the bake is part of a breakfast spread, include other side dishes like cheese blintzes, breakfast quesadillas, or easy chia pudding. Breakfast will be your favorite meal of the day!
Storage Tips + Reheating
Banana baked oatmeal is a great meal prep option for quick breakfasts all week long. Follow these tips to best store and reheat leftovers to ensure a tasty morning meal.
Refrigerator: To store for up to five days, place cooled oatmeal in an airtight container in the fridge.
Freezer: To store for up to three months, wrap the oatmeal in individual portions and place into a freezer safe ziploc bag. Thaw overnight in the fridge.
Reheating: To reheat individual portions, microwave for about 30 seconds. When reheating a large portion, place it in the oven at 350°F and heat until warmed through.
Hot tip: If the oatmeal is too dry when reheating, add a tablespoon of milk or water and mix it in before heating again.
FAQ
Is banana baked oatmeal healthy?
Oatmeal is known to be a great source of carbohydrates and fiber, which can help lower cholesterol. That makes oatmeal a wonderful option for breakfast.
Can I use steel cut oats instead of rolled oats?
It is best to avoid using steel cut oats or quick oats instead of rolled oats as this will significantly alter the texture and baking time of the recipe.
How do I know when the banana baked oatmeal is done?
Banana baked oatmeal is ready when the edges of the oatmeal appear golden, and a knife comes out clean when inserted into the center.
More Oatmeal Recipes
Recipe
This banana baked oatmeal is made with mashed bananas, rolled oats, and a few pantry staples. It's a quick and healthy breakfast to have in your back pocket.
Instructions
Nutrition Facts
Banana Baked Oatmeal
Amount Per Serving
Calories 313
Calories from Fat 63
% Daily Value*
Fat 7g11%
Cholesterol 64mg21%
Sodium 58mg2%
Potassium 581mg17%
Carbohydrates 54g18%
Protein 11g22%
Vitamin A 249IU5%
Vitamin C 5mg6%
Calcium 169mg17%
Iron 2mg11%
* Percent Daily Values are based on a 2000 calorie diet.