This homemade teriyaki sauce will have you wondering why you ever bought bottled kinds. Sweet, salty, & thick, it's perfect for dressing up meat & veggies!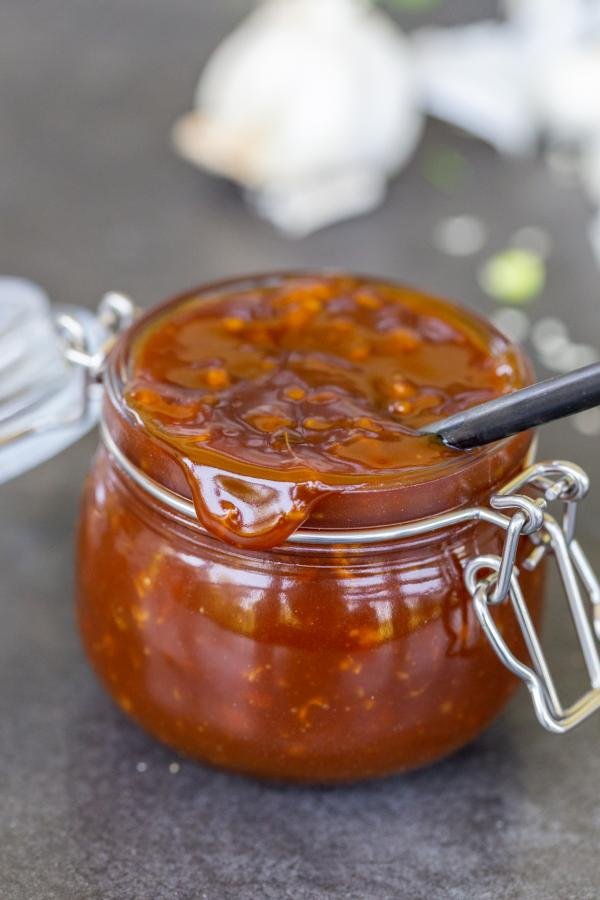 There's nothing quite like the syrupy joy of tangy teriyaki sauce. In this recipe, you'll learn just how easy it is to whip up restaurant-quality sauce in the comfort of your own home. The best part? You control all the ingredients and skip out on all the preservatives that come in store bought varieties.
Homemade sauce is boss! I love to make sauces such as tartar sauce or caesar dressing because they are simple to make and don't skimp on flavor.
Ingredients for Teriyaki Sauce
Before we get to prepping, let's talk about all the different components required to achieve that perfect balance of flavor known to all great teriyaki sauces.
Tamari – A Japanese sauce made from fermented soybeans that adds an essential umami flavor
Brown Sugar – Brown sugar adds not only a rich sweetness, but a nice caramely note to the sauce
Honey – Honey adds another dimension of sweetness on top of the brown sugar, while also bringing thickness
Corn Starch – Corn starch is another key ingredient to thicken teriyaki sauce
Sesame Oil – Sesame oil adds a wonderful nuttiness
Mirin – Mirin is similar in taste to sake, but just a tad sweeter
Fresh Ginger & Garlic – Avoid powdered varieties, as the fresh stuff yields the best flavor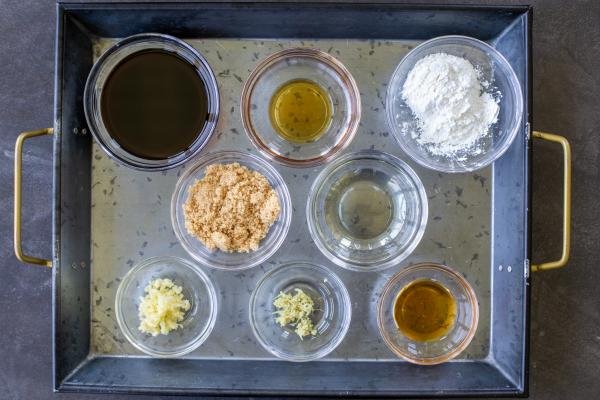 How to Prepare Homemade Teriyaki Sauce from Scratch
Making homemade teriyaki sauce only requires a couple of steps and a quick simmer. It's that easy!
Cook the Sauce: Next, bring the sauce to a boil and then reduce the heat to a simmer for 5 minutes.
Cool the Sauce: Remove the sauce from heat and allow it to cool at room temperature. Pop it in an airtight container and store it in the fridge until you're ready to drizzle it on your favorite foods or use in recipes such as these delightful teriyaki chicken skewers. Bon appetit!
Helpful Tips & Tricks
A few key tips and tricks will help you make a teriyaki sauce so good, you'll want to drizzle it over everything!
Whisk the sauce occasionally as it simmers. To prevent the sauce from burning on the bottom of the saucepan, whisk it every 30 or seconds while it's on a simmer.
Allow the sauce to cool completely before storing it. To give the sauce a chance to thicken and set, allow it cool down completely before you add it into an airtight container.
Thicken the sauce with more cornstarch if it's too thin. if you're sauce is a bit too watery, you can always reheat it and thicken it with a cornstarch slurry.
Different Ways to Use Homemade Teriyaki Sauce
Teriyaki sauce is super versatile and can be used in so many different ways. Here's a couple of our favorites:
Over Protein: Use the teriyaki sauce to dress your grilled teriyaki chicken, air fryer salmon, or air fryer shrimp. Note: Toss the sauce after the meat has cooked to prevent it from caramelizing or burning.
Rice Bowl: Serve some grilled zucchini and mushrooms over a bowl of steamed white rice and a drizzle of homemade teriyaki sauce.
Stir Fries: Make your favorite stir fry veggies and protein and toss in the teriyaki sauce like you would any other stir fry sauce.
Storage Best Practices
To keep teriyaki sauce fresh for up to 10 days, store it in an airtight container to prevent it from soaking up any smells lingering in your fridge. If you have one, store it in a sealable squirt bottle to make drizzling a no-brainer.
FAQ
What does teriyaki sauce taste like?
Teriyaki sauce is a blend of savory, umami flavors and sweet brown sugar and honey. It's perfect balance of flavors makes it a great cooking sauce, marinade, and glaze for so many different types of meat, veggies, and noodle dishes.
What's the difference between teriyaki sauce and hoisin sauce?
Teriyaki sauce is a thick, sweet sauce made with just a touch of soy sauce or tamari, while hoisin is a thick, sweet sauce made primarily of fermented soy beans.
Is there a difference between teriyaki marinade and teriyaki sauce?
The only difference between teriyaki marinades and teriyaki sauces is water content. If you want to transform this teriyaki sauce into a marinade, simply add 1/4 cup of water to help it absorb into whatever protein you're trying to season.
Can you freeze homemade teriyaki sauce?
Yes! You can freeze homemade teriyaki sauce for up to 3 months. To do so, let it first cool down completely and transfer it into an airtight jar with a lid. To thaw it, place it in the fridge overnight until it's completely defrosted.
Similar Recipes to Try
Recipe
This homemade teriyaki sauce is about to turn one of your favorite pantry staples on its head. Crazy easy to make, it's the perfect balance of sweet & salty!
Ingredients
1/2

cup

tamari

1/4

cup

brown sugar

1

tbsp

honey

1/4

cup

corn starch

1

tsp

sesame oil

3

tbsp

mirin

1

garlic clove

minced

1

tsp

ginger

fresh ground
Instructions
Bring the sauce to a boil and then reduce the heat to a simmer for 5 minutes. Remove the sauce from heat and allow it to cool at room temperature.
Nutrition Facts
Homemade Teriyaki Sauce (Crazy Easy)
Amount Per Serving
Calories 67
Calories from Fat 9
% Daily Value*
Fat 1g2%
Sodium 44mg2%
Potassium 85mg2%
Carbohydrates 17g6%
Protein 1g2%
Vitamin A 4IU0%
Vitamin C 1mg1%
Calcium 14mg1%
Iron 1mg6%
* Percent Daily Values are based on a 2000 calorie diet.