This recipe for baked teriyaki salmon features a homemade, super savory sauce that caramelizes in the oven. Wonderful served over steamed rice or atop salad!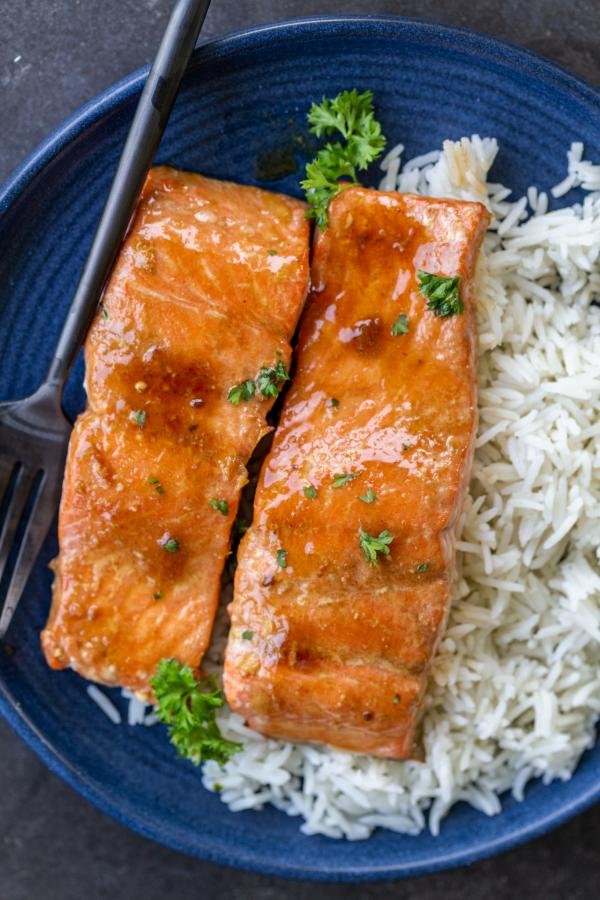 There's nothing like the balance of flavors that is a good serving of teriyaki salmon. In this easy teriyaki salmon recipe, you'll whip up your own silky sauce to marinate and drape over the tender-baked salmon right when it comes out of the oven. Similar to our brown sugar glazed salmon recipe, this flakey fish is perfectly sweet and salty and is always a crowdpleaser. If you're in the mood for chicken instead, try these teriyaki chicken skewers instead. YUM!
Note: This recipe calls for a little teriyaki sauce. If you're feeling up to it, whip up our version of homemade teriyaki sauce.
What is Teriyaki Salmon?
Teriyaki salmon is a really popular dish that's commonly served at Japanese restaurants. It features tender, oven-baked, broiled, or grilled salmon that's slathered in a rich sauce of soy sauce and brown sugar. Here, find the flavor, texture, and time it takes to whip up our take on this classic recipe.
Flavor: The flavor of this teriyaki salmon is a perfect balance of rich soy sauce, nutty sesame oil, tangy rice vinegar, spicy ginger, and sweet brown sugar.
Texture: The texture is melt-in-your-mouth moist and super flakey.
Time: From prep to table, this dish only takes 30 minutes total time to make.
Hot Tip: If you're sensitive to salt, use low sodium soy sauce instead and season the sauce to taste with salt if necessary.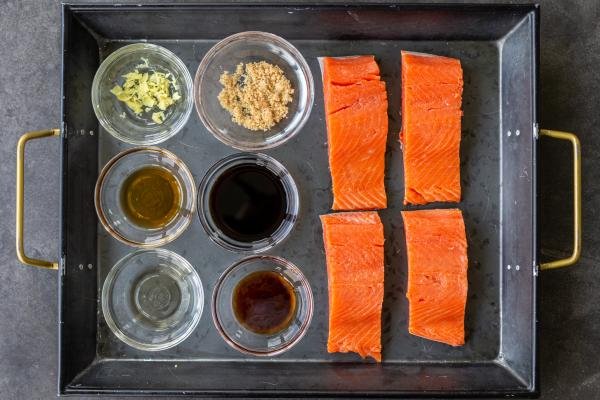 Baking Teriyaki Salmon
Making this simple teriyaki salmon only requires 7 ingredients and a quick, 15-minute marinade.
Prepare the Salmon: First, slice the salmon into evenly-sized pieces and place them in a large bowl.
Prepare the Marinade: In a small bowl, whisk the sauce ingredients together.
Marinate the Salmon: Next, pour the marinade over the salmon and let it sit for 15 minutes in the fridge.
Bake the Salmon: Assemble the salmon on a baking sheet lined with foil or parchment paper and bake it at 415°F for 8-10 minutes.
Simmer the Glaze: While the salmon is baking, simmer the remaining sauce in small saucepan over medium heat for a couple of minutes. Take the pan off heat and set it aside.
Brush the Salmon: Once the salmon comes out of the oven, brush the tops with sauce (and a sprinkle of green onions and sesame seeds if you'd like). Dig in!
3 Tips for the Best Baked Teriyaki Salmon
A couple of handy tips will help you make the most delicious teriyaki salmon possible.
Slice the salmon into even-sized pieces. Make sure to cut salmon into similar-sized pieces, as this will promote even cooking.
Avoid over baking the salmon. Salmon is prone to drying out if it bakes in the oven too long. Keep a close eye on it for best results!
Use a meat thermometer to gauge doneness. If you're unsure if your salmon filets are baked all the way through, use an instant-read meat thermometer to ensure the internal temperature has reached 130°F.
What Goes Well With Teriyaki Salmon
The most classic way to serve teriyaki salmon is over a bed of steamed white rice or brown rice. You can also lay it on top of a bed of gluten-free quinoa, buckwheat, or even cauliflower rice. if you want some extra fiber. Round out the meal with some fresh veggies. Air fryer broccoli, green beans, or sautéed spinach with garlic. For a cool, refreshing accompaniment, try our Asian cucumber salad, or this ramen noodle salad.
Storing & Reheating
If you're lucky enough to have some leftovers, store them in an airtight container in the refrigerator for 3-4 days. This will prevent the salmon fillets from drying out, while also preventing your fridge from getting a fishy smell.
Reheating Tip: You can reheat the teriyaki salmon in the microwave for a minute or so, or in a baking dish covered with foil in the oven until warmed through.
FAQ
Can you cook baked teriyaki salmon in the air fryer instead?
Yes, you can make teriyaki salmon in an air fryer instead. To do so, marinate the filets and assemble them in a single layer in the air fryer basket. Next, air fry them at 400°F for 10-13 minutes and finish them with the glaze once you take them out.
Can you grill teriyaki salmon instead of baking it?
You can grill teriyaki salmon, but be prepared for the sauce to stoke the flames a bit. To prevent burning you can grill the salmon in a grill basket or on top of a cast iron skillet.
Should you marinate teriyaki salmon overnight?
A quick 15 minute marinade will give teriyaki salmon a great flavor, but feel free to marinate it overnight if you want to supercharge the flavor. Just make sure you marinate it in an airtight container or plastic storage bag that's well sealed to prevent spillage.
Can you make teriyaki salmon on the stovetop?
You can make teriyaki salmon on the stovetop, but there's a higher probability that it will stick to the pan. Make sure to cook it over medium-low heat for just about 5 minutes on each side (this will depend on the thickness of your filets).
More Tasty Seafood Recipes to Try
Recipe
This quick, 30 minute baked teriyaki salmon recipe is about to become your new favorite sweet and salty dinner. Perfectly flakey, super moist, & crazy easy!
Nutrition Facts
Baked Teriyaki Salmon (Crazy Easy)
Amount Per Serving
Calories 188
Calories from Fat 72
% Daily Value*
Fat 8g12%
Cholesterol 62mg21%
Sodium 977mg41%
Potassium 599mg17%
Carbohydrates 3g1%
Protein 24g48%
Vitamin A 45IU1%
Vitamin C 0.03mg0%
Calcium 19mg2%
Iron 1mg6%
* Percent Daily Values are based on a 2000 calorie diet.