This rum raisins cake recipe is the perfect balance of delicate cream and spiced, rum-soaked raisins. Festive, decadent, and perfect for the holiday season!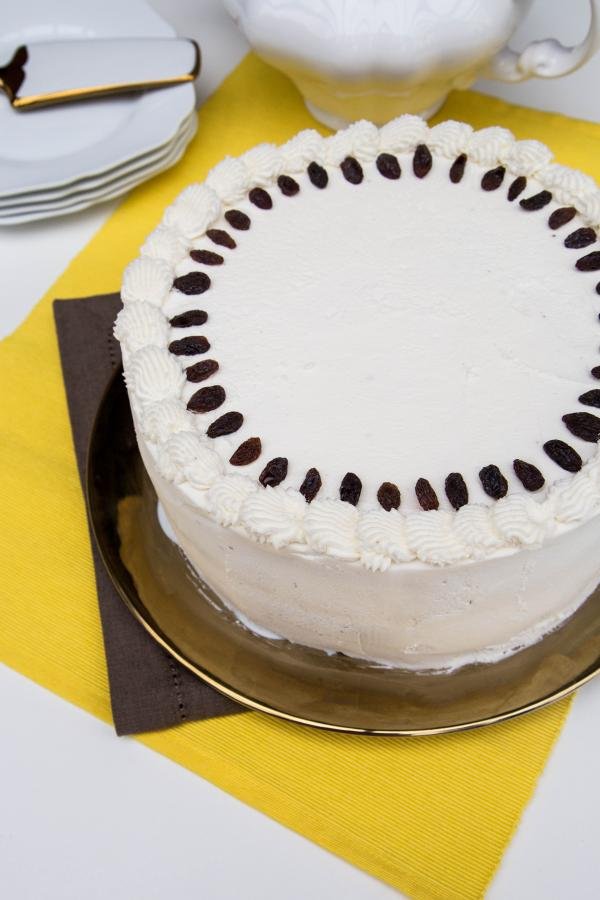 There's nothing quite like the rich flavors of rum soaked raisins, cake cream, and slightly sweet sponge cake. From Christmas to Easter, this boozy cake makes for the perfect ending to a holiday meal. It's also crazy easy to put together and can be prepped several days in advance.
Note: For this recipe, you'll need to prepare two 9-inch sponge cakes a day in advance. Our recipe is super simple and only calls for flour, eggs, and sugar!
Baking with Booze 101
Before we dive into the recipe, let's address the reasons why baking with booze brings so much depth of flavor to baked good.
Flavor: Baking with liquors like vodka, rum, or bourbon adds unique flavors and aromatics to baked goods. While the actual alcohol bakes off, the essence of the liquor stays behind.
Moisture: Booze also helps prevent the cake from turning out dry and brings such a moisture to baked goods.
Consistency: The liquor also helps bind the water and fats in the cake, creating an even and rich consistency and texture.
Preparing Rum Raisin Cake from Scratch
Baking this simple rum raisin cake only requires 5 ingredients and an overnight raisin and rum soak.
Soak the Raisins: Place the raisins in a bowl and pour the rum on top. Allow them to soak for at least 8 hours.
Bake the Sponge Cake: Bake a couple of sponge cakes in the oven a day in advance and allow them to cool completely on a wire rack.
Prepare the Sponge Cake "Bowls": Cut a thin layer off the top of one of the sponge cakes and set it aside. Cut along the inside edges of each layer and tear the insides up. Set them aside.
Make the Cake Cream: Using an electric mixer, whisk the powder sugar and extra cold heavy whipping cream on high speed in a large bowl. Strain the raisins from the rum and fold them into the sponge cake pieces and cake cream, leaving a little cream behind to frost the outside of the cake.
Assemble the Cake: Next, fill the sponge cake bowls with the rum raisin cream. Place the cake layers on top of one another and frost the outside of the cake with the remaining cream. Enjoy!
Handy Tips for the Best Rum Raisin Cake
A few simple tips will help you get the most out of this rum raisin cake.
Make the sponge cake at least a day in advance. You want the sponge cake to be slightly stale before you start assembling the cake for the best texture. Whip it up at least a day in advance for best results.
Soak the raisins longer for more depth of flavor. Soak the raisins for up to two days depending on how strong you'd like the rum flavor to come through.
Use extra cold heavy whipping cream. Use extra cold heavy whipping cream for the fluffiest cake cream possible. To ensure it's cold enough, pop it in the freezer for 10 minutes before you start whipping.
Storage Best Practices
To keep the rum raisins cake on hand for up to a week, store it in an airtight cake container in the fridge. This will keep it from getting damaged, while also preventing it from soaking up any lingering smells in the refrigerator.
FAQ
Is light or dark rum better for baking?
Dark rum is best, as it is distilled with more spices and has notes of cinnamon, brown sugar, and nutmeg.
Does baking with alcohol burn it off?
Yes, most of the alcohol burns off during the baking process.
Can rum cake give you a buzz?
Due to the alcohol burning off, rum cake doesn't give you a buzz and has no intoxicating effects.
Can you add anything else to the rum raisin soak?
You can add orange juice or orange zest to the rum raisin soak to add a nice citrusy note to the cake.
Other Similar Cakes to Try:
Recipe
This rum raisin cake is decadent, rich, and so flavorful. Made with rum-soaked raisins, delicate sponge cake, and a simple sweet cake cream!
Nutrition Facts
Rum Raisins Cake Recipe
Amount Per Serving
Calories 383
Calories from Fat 18
% Daily Value*
Fat 2g3%
Cholesterol 51mg17%
Sodium 279mg12%
Potassium 350mg10%
Carbohydrates 69g23%
Protein 4g8%
Vitamin A 77IU2%
Vitamin C 2mg2%
Calcium 45mg5%
Iron 2mg11%
* Percent Daily Values are based on a 2000 calorie diet.