This European sponge cake is made in the most classic way! Using only three ingredients, you will get the most moist, leveled cake that pairs perfectly with any of your favorite creams.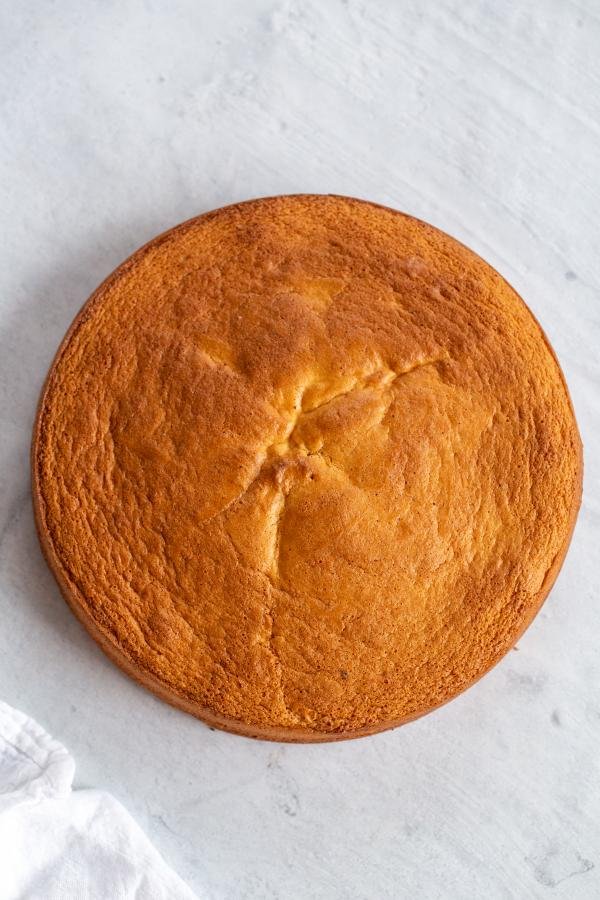 Okay, I'll admit it. I love Twinkies. I know they are terrible for me, but why do they have to be so good?! Making sponge cake at home gives you all the deliciousness of the packaged stuff, but without any of the nasty preservatives. That is a win-win!
I use this sponge cake in so many of my desserts! It is the perfect base for my Tiramisu and Prune Walnut Cake.
What is a Sponge Cake?
Now, don't try cleaning your dishes with this cake! You'll be sorely disappointed. Okay, no more mom jokes, I promise. Below I will describe what makes sponge cake different than other types.
Sponge cakes are primarily made with eggs and a bit of sugar and flour. This makes this cake both light and airy and sturdy and absorbent. Therefore, sponge cakes are perfect for spreading on filling or topping with heavy fruits.
Other cakes tend to be comprised of the opposite — less eggs and more flour. This makes for a denser texture that isn't as absorbent.
What Makes Sponge Cake Fluffy and Moist
Eggs are the key to making your sponge cake fluffy and moist. You will want to beat your whole eggs with the sugar until the volume increases by three times. You will want to make sure you don't overbeat the eggs, as this will result in a flat cake. You will know when your eggs are ready when the beaters hold a thick ribbon when removed from the bowl.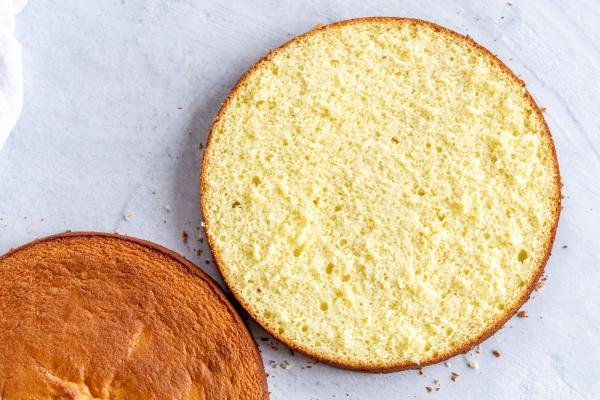 Tips for The Best Sponge Cake
Keep the eggs at room temperature before you make the cake. Room temperature eggs beat better!
Beat the eggs with sugar for at least 5 minutes. The texture should be airy, yet stiff.
Sift the flour first. Getting rid of any lumps and clumps of flour will ensure that you have a consistent texture.
When adding flour, carefully add it in by thirds into the egg mixture. Lightly adding the flour will ensure you don't overmix and compromise the fluffiness of your beaten eggs.
Your baking pan size should be 9 inches or larger. This cake can easily overflow during the baking process.
Don't open the oven door during the baking process because the cake can collapse when hit with a sudden temperature change.
Test to see if the cake is fully baked by pricking it with a toothpick. If it comes out clean, you're good to go!
Cut the sponge cake only when its fully cooled to room temperature.
Hot Tip: To make a chocolate version of the sponge cake, add 3 Tbsp of cacao powder to the flour.
Cakes to Make with Sponge Cake
Making Sponge cake in Advance
This is the perfect cake to make a few days in advance. Store it for a few days on the counter in an airtight container. Or, it can be refrigerated up to a week. You can also freeze this cake for up to 3 months. Just make sure you store it in a flat box so it doesn't lose its shape!
Sponge Cake Video Tutorial
Recipe
This Perfect Sponge Cake is made in the most classic way! Using only three ingredients, you will get the most moist, leveled cake that pairs perfectly with any of your favorite creams.
Notes:
This recipe doesn't need baking soda or baking powder.
The sponge cake may have a slight eggy taste, that is normal. The sponge is best used as a base for making other cakes where you would add frosting, fillings, etc. If you prefer, you can add some vanilla extract in step 2 to help with the eggy taste.
Nutrition Facts
Perfect Sponge Cake
Amount Per Serving
Calories 169
Calories from Fat 27
% Daily Value*
Fat 3g5%
Cholesterol 102mg34%
Sodium 40mg2%
Potassium 55mg2%
Carbohydrates 31g10%
Protein 5g10%
Vitamin A 149IU3%
Calcium 18mg2%
Iron 1mg6%
* Percent Daily Values are based on a 2000 calorie diet.