This poppy seed cake is elevated with rich honey and crunchy walnuts. Topped with cream cheese and dulce de leche frosting, you'll have a hard time not going back for seconds (and thirds).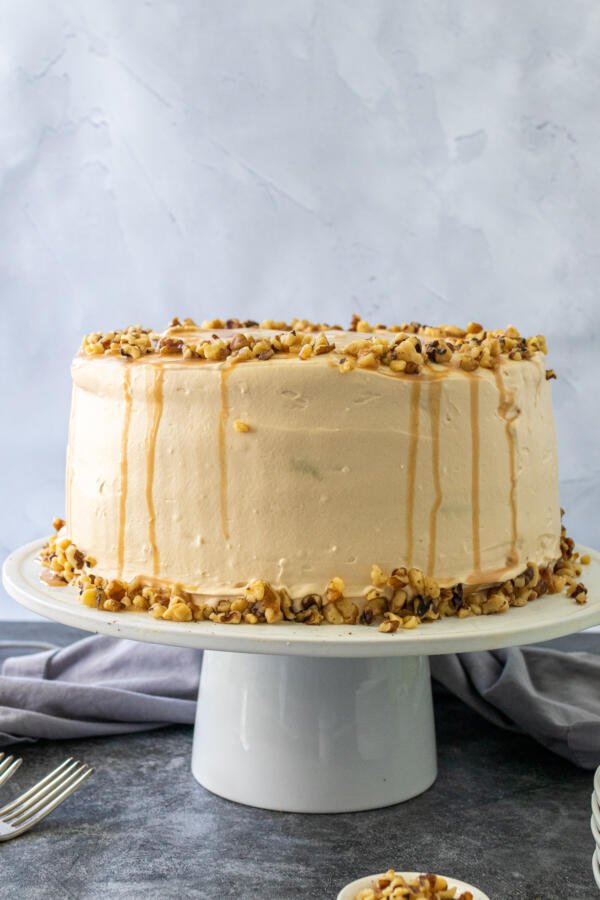 Every Ukrainian can attest to the wonders of honey cakes. From classic Russian honey cake to jam layered honey cake, we love to elevate our baking with the rich, spicy, and sweet syrup. It adds a wonderful chewiness to baked goods and boasts a higher fructose content. Why not make things a bit extra sweet?
The texture of this honey walnut poppy seed cake is as decadent as the flavor itself. The nuts and poppy seeds bring a nice crunch, while the honey cake melts in your mouth. What's better? Despite its impressive presentation, the cake is quite simple to make.
Although the cake invokes the flavors of fall, it can be served throughout the year. Oftentimes, it makes an appearance at Easter celebrations or summer BBQs.
How to Make Honey Walnut Poppy Seed Cake
Making this cake requires just a handful of ingredients. Bonus: Most of the work is done by a hand or stand mixer!
Make the Cake Batter: With a stand or hand mixer, beat the eggs and sugar. Add honey and beat again until well-combined. In a separate dish, combine lemon juice and baking soda. Fold the into the egg and sugar mixture. With a baking spatula, fold the flour in by thirds, taking extra caution not to over mix.
Add Walnuts and Poppy Seeds: Divide the batter into two, equal parts. Roughly chop the walnuts. Add walnuts to one portion of batter and poppy seeds to the other.
Where do I buy poppy seeds? You can find poppy seeds at most grocery stores. However, buying them in bulk online is typically much cheaper.
Soak Cake Layers in Sweet Cream: Whisk together heaving whipping cream and sweetened condensed milk. Soak each layer of cake with the sweet cream.
Make the Cake Cream: Mix softened cream cheese and dulce de leche together. Pouring slowly, add extra cold whipping cream, beating just until it reaches stiff peaks.
Frost the Cake: Place cake cream between each layer, stacking as you go. Frost the outside of the cake with the remaining cream.
Let the Cake Set Overnight: Place the cake in the refrigerator overnight to set.
Invest in a Cake Container: If you love baking fancy cakes, it's time to invest in an airtight cake storage container. Not only does this keep your cake from absorbing other smells in your fridge, it also makes sure it stays intact. It's also wonderful for transporting.
Tips for making the Best Cake
Find some tips to help you bake the best honey walnut poppy seed cake below:
Use extra-cold heavy whipping cream for cake cream. When making your frosting, make sure to use extra-cold heaving whipping cream. Cold cream creates the fluffiest frosting! In a pinch, you can pop the container in the freezer for a couple of minutes to lower the temperature quickly.
Don't over mix the cake cream. The more you mix the cream, the flatter it gets. Once it reaches stiff peaks, stop mixing immediately.
Let the cake set overnight. Refrigerating the cake overnight helps to keep it sturdy. It also enhances the flavors.
Invest in an icing spatula for frosting. To do a bakery-worthy frosting job, invest in an icing spatula.
Nut Chopping Hack: Instead of chopping nuts with a knife, place them into a plastic storage bag. Release any excess air. Using a meat tenderizer, pound the bag until the nuts break apart into small bits.
Storing Honey Walnut Poppy Seed Cake
Refrigerating: Store the cake in an airtight container in the fridge for up to a week. As mentioned above, a container specifically for leftover cake works best.
Freezing: Freezing an entire honey walnut poppy seed cake is not recommended. However, you can prep and freeze the sponge cake ahead of time. Do so by laying the cake on a lined baking sheet and popping it into the freezer. Once both layers are frozen, wrap them in plastic wrap and place them into a freezer-safe plastic bag. Make sure to remove all the excess air from the bag to prevent freezer burn.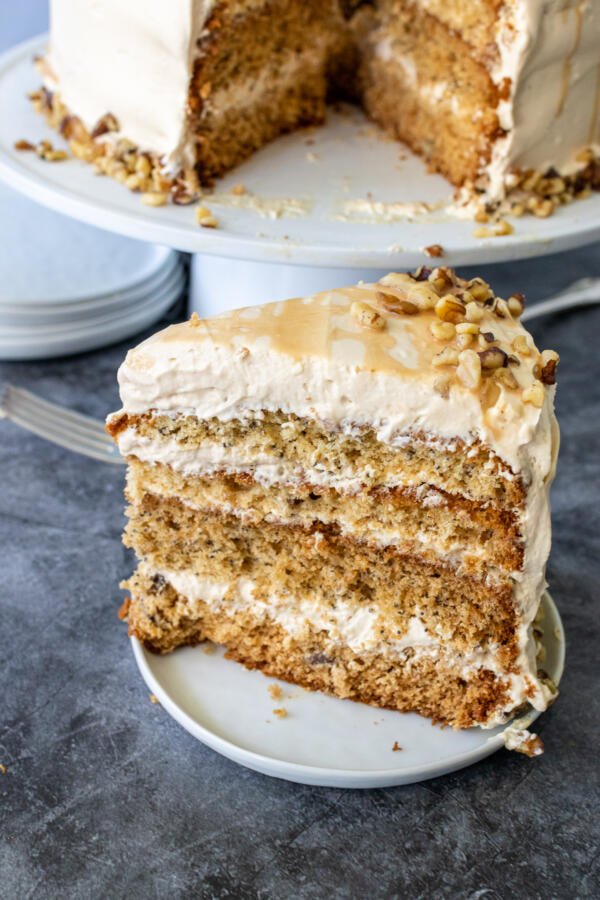 FAQ
How can I make the cake less sweet?
Make the cake less sweet by omitting the soaking cream entirely.
Can I substitute the walnuts for other nuts?
You can substitute walnuts for pecans, hazelnuts, or almonds.
How do I prevent the sponge cake from sinking in the middle?
Prevent your sponge cake from sinking in the middle by preheating your oven before baking and resisting the urge to open the oven door. Every time you open the oven door, you let a rush of cold air in and alter the temperature.
Why is my frosting runny?
Frosting turns runny due to two main reasons: over mixing and not using extra-cold heaving whipping cream.
Other Tasty Cake Recipes
Recipe
This poppy seed cake is elevated with rich honey and crunchy walnuts, then topped with cream cheese and dulce de leche frosting. Yum!
Ingredients
Soaking Cream
1

cup

whipping cream

3

tbsp

condesned milk
Cake Cream
16

oz

cream cheese

softened at room temperature

1

cn

dulce de leche

2

cup

whipping cream

very cold
Nutrition Facts
Honey Walnut Poppy Seed Cake
Amount Per Serving
Calories 399
Calories from Fat 225
% Daily Value*
Fat 25g38%
Cholesterol 123mg41%
Sodium 233mg10%
Potassium 133mg4%
Carbohydrates 39g13%
Protein 6g12%
Vitamin A 900IU18%
Vitamin C 0.6mg1%
Calcium 95mg10%
Iron 1.4mg8%
* Percent Daily Values are based on a 2000 calorie diet.