This amazing almond cake is an orange lover's dream. Infused with an entire orange (rind included!), it is sweet, tart, and absolutely beautiful.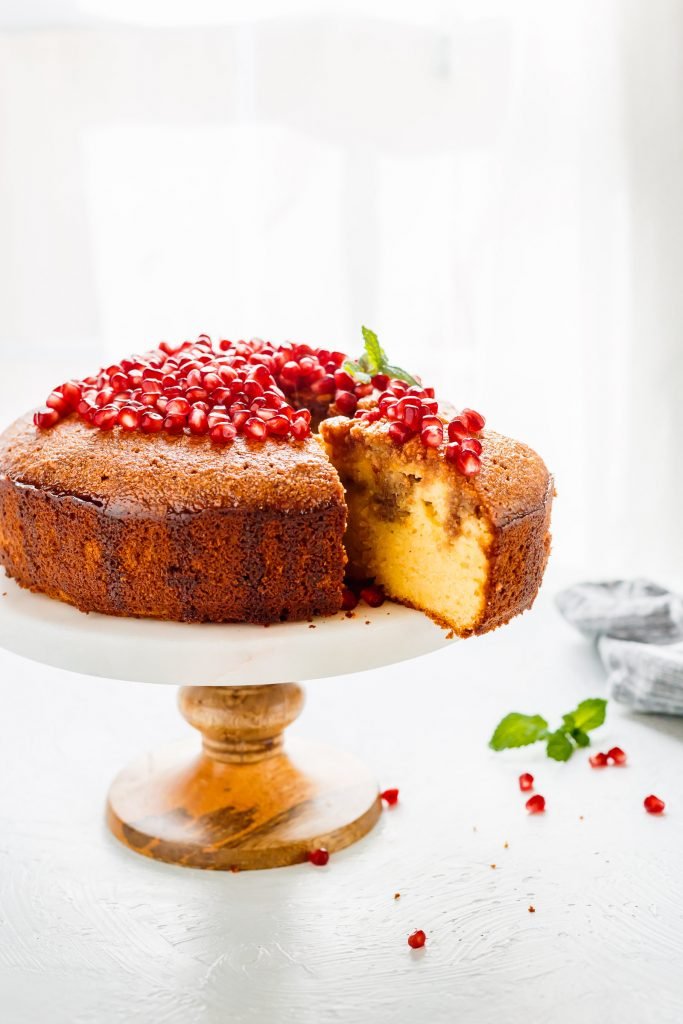 This orange almond cake recipe is a modern take on a classic Romanian almond cake. In case you didn't know, Romania is known for its massive almond harvests and many of the region's desserts feature the delicious nut. If you've never tried almond cake before, get ready to be "wowed"!
Earthy almonds and tart pomegranate juice make this orange almond cake both unique and delicious. The secret ingredient? A whole orange – yes an ENTIRE orange – is boiled, pureed, and added straight to the batter.
If your eyebrow just raised at the thought of adding orange rind to a cake, rest assured it will not turn out bitter. In fact, the boiling process removes the bitterness from the pith (the spongey white tissue) while letting you extract all the amazing flavor from the rind. That's a win-win.
What is Orange Almond Cake?
Almond orange cake is a spin on a traditional Romanian almond cake. Below, find a quick overview of the flavor, texture, and cooking time.
Flavor: Tangy orange puree, earthy almond flour, and tart pomegranate syrup come together for a flavor explosion in your mouth. If you are obsessed with all-things-orange, this is the cake for you.
Texture: Amazing orange almond cake is dense with pockets of moist syrup. When done right, the cake will melt in your mouth, yet hold up nicely to a fork.
Time: From start to finish, this cake takes about an hour and 15 minutes to make.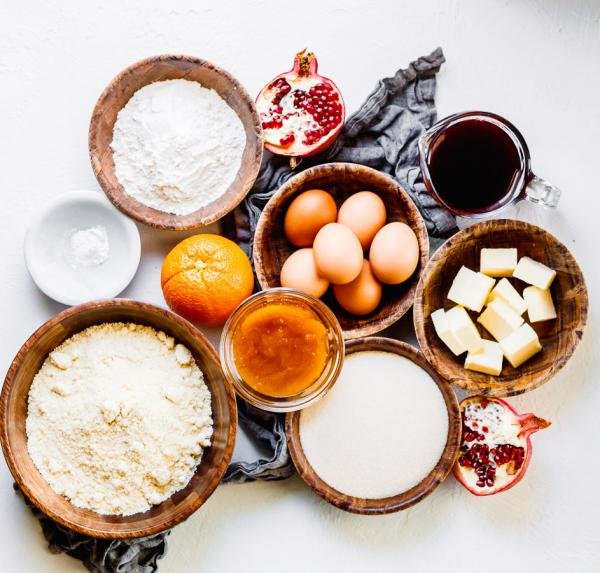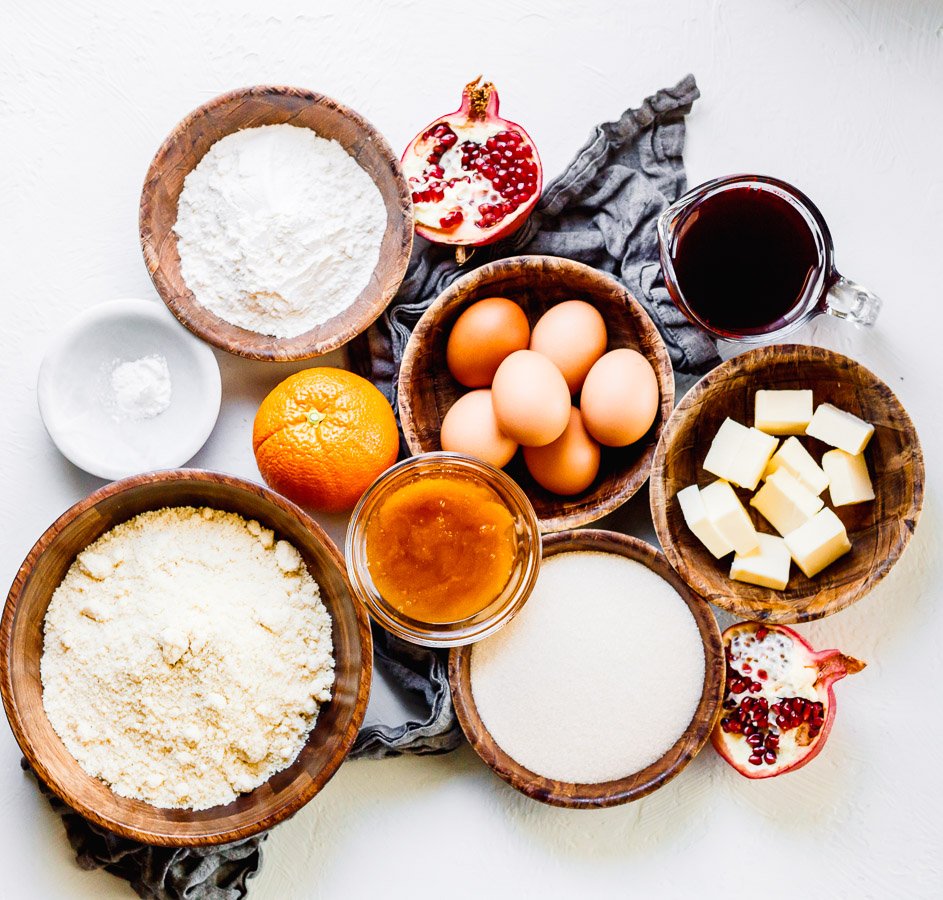 How to Make Orange Almond Cake
Making orange almond cake is likely a new adventure for you. Below, find a high-level overview of the recipe before you dive in.
Preheat the Oven & Grease the Pan: Preheat the oven to 350°F. Prepare your cake pan by greasing it with butter and lining it with parchment paper.
Boil & Puree the Orange: Place orange in a small saucepan and cover it with water. Bring it to a boil. Reduce the heat and cook until the rind turns soft. Remove the orange from the saucepan and puree it whole.
Make the Cake Syrup: While the orange is softening, turn your attention to the cake syrup. In another small saucepan, bring pomegranate juice and honey to a gentle boil. Cook for about 10 minutes, then set the syrup aside to cool.
Combine the Dry Ingredients: Add almond flour, all-purpose flour, and baking powder to a large mixing bowl. Mix to combine.
Combine the Wet Ingredients: Beat sugar and butter with a hand mixer until creamy. Whisk in one egg at a time. Stir in the orange puree.
Fold in the Flour: Fold the dry ingredients into the wet ingredients. Be careful not to over mix! Transfer the batter into the prepared pan.
Bake, Cool, & Decorate the Cake: Bake the cake for an hour, or until it passes the "toothpick test". Allow the cake to cool in the pan for a bit. Carefully remove the cake and allow it to finish cooling on a wire rack. Poke holes in the top of the cake with a toothpick and brush the cake syrup over the top. Decorate the cake with whole pomegranate seeds (see photo at the top of the page) and mint leaves. Slice and enjoy!
Tips for Making the Best Orange Almond Cake
Below, find a collection of handy baking tips to ensure you make the best cake on the planet.
Measure your flour correctly. More often than not, people measure their flour incorrectly and end up putting too much in. To properly measure flour first, use a fork to fluff up the flour while it's still in the bag. Then, use a spoon to transfer flour into the measuring cup. Whatever you do, do not pack the flour in tightly to the cup! Finally, use the flat end of a knife to lightly scrape off the top.
Sift your dry ingredients. Use a flour sifter to rid the dry ingredients of lumps. This is an expert baking tip that goes a long way when it comes to nailing the texture of the cupcake!
Use high-quality all-purpose flour. Use a high-quality all-purpose flour to get the best possible cake texture. Bob's Red Mill All-Purpose Flour is an excellent choice for almost all baked goods.
Use almond flour, not almond meal. Almond flour is preferred for this recipe. It's made with blanched, peeled almonds and has a much finer texture than almond meal.
Allow the butter to soften at room temperature. During the baking process, room temperature butter forms an emulsion which traps air, resulting in fluffier baked goods.
Storing Orange Almond Cake
Refrigerator: Store leftover cake in an airtight container in the refrigerator. It will stay fresh for up to a week.
Freezer: You can freeze almond orange cake by allowing it to completely cool (do not decorate with pomegranate seeds if you are freezing the whole cake). Wrap the cake in a tight double-layer of plastic wrap. Then, wrap the cake in a layer of foil. It should keep for up to 3 months. To defrost, unwrap the cake and leave it on the counter at room temperature for up to 4 hours.
Storage Tip: If you love baking cakes and bringing them to parties, invest in an airtight cake storage container. They work wonders for transporting and prevent your cake from getting damaged.
FAQ
Is almond meal flour the same as almond flour?
Almond meal flour and almond flour are not the same. While almond meal is made from raw, unpeeled almonds, almond flour is made from peeled almonds and tends to be lighter and finer in texture.
Is orange almond cake bitter?
Orange almond cake is not bitter. Keeping the entire orange rind on might sound strange, but allowing it to boil removes much of the bitterness from the pith (the white part of the orange rind). Additionally, pureeing the rind adds a ton of flavor to the cake.
How far in advance can I make an orange almond cake?
You can make an orange almond cake up to 2-3 days in advance before serving. Make sure to store it in an airtight cake container to prevent it from soaking up the smells in your fridge.
More Sweet Treats
Recipe
This amazing almond cake is an orange lover's dream. Infused with an entire orange, it is sweet, tart, and absolutely beautiful.
Ingredients
1

orange,

unpeeled

3

cup

almond flour

1 1/2

cup

sugar

1

cup

all-purpose flour

1

tsp

baking powder

10

tbsp

unsalted butter,

room temperature

6

eggs

1

cup

pomegranate juice,

for cake syrup

5

tbsp

raw honey,

for cake syrup

1

pomegranate,

seeds
Nutrition Facts
Amazing Orange Almond Cake Recipe
Amount Per Serving
Calories 706
Calories from Fat 351
% Daily Value*
Fat 39g60%
Cholesterol 160mg53%
Sodium 54mg2%
Potassium 304mg9%
Carbohydrates 82g27%
Protein 16g32%
Vitamin A 652IU13%
Vitamin C 12mg15%
Calcium 150mg15%
Iron 3mg17%
* Percent Daily Values are based on a 2000 calorie diet.