This delicious chocolate hazelnut cake recipe features moist chocolate sponge cake alternated with Nutella and cream cheese-spiked frosting. So decadent!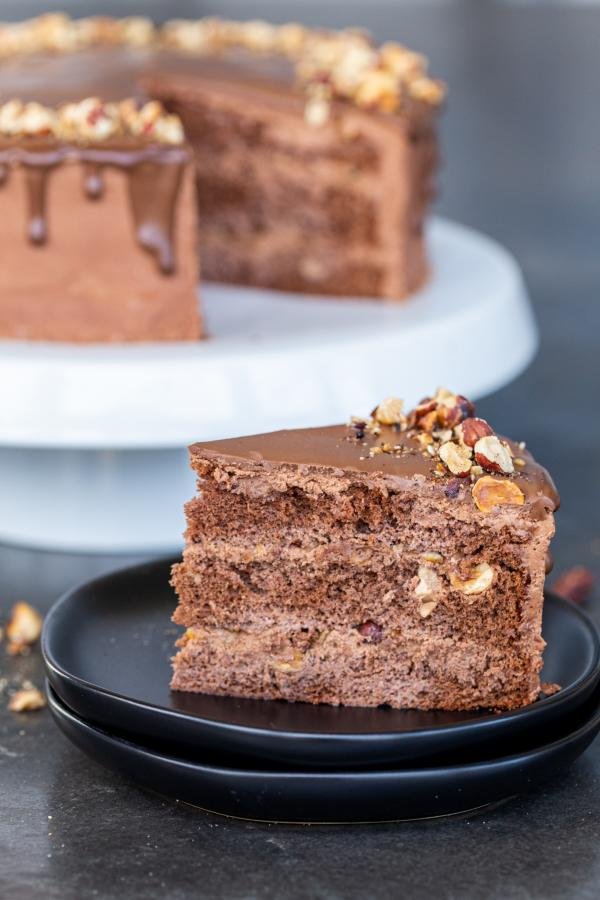 Calling all Nutella lovers! This cake is for you and puts your favorite chocolate hazelnut spread to good work. Not only is the cake cream spiked with the beloved spread, but the chocolate and hazelnut flavors are reflected throughout the entire cake. Perfect for everything from birthdays to Christmas dinner!
Chocolate Sponge Cake 101
For this recipe, you'll need to prepare a chocolate sponge cake from scratch. Our version only requires 4 ingredients – large eggs, all-purpose flour, sugar, and unsweetened cocoa powder. The batter is super simple to whip up and the cake can be used as the base for so many different cakes.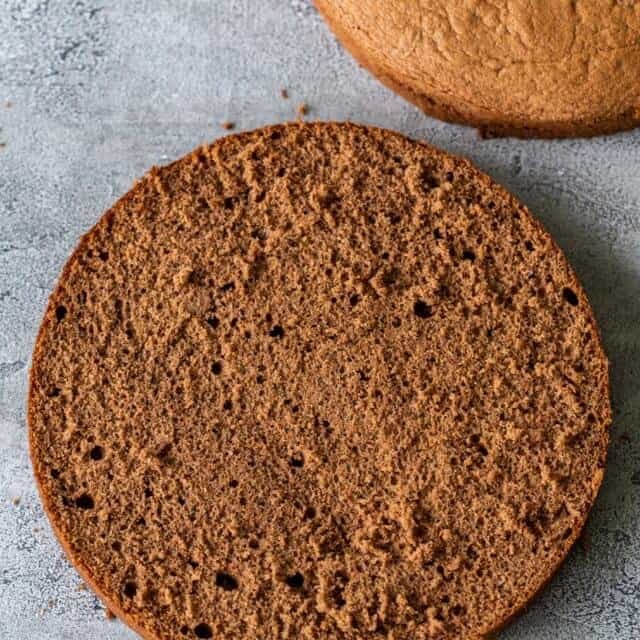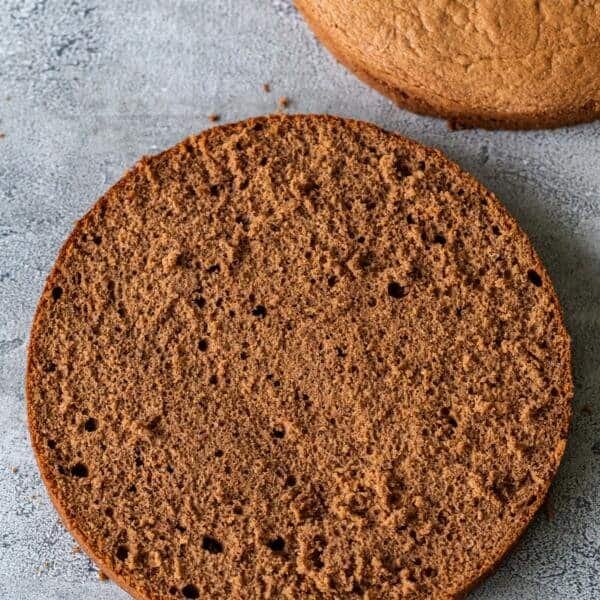 Tools You'll Need to Make Sponge Cake
A couple of kitchen tools will make baking a sponge cake a no-brainer.
How to Prepare Our Chocolate Hazelnut Cake
As baking goes, you must pay attention to the steps closely and mind the measurements. Otherwise, the process is quite straightforward.
Prepare the Sponge Cake: First, bake chocolate sponge cake and slice it into three layers. The layers will be thin.
Toast the Hazelnuts: Next, toast the hazelnuts on a baking sheet in the oven.
Make the Cake Cream: Whip the dulce de leche, cream cheese, and Nutella together in the bowl of a stand mixer.
Stack & Frost the Cake Layers: Next, place a cake layer on a plate covered with foil. Apply a layer of frosting on top, followed by a layer of chopped hazelnuts. Repeat as you stack the cake layers on one another, leaving the top layer unfrosted for now.
Frost the Outside of the Cake: Frost the cake layers with the remaining frosting and pop the cake into the refrigerator.
Make the Chocolate Ganache: Next, bring the heavy cream to a boil in a small saucepan over medium heat and pour it over the chocolate chips in a medium bowl. Stir or whisk until smooth. This ganache recipe has more tips for success!
Pipe the Chocolate Ganache: Using a pastry bag or a plastic bag with the tip cut off, pipe the chocolate alongside the edges, letting it drizzle off the sides. Pipe more chocolate in the center and spread it into a thin layer on top. Sprinkle hazelnuts along the edges.
Refrigerate the Cake: Lastly, place the cake in the fridge for at least a couple of hours to let it set. Bon appetit!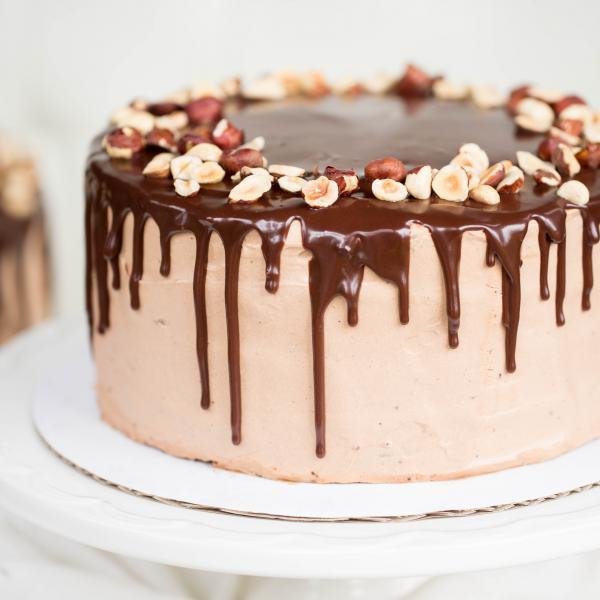 Tips for a Bakery-Style Chocolate Hazelnut Cake
Follow these foolproof pointers to get a cake worthy of any bakery case.
Allow the sponge cake to cool completely before slicing into it. When preparing your sponge cake for this recipe, allow the cake to cool before you horizontally slice it into thirds. This will prevent it from breaking.
Use room temperature ingredients for the frosting. To make the process of whipping the cake cream ingredients that much easier, use room temperature Nutella, cream cheese, and dulce de leche.
Allow the cake to rest overnight. While you can get away with a 2-3 hour rest in the refrigerator, allowing it to sit overnight is the best. This gives the cake time to develop its flavors and turn ridiculously moist!
Storing Chocolate Hazelnut Cake
To keep your cake on hand for up to a week (although it's doubtful it will last that long), store it in an airtight cake container. If you're a regular baker, a container specifically made for cakes is life-changing. Not only does it prevent the cake from soaking up lingering smells in the fridge, but it also helps protect its shape.
FAQ
What ingredient makes a chocolate hazelnut cake moist?
While most people credit butter for making cake moist, it's sugar that can take most of the credit. Without getting too sciencey, this is because sugar attracts and holds onto the water during the baking process.
How do you keep your chocolate sponge cake from sinking?
The most common reason that sponge cake sinks is inaccurate oven temperature. If your oven runs hotter, the cake will brown faster on the outside and not cook on the inside. If it runs cooler, it will appear golden brown on the outside but remain uncooked in the center. This is the perfect storm to make your cake sink.
Should you use semi-sweet chocolate chips or milk chocolate chips for chocolate ganache?
Most cakes are already sweet enough with frosting, so if you're adding ganache it's best to opt for semi-sweet chocolate chips. That said, if you're a sugar addict, you can use milk chocolate.
What is dulce de leche?
Dulce de leche is just cooked sweetened condensed milk and has a rich, milky, and caramel-like flavor. You can make it yourself with our Instant Pot Dulce de Leche recipe, or buy it in a can at most grocery stores.
More Chocolate Cake Recipes to Try
Recipe
This decadent chocolate hazelnut cake features moist chocolate sponge cake slathered in Nutella & cream cheese frosting and topped with crunchy hazelnuts. Yum!
Ingredients
2

cups

hazelnuts

14

oz

dulce de leche

8

oz

cream cheese,

room temperature

1

cup

unsalted butter,

room temperature

1/2

cup

Nutella

room temperature

1/2

cup

heavy whipping cream

1/2

cup

chocolate chips
Nutrition Facts
The Best Chocolate Hazelnut Cake
Amount Per Serving
Calories 404
Calories from Fat 297
% Daily Value*
Fat 33g51%
Cholesterol 73mg24%
Sodium 173mg7%
Potassium 188mg5%
Carbohydrates 25g8%
Protein 5g10%
Vitamin A 699IU14%
Vitamin C 1mg1%
Calcium 69mg7%
Iron 2mg11%
* Percent Daily Values are based on a 2000 calorie diet.