These twice-baked chocolate croissants will transport you right to the streets of Paris. In this recipe, you'll use premade croissants and will only need to whip up the chocolate filling from scratch.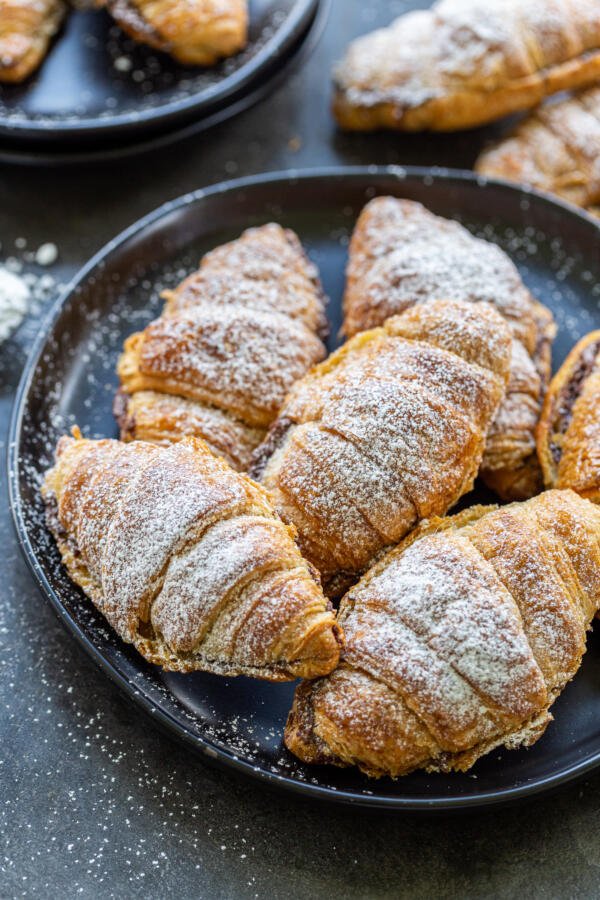 In Seattle, there is a little slice of heaven called Bakery Nouveau. Many regulars believe that it is the closest thing to a French bakery outside of France itself. They have the most delectable twice-baked chocolate croissants, which have served as the very inspiration for this recipe.
In this easy recipe, you won't have to fuss with making croissants from scratch. That's right – no technical baking required. Instead, you'll focus your attention on making the delicious, chocolatey filling, while grabbing a dozen of croissants from your favorite bakery. Gotta love a shortcut, right?
Reminiscent of pain au chocolat, these twice-baked croissants are crispy on the outside, soft on the inside, and stuffed with a luscious filling of chocolate and Nutella. Chocolate lovers unite!
How to Make Twice-Baked Chocolate Croissants
To make twice-baked chocolate croissants, there's no need to prepare croissants from scratch. In this recipe, you will use store or bakery-bought croissants and spruce them up with chocolate filling and an orange-vanilla syrup soak. Below, find a quick overview of the recipe:
Make Orange-Vanilla Syrup: Preheat the oven. Combine sugar and water in a saucepan. Bring to a boil. Add vanilla extract and orange juice. Remove from heat.
Slice and Soak Croissants: Slice croissants lengthwise. Using a pastry brush, spread the syrup evenly amongst all the halves.
Make the Filling: Melt dark chocolate chips in the microwave in 30-second intervals, stirring in between. Once melted, stir in Nutella. Spoon filling into the bottom half of each croissant, covering with the top half of the croissant to seal the filling inside. Brush syrup on each croissant top.
Bake: Bake in the oven. Sprinkle with powdered sugar.
Tips for the Best Twice-Baked Chocolate Croissants
Below, find our tips for making the best twice-baked chocolate croissants.
Use day-old croissants. Day-old croissants work best for this recipe. Since they are a bit stale, they can hold up to the syrup and the weight of the filling.
Add rum to your syrup. Boil a couple of tablespoons of rum in your syrup to add a little extra kick to your croissants. Golden or dark rum will work the best (they tend to have a more spicy flavor profile).
Add crushed nuts. If you like a crunch, add some crushed nuts on top of your chocolate filling. Pecans, almonds, or hazelnuts are great options.
Drizzle chocolate on the top. Save a bit of chocolate filling for drizzling on top of your croissants for some extra decorative flair.
Save time and make-ahead. These croissants are great for making ahead. Assemble them 1-2 days early and store in the fridge in an airtight container until you are ready to bake.
Use a flour sifter to sprinkle on powdered sugar. Powdered sugar is prone to getting lumpy while hanging out in storage. Loosen up the lumps by sifting it through a flour sifter or a fine mesh sieve.
Don't overfill your croissants. To prevent chocolate from squirting out the sides when you bite in, make sure not to overfill your croissants.
Hot Tip: Many bakeries will sell day-old croissants at reduced-cost. Inquire at the counter if there are any day-olds available to save yourself a bit of money.
Storing Twice-Baked Chocolate Croissants
Store twice-baked chocolate croissants in an airtight container on your countertop. They will stay fresh for up to 3 days. If you'd like to eat them warm, reheat them in the oven for a couple of minutes. Just make sure you don't reheat them too long, as the chocolate will melt out of the sides.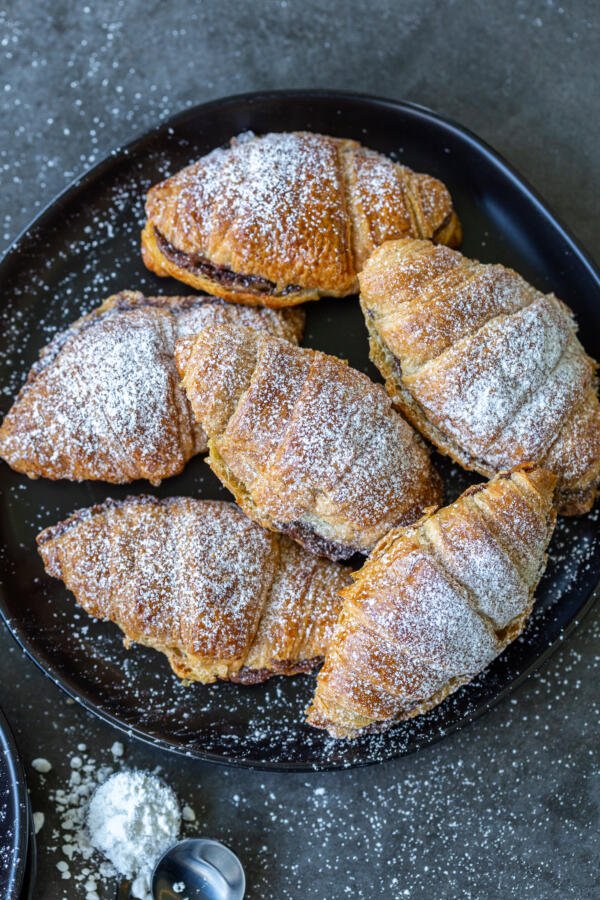 FAQ
What kind of chocolate do you put in twice-baked chocolate croissants?
You put a combination of melted dark chocolate chips and Nutella. If you like your filling extra sweet, you can substitute the dark chocolate chips for milk chocolate chips.
Can I freeze twice-baked chocolate croissants?
You can freeze twice-baked croissants by placing them in a single layer on a baking sheet. Pop the entire baking sheet in the freezer. Once completely frozen, transfer croissants to a freezer-safe plastic bag. To heat, pop frozen croissants in the oven until warmed through.
Can I add nuts to the filling?
You can add chopped pecans, almonds, or hazelnuts to the filling for an extra crunch. Just make sure you use roasted nuts versus raw.
Can I use large croissants instead of mini for this recipe?
You can use large croissants for this recipe. Increase the baking time by 5-10 minutes to compensate.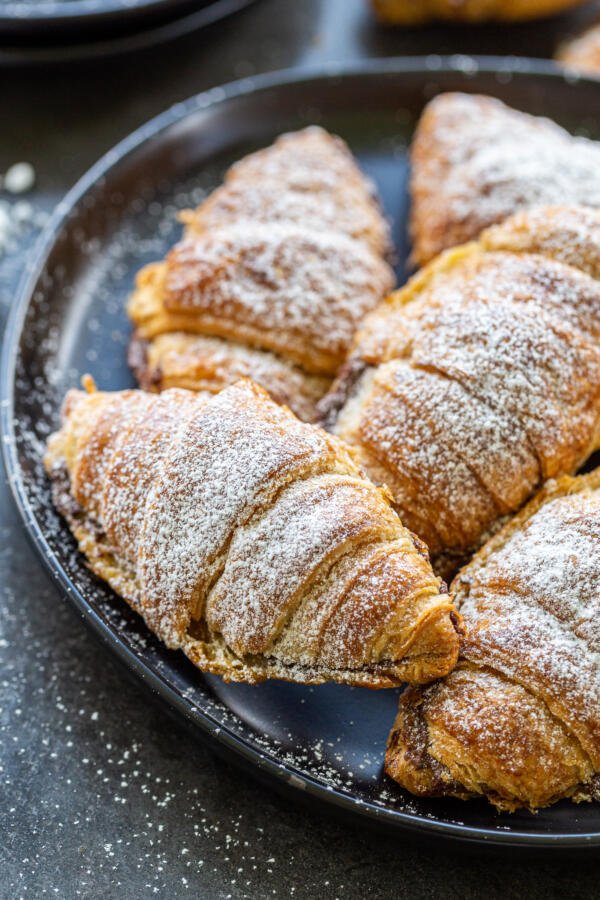 More of Chocolate Treats
Recipe
These twice-baked chocolate croissants will transport you right to the streets of Paris! Skip out on the hard work and get amazing results!
Ingredients
12

mini croissants

1

cup

water

1/2

cup

sugar

1/2

tsp

vanilla extract

1/2

cup

orange juice

1/2

cup

dark chocolate chips

1/3

cup

Nutella
Nutrition Facts
Twice-Baked Chocolate Croissant
Amount Per Serving
Calories 123
Calories from Fat 45
% Daily Value*
Fat 5g8%
Cholesterol 1mg0%
Sodium 13mg1%
Potassium 102mg3%
Carbohydrates 19g6%
Protein 1g2%
Vitamin A 22IU0%
Vitamin C 5mg6%
Calcium 34mg3%
Iron 1mg6%
* Percent Daily Values are based on a 2000 calorie diet.