This Drunken Cherry Cake is a decadent dessert of chocolate sponge, pitted cherries, and chocolate ganache. This recipe will give you a step-by-step rundown of how to make this Slavic staple.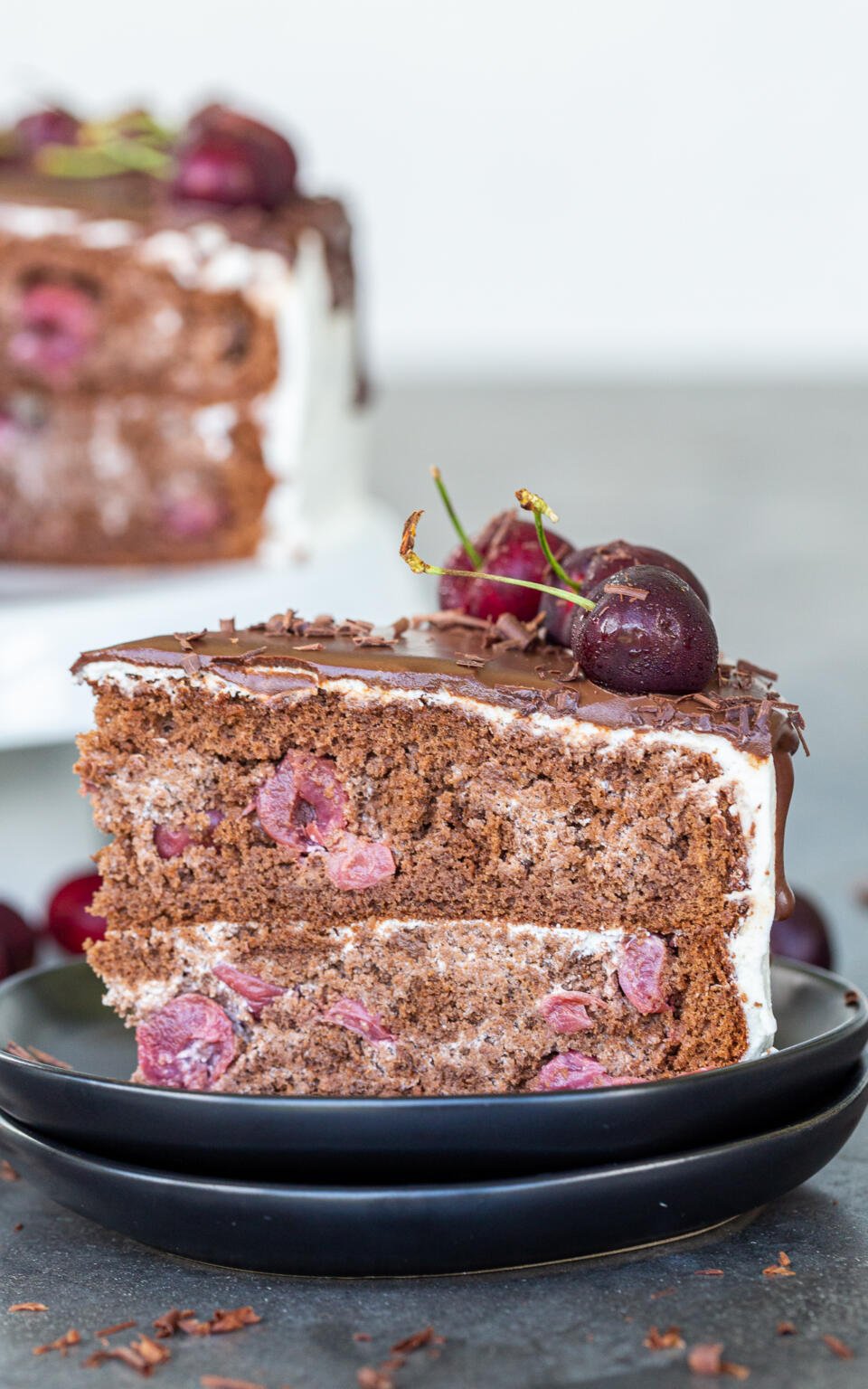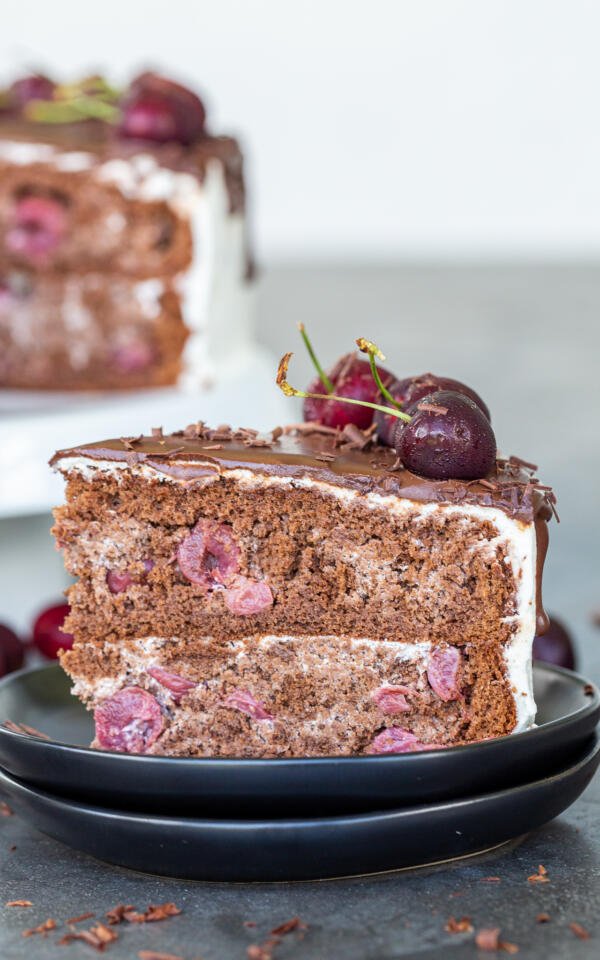 Drunken Cherry Cake is a Slavic recipe through and through. This ornate dessert is reserved for special occasions, often making an appearance at weddings, birthdays, and Christmas. But let's be honest – you can whip it up anytime a craving for chocolate and cherries comes knocking on your door.
While some Drunken Cherry Cake is made with golden rum, this version calls for vodka. I stole this recipe from my sister (a self-proclaimed Drunken Cherry Cake aficionado) and she absolutely swears by using vodka. It has been in our family for years and I can attest to its deliciousness.
Grab a fancy cake tray, strap on your apron, and let's get started!
How to Make Drunken Cherry Cake
Making Drunken Cherry Cake requires a bit of early preparation, but it's well worth the decadence coming your way. Below, find a high-level overview of how to approach this recipe.
Soak Cherries: Soak your cherries in vodka for at least 8 hours. If you can do 24 hours, that's even better.
Prepare the Sponge Cake: Prepare your chocolate sponge cake according to the recipe. Using a sharp knife, slice off a very thin layer from the top of each cake (you'll use this later as a "lid"). Cut a thin line along the inner rim of the cake. Carefully rip out the inner cake flesh, creating somewhat of a bowl. Set ripped cake flesh aside for later.
Make Cream: Whisk sugar and whipping cream together with a stand mixer or hand mixer on medium-high. Strain out the vodka from your soaked cherries. Set aside about 1/5th of your cream for frosting. Mix the remaining cream with drained cherries and ripped cake.
Assemble the Cake: Fill your cake "bowls" with the cherry cream mixture. Carefully cover each with it's respective cake "lid". Using a bit of cream as glue, stack one filled cake upon the other (use the one with the most smooth lid as the top cake layer). Frost the sides with the cream and allow the stacked cake layers to set in the refrigerator.
Prepare Ganache: In a sauce pan, bring cream to a simmer. Immediately pour simmer cream into a mixing bowl with chocolate chips. Using a baking spatula, work the cream in with the chocolate chips until you get a smooth, chocolatey texture. Allow the ganache to cool to room temperature before stuffing it into a piping bag. Squirt chocolate around the edges of the cake to create a drizzled effect. Use the remaining ganache to create a smooth frosting layer on the top of the cake. Enlist the help of a cake spatula if you want your cake top to look ultra smooth. For additional tips on working with ganache, check out this post.
Decorate & Refrigerate: Decorate the cake with the remaining cherries as you see fit (see photo at the top of recipe for inspiration). Refrigerate overnight.
Tips for the Best Drunken Cherry Cake
Use morello canned cherries. Morellos are known for their sour and tart flavor and perfectly compliment the rich, chocolate-y flavor of this cake.
Don't waste the cherry juice. When draining your morello cherries from the syrup, don't simply throw it away. Use the syrup to make kompot (a classic Ukrainian juice drink) or use it to rehydrate dry sponge cake.
Give cherries adequate time to soak up the vodka. You'll want your cherries to soak for at least 8 hours. If you can go overnight, that's even better.
Use very cold heavy whipping cream. When making the cake cream, it's crucial that you use extremely cold whipping cream. This will help the cream emulsify and become ultra fluffy.
Don't over mix the cake cream. If you mix the cream too long, it will become runny and impossible to spread. Pump the brakes on mixing as soon as it reaches stiff peaks.
Create the perfect chocolate drizzle. Use a piping bag to create the perfect chocolate drizzle. If you don't have one, cut a hole on the corner of a plastic storage bag to make a DIY piping bag.
Let the cake rest and set in the refrigerator. Letting the cake rest overnight helps it set completely and also allows the flavors to really come out.
Hot Tip: You can find canned morello cherries at most European markets and standard grocery stores. There's also a great jar on Amazon if you don't want to make a trip to the store.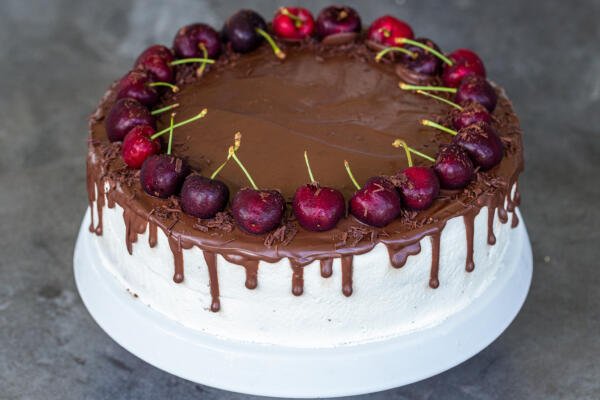 Making Drunken Cherry Cake in Advance
Making Drunken Cherry Cake in advance is a smart move, especially if you're planning to serve the cake at a party where you will be busy making other dishes. Bonus: The longer it sets, the better it gets.
Refrigerating: Refrigerate your Drunken Cherry Cake up to 3 days before serving it. Invest in a cake storage container to ensure your beautiful decorating job doesn't get compromised.
Freezing: Freezing an entire Drunken Cherry Cake isn't recommended. You can freeze the chocolate sponge cake for later use or just a couple individual slices if need be.
FAQ
What alcohol is best for the drunken cherry cake?
The best alcohol for drunken cherry cake is vodka. You can also use golden rum.
Can you use fresh cherries when making the cake?
Marinated cherries work much better than fresh for this cake. The sugary cherry juice and alcohol create a syrup that is truly signature to the Drunken Cherry Cake.
Can you use any other tart cherries instead of morellos?
You can use any tart cherry, so long as they are marinated and you drain all the juice.
Can I omit the alcohol entirely?
You can omit the alcohol from the recipe, but it expect it to be a touch less rich.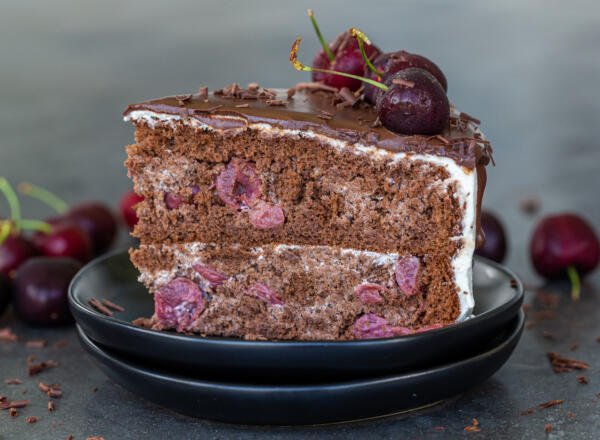 More Cake Recipes to Try
Recipe
This Drunken Cherry Cake is a decadent dessert of chocolate sponge, pitted cherries, and chocolate ganache. A Slavic classic recipe.
Ingredients
Nutrition Facts
Drunken Cherry Cake (Classic Recipe)
Amount Per Serving
Calories 641
Calories from Fat 270
% Daily Value*
Fat 30g46%
Cholesterol 132mg44%
Sodium 264mg11%
Potassium 275mg8%
Carbohydrates 72g24%
Protein 5g10%
Vitamin A 1862IU37%
Vitamin C 3mg4%
Calcium 91mg9%
Iron 4mg22%
* Percent Daily Values are based on a 2000 calorie diet.